Gateshead, a town located in the North East
Same day courier Gateshead services are provided by Same Day Couriers Direct in this town. The town is situated to the south of the River Tyne with Newcastle to the north of the river.
Map data: Google
Gateshead sits on the south bank of the River Tyne whilst the city of Newcastle sits on the north bank. As a town it offers access to an expansive countryside for you to explore. The waterfront Quayside is popular with visitors offering restaurants and street food markets. Gateshead Quayside also has art and culture in the form of the BALTIC Centre for contemporary art and Sage Gateshead, 'A music centre rooted deeply in the North, with an international profile'.
Gateshead economic sectors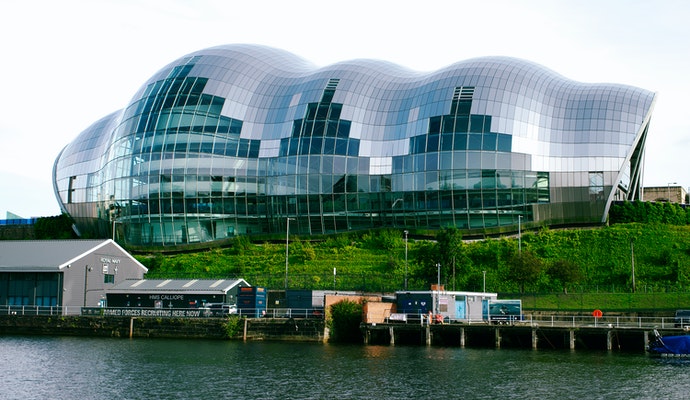 Key growth sectors:
medical science and sustainability
offshore and marine
business and professional services
logistics
R&D
innovation
"Hard work, unrivalled business accommodation and great connectivity to global markets ensure North East England is a great location for businesses to locate and grow."
Same day courier Gateshead services
Gateshead and the North East attract businesses due to a very good transport infrastructure. There are three ports in the North East including Port of Tyne. There is also Newcastle International Airport. Roads such as the A1 connect the region to London and Edinburgh. Trains connect directly to London, Birmingham, Manchester and Scotland.
Gateshead may not have the same number of high profile businesses due to Newcastle sitting just north but has some large economic contributors to the town and are some of the North East's largest companies. Including Vertu Motors PLC, one of the largest automotive retailer groups in the UK and Tolent PLC, one of the North East's biggest construction companies.
Gateshead is served by Newcastle International Airport, less than 10 miles to the north. Newcastle International Airport has flight destinations across the UK and Ireland, Europe and to Mexico, USA and UAE. Onward flights connect to further destinations in North America, Africa, Asia and Australia.
Port of Tyne is a few miles from Gateshead and an economic boost to the area. For cargo it is the UK's second largest car export port and handles 40% of the UK's raw tea imports. The port is also a passenger hub for cruises and in addition has a daily ferry service to Amsterdam.
Gateshead and its close proximity to Newcastle means it has a need for a same-day courier that offers a fast and reliable service for the various sectors. At Same Day Couriers Direct, we use our expertise in the same variety of industries and provide the service your business requires. We offer the same-day courier service that meets your expectations.
Same day courier Gateshead helpful links
Invest Newcastle: investment guidance for Newcastle and Gateshead.
NewcastleGateshead: information site for the latest news, events and offers for visitors to Gateshead.