Amsterdam, capital of the Netherlands
Same day courier Amsterdam services are provided by Same Day Couriers Direct in this city, the actual, official capital of the Netherlands. With the Dutch parliament and government, the Supreme Court and the Council of State, all located in The Hague, ordinarily, The Hague would fit all the requirements to be a country's capital but for historical reasons, Amsterdam is.
Map data: Google
Amsterdam offers many sightseeing spots to consider; enjoyed by tourists from all over the planet. Hire a bike along the famous waterways, view masterpieces of art by Van Gogh at the Van Gogh Museum and even take a trip to the Amsterdam beach, or just go from square to square, there's something for all to enjoy.
Amsterdam economic sectors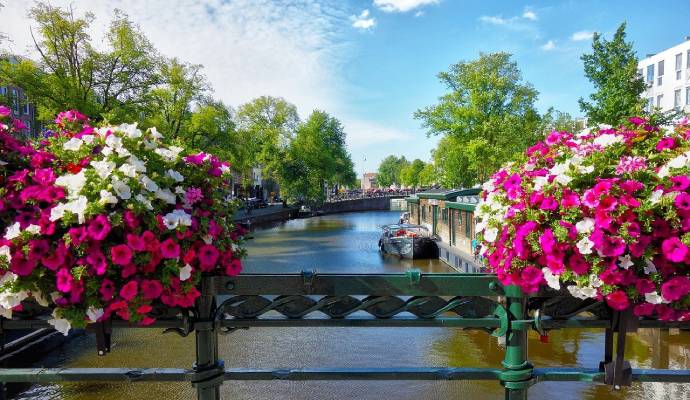 Key growth sectors:
tech
logistics
creative
life sciences
financial and business services
fashion
aerospace
artificial intelligence
"Amsterdam's denim industry is thriving: the city has the highest concentration of denim brands in the world."
Same day courier Amsterdam services
Amsterdam sees itself as a great place for businesses. Connected to the rest of Europe and the rest of the world, it has international and local talent available and offers a work-life balance which is among the best in the world. It can offer opportunities for new and established business across the entire Amsterdam Metropolitan Area.
Amsterdam is home to many leading brands. Including, in fashion, Chanel; Tommy Hilfiger and Calvin Klein with headquarters in the city. With a very English speaking workforce, it connects seamlessly with other fashion locations such as London and Paris. Other well known brands include, Heineken, Uber, Tesla Motors and Adidas all having headquarters and Booking.com has a head office in the city. These are just a few from a very long list of household brand names located in and around Amsterdam. Confirming that it must be great place for business.
Amsterdam is served by Schiphol Airport. The airport lies at the bottom of what was once Haarlemmer Lake. It entertains over 100 airlines flying to almost as many countries with over 300 direct destinations. It can offer much with Air France-KLM available as the largest airline at Schiphol.
The Port of Amsterdam is focused on a vibrant international trade and activity point. It is Europe's fourth largest port. The Amsterdam port region is one of the world's largest logistics hubs and handles 100 million tonnes in cargo traffic every year. As a sea port, it is strategically and centrally located within Europe. This makes it accessible and offers excellent connections to all major European markets.
A business located in the Amsterdam Metropolitan Area needs excellent service from their courier, one offering a high specialism, coupled with experience for when it comes to logistics. At Same Day Couriers Direct, we have that much needed experience in all the key sectors, working with and in a variety of industries, meaning, we can offer all you need in a courier service to meet all business needs as and when you require a delivery specialist.
Same day courier Amsterdam helpful links
Business in Amsterdam: a comprehensive resource for doing business in the Amsterdam Metropolitan Area.
Invest in Holland: resource tools to support businesses.