Same Day Couriers Direct provides a same day delivery service across Netherlands and beyond.
TIME CRITICAL:
we collect and deliver from one part of Netherlands to another on the same day
we collect from any part of Netherlands and deliver to a UK country
we collect from any part of Netherlands and deliver to a European country
DISCOVER THE SAME DAY COURIERS DIRECT DIFFERENCE FOR YOURSELF
CALL OUR TEAM NOW ON
0333 772 1010
WE COVER ALL OF NETHERLANDS…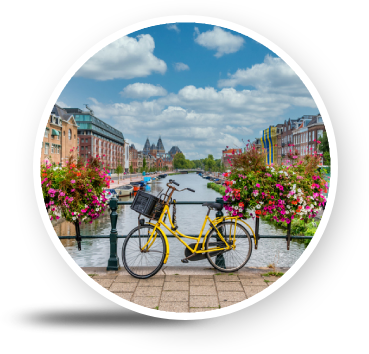 …NETHERLANDS
The Netherlands often referred to as Holland is divided into administrative regions or provinces.
These provinces are Drenthe, Flevoland, Fryslan (Friesland), Gelderland, Groningen, Limburg, Noord-Brabant (North Brabant), Noord-Holland (North Holland), Overijssel, Utrecht, Zeeland (Zealand) and Zuid-Holland (South Holland).
These provinces are further divided into more than 300 municipalities (known as gemeenten).
Like France and some other European countries, there are also some overseas special municipalities as in the Caribbean Netherlands.
Amsterdam, South Holland is the most densely populated province in Netherlands but it is in North Holland province that we find Amsterdam, the capital and the most populous city of Netherlands. Amsterdam is the major cultural, commercial and economic hub of the country, with the Port of Amsterdam being the fifth largest port in Europe. Situated in the western part of the country, in South Holland province.
Rotterdam is often referred to as the 'gateway to Europe'. Rotterdam's port is at the centre of Europe's largest maritime cluster, other strong economic sectors include sciences and health and finance.
The Hague is the administrative centre of the country and houses the important government institutions of Netherlands, as well as the International Court of Justice.
Same Day Couriers Direct serve all the major cities including Amsterdam, Rotterdam and The Hague and further extending throughout to include Utrecht and Eindhoven covering all of Netherlands.