Rochdale, a town in Greater Manchester, located in the North West
Same day courier Rochdale services are provided by Same Day Couriers Direct in this town. The town is the birthplace of the Co-operative movement.
Map data: Google
Rochdale is rich in history and heritage. People visit the borough to take in the scenery on offer and the town has a number of popular events, including the Feel Good Festival, the Literature and Ideas Festival and the Food and Drink Festival. The original Co-op shop can be seen at the Pioneers' Museum in the town centre. Ten of the borough's parks and green spaces have been given the prestigious Green Flag Award.
Rochdale economic sectors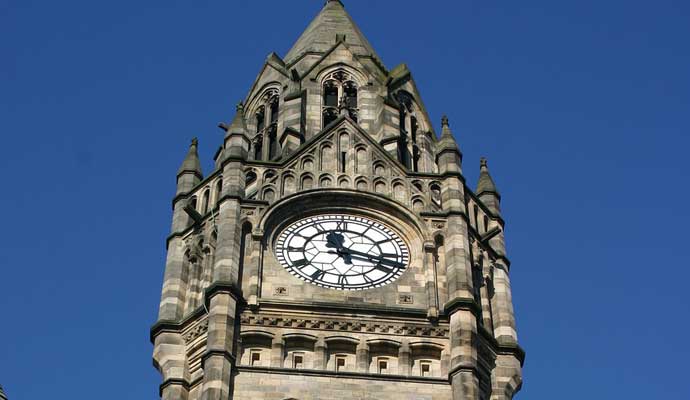 Key growth sectors:
logistics
manufacturing
digital and creative
"There are now well over 7,500 micro enterprises in Rochdale borough, alongside nearly 800 small and medium sized businesses. Rochdale also boasts a core of established national and international companies, many of which have relocated to one of the borough's high performing business parks from outside the area. This is a town where everyone, from ambitious start-ups to large multinationals, can thrive and grow.."
Same day courier Rochdale services
Rochdale's connectivity is a factor in attracting businesses to locate in the area. The town connects to Manchester Airport by road, rail and tram services. The Calder Valley line, links Leeds and Manchester by train, apart from these two major cities, the town has direct connections to Salford, Wigan, Chester, Bradford, Burnley, Blackburn and Halifax. With six stations in the borough for Metrolink tram services, the connections include to MediaCityUK, Manchester Victoria and Piccadilly rail stations and Manchester Airport. The M62 motorway connects Rochdale east and west from Liverpool to Hull and all major locations between.
Rochdale has attracted household names that have a strong presence. Including, JD Sports, with their purpose built distribution centre and ASDA, with their Chilled Distribution Centre, between them employing almost 2,000. In the digital sector, Zen Internet, named best UK broadband provider, is Rochdale-based. In manufacturing, Hanson Springs, has two of their three facilities in Rochdale with the other in the USA and Holroyd Precision, global headquarters are in Rochdale but also have offices in Germany, China, Japan, Taiwan, India, Brazil and the USA.
Rochdale is served by Manchester Airport. The town connects to the airport by road, rail and tram. Manchester Airport is the UK's largest airport next to London Heathrow Airport, offering both passenger and freight services (World Freight Terminal). This gives the town flight services across Europe and many global destinations with 160 destinations on offer. Add alternatives of Liverpool Airport and Leeds/Bradford Airport, both approximately an hour to drive, offer an additional 70+ destinations.
Rochdale and the close proximity to Manchester makes it an ideal logistics hub. As such, the town will continue to have a need for a same day courier service. At Same Day Couriers Direct we use our expertise in various industries and can provide support for your business when it comes to logistics. We have the same day courier service that will meet your business expectations, a service that is fast and reliable with a focus on your key industry sector.
Same day courier Rochdale helpful links
Rochdale Development Agency: providing support for businesses of all sizes.
Visit Rochdale: visitor information provided by Rochdale Borough Council to find out about what is going on, about what's new, what's happening and special offers and competitions for travellers to Rochdale.