Kingston upon Hull, a port city in East Yorkshire
Same day courier Kingston upon Hull services are provided by Same Day Couriers Direct in this city. The city is often referred to as Hull.
Map data: Google
Hull offers much in the way of sightseeing; enjoyed by visitors from around the UK and the world. Hull can offer fun days out and some great international restaurants, music and theatre, and unmissable Hull events. As a port city, it offers itself as a historic city, with an opportunity to visit the Old Town with magnificent Georgian and Edwardian architecture. Hull's marina has The Deep, where the story of the world's oceans are told and if you want to, literally, sleep with the fishes!
Hull economic sectors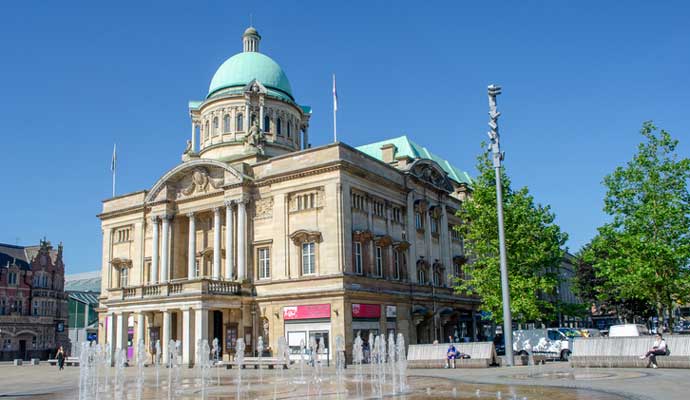 Key growth sectors:
renewable energy
port & logistics
digital & creative
research & development
manufacturing
food
leisure, tourism & retail
higher & further education
"Hull is one of the UK's leading foreign-trading ports, handling more than 12 million tonnes of cargo and one million passengers every year."
Same day courier Hull services
Hull is connected by dual carriageway road links that then connect to the UK's motorways including the M62, the M18 and the M1 to cover the whole of the UK.
Hull has diverse business sectors and includes leading brands. These include Ideal Boilers; MKM, UK's largest independent builders' merchant; Swift, the UK's leading manufacturer of touring caravans, motor-homes and holiday homes and Nippon Gohsei, speciality in resin products.
Hull is served by Leeds Bradford International Airport which is located just over 50 miles away. Leeds Bradford Airport serves destinations both within the UK and also many European destinations. The airport can also offer some direct flights beyond Europe and many connecting flights to global destinations.
The Port of Hull is considered one of the busiest and most crucial transport hubs in the world. It support cruise ships; handles container shipping; fresh produce and general cargo. "The Port of Hull is the UK's leading softwood timber port and the focus of the offshore wind sector on the Humber, the UK's energy estuary."
Same day courier services for Hull is essential and in particular due to the port's logistics, this makes it an exceptionally competitive industry. With Same Day Couriers Direct, we offer experience and expertise so you can expect to have all that your business needs in a reliable courier providing a swift and efficient service.
Same day courier Hull helpful links
Invest Hull: business support for any business looking to start-up, relocate or expand in Hull City Council's area.
Visit Hull: for all visitor related information provided by Hull City Council.