Leeds, the largest city in West Yorkshire
Same day courier Leeds services are provided by Same Day Couriers Direct in this city, one of the two engines, with Sheffield, for the region of Yorkshire and the Humber's economy. Leeds has a digital sector that employs over 100,000 people in the fast growing sector.
Map data: Google
Leeds offers much in the way of iconic sightseeing spots; these are enjoyed by tourists from around the globe. Leeds offers an abundance of fun-filled days out and choices of some great international restaurants, theatres and music venues, and many unmissable Leeds events. The Royal Armouries is the United Kingdom's national collection of arms and armour and is based in Leeds.
Leeds economic sectors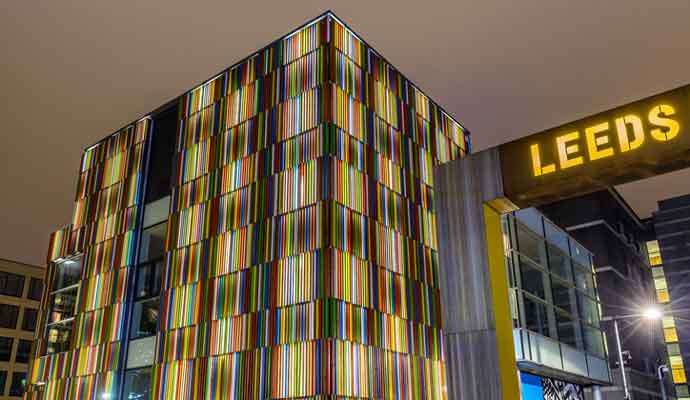 Key growth sectors:
digital technologies
manufacturing
textile innovation
financial & professional services
healthcare
Channel 4 has its National HQ in Leeds in the same way Manchester has MediaCity.
The Leeds digital sector contributes over £6.5 billion to the City Region economy.
Same day courier Leeds services
Leeds has redeveloped the industrial area on which the city grew in the past. Former industrial landscape is now famed for bars and live music venues under many a converted railway arch. Leeds is one of the largest cities in the United Kingdom. Leeds is a successful city for attracting major companies. The location is ideal for transport links across the UK with both road and rail and connections to sea ports. Part of the Industrial Revolution, Leeds prospered with the Leeds and Liverpool Canal.
Leeds is home to many leading brands and some have their headquarters based in the city. Including Asda; ITV Yorkshire; and Yorkshire Bank.
Leeds is served by Leeds Bradford International Aiport where Jet2 has its headquarters. Leeds serves primarily destinations in Europe but also offers connections to worldwide destinations using Amsterdam and Dublin as the connecting airports.
With the Leeds Inland Port project, it will enable transportation of freight from the Humber estuary into Leeds. Enabling supporting projects with construction materials transported on water, this reduces congestion on roads and reduces carbon emissions.
Leeds with its location and sectors, means businesses need a reliable courier service provider. With Same Day Couriers Direct, we offer the ability to be flexible with our processes. Our experience of working in specialist industries, we give a courier service to meet your business requirements with all your logistics.
Same day courier Leeds helpful links
Leeds City Region Enterprise Partnership: providing a single point of access to a wide range of local and national support and funding.
Invest in Leeds City Region: unlocking Leeds City Region's vast economic potential, stimulating growth and prosperity for everyone who lives, works and does business here.