Nuremberg, second largest city in Bavaria
Same day courier Nuremberg services are provided by Same Day Couriers Direct in this city. Second only to the capital of Bavaria, which is Munich.
Map data: Google
Nuremberg, like many German cities, offers much in the way of sightseeing; inviting visitors from all over the world. There is a harmony in the display of historic buildings mixed with modern architecture that can be taken in on a stroll through the Old Town. The city offers culinary delights, with of course, a century-long beer, sausage and gingerbread tradition. There's much to see on a visit, such as Germanisches Nationalmuseum, holding more than 1.3 million objects including art from pre-historic times until the present or a trip to include the Imperial Castle.
Nuremberg economic sectors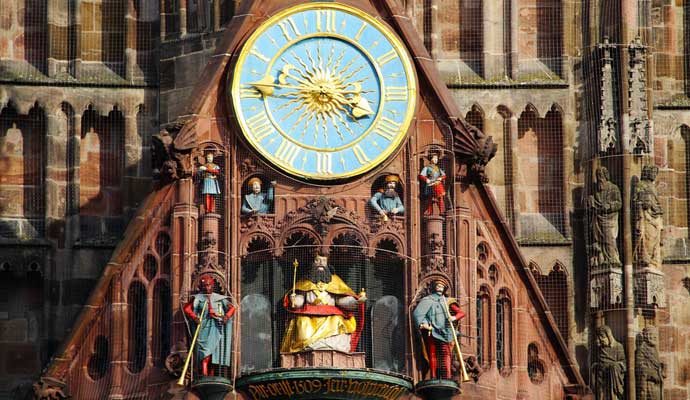 Key growth sectors:
transportation and logistics
energy
innovative services
"As an economic region, Nuremberg has succeeded in meeting the demands of global markets with key future-oriented technologies. The strengths of the European Metropolitan Region of Nuremberg lie in the IT, transportation, automation, medical, healthcare, energy and environmental industries."
Same day courier Nuremberg services
Nuremberg sees itself as a globally connected city. This is because the city offers excellent transportation infrastructure. Road links include the routes for Paris to Prague, London to Brussels to Vienna to Budapest and Warsaw to Berlin to Rome. Nuremberg is integrated into the Euro-City network for rail connectivity. For air, there is Albrecht Dürer Airport Nürnberg. The city is further connected by the Main-Danube Canal, which is the only waterway that connects the North Sea with the Black Sea.
Nuremberg's excellent connectivity makes it attractive for conference venues and hotels and has quite a number of trade fairs and congresses held in the city. "Nuremberg Fairgrounds offer close to 170,000 sq.m. of exhibition space. NürnbergMesse is one of the 15 largest exhibition companies in the world and among the Top Ten in Europe."
Nuremberg is home to many leading brands. Including Siemens, Nuremberg joined Berlin as one of Siemens' most important production sites for heavy-current equipment; GfK, with its European HQ and Grundig, with its company head office.
Nuremberg is served by Albrecht Dürer Airport Nürnberg. The airport offers direct flights to more than 50 destinations and over 300 connecting destinations. The airport is proud to be able to state that it won the Business Traveller Award in the Best Airport for Business Travellers in Germany category twelves times consecutively.
The port service provider for waterways traffic is bayernhafen Nürnberg. It is one of Europe's most important freight transport and logistics centres. The port is trimodal as it uses the three modes of transport of road, rail and inland waterway. Industrially, the port can support transport, storage, picking, processing, procuring, recycling or distributing with highly efficient and modern equipment. The port offers services for cruise ships with piers for river cruise ships in five locations in Bavaria and while guests enjoy their leisure time on shore, the ship can be replenished with freshwater tanks or ensure the proper disposal of refuse and waste water.
A courier service in Nuremberg needs to specialise in the same key sectors the city does. At Same Day Couriers Direct, we do specialise when it comes to logistics and share the same specialist sectors with Nuremberg. As we work with a variety of specialist industries, we can offer bespoke solutions for you in a courier service provider bringing experience and reliability that you deserve in a delivery specialist.
Same day courier Nuremberg helpful links
Business location Nuremberg: providing information for any business in Nuremberg.
Nuremberg Convention and Tourist Office: all the information for visiting Bavaria's second largest city.