Berlin, Germany's capital
Same day courier Berlin services are provided by Same Day Couriers Direct in this city. Divided during the Cold War and one after the fall of the Berlin wall.
Map data: Google
Berlin offers much in the way of sightseeing spots; enjoyed by visitors from all over the world. Berlin covers an area approximately nine times that of Paris and geographically the same size as Bangkok. Berlin's top attractions include palaces and monuments; Berlin has two main rivers, Spree and Havel, with a fair few lakes and canals where ships and boats cruise.
Berlin economic sectors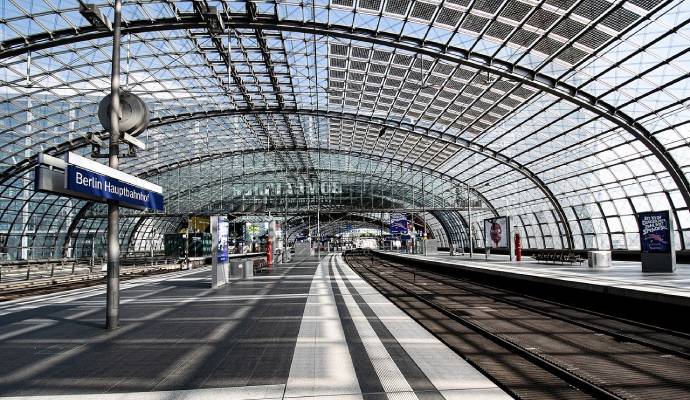 Key growth sectors:
information and communications technology
transport, mobility and logistics
energy technology and clean technologies
photonics
manufacturing industries
service industries
"Berlin – a center for photonics and microsystems technologies The Berlin capital region is one of Germany's most prominent locations for high tech and generates above-average rates for development."
Same day courier Berlin services
Berlin considers itself to be a globally competitive centre. For the list of key business sectors, the Berlin capital region supports these by providing conditions for innovation and growth. It boasts a high concentration of highly recommended and reputable universities and research facilities as the location's great strengths.
Berlin is home to many leading brands. Including Deutsche Post DHL, headquarters in Bonn; Siemens, headquarters in Munich and Bayer, headquarters in Leverkusen but their presence is huge as employers in Berlin with almost 30,000 staff in Berlin. For more on Deutchse Post DHL Group, read 'Top Delivery Services In The World'.
Berlin is served by Berlin Brandenburg Airport, it has replaced the airports Tegel and Schönefeld. This means, a passenger now arrives in Berlin via a central airport. However, due to Covid, only Terminal 1, which is the largest terminal of the new airport, is currently in operation. Compared with other international airports, Berlin Brandenburg Airport is very modern, by the year 2040 it is expected to handle up to 45 million passengers.
Berlin does have a port but not as an industrial port such as cargo shipment and focuses mainly for tourism purposes such as cruises.
A courier service in Berlin needs to be experienced in providing for such a mix of sectors located in and around the Berlin capital region. At Same Day Couriers Direct, we have specialism when it comes to logistics in the various sectors. We work with a variety of industries so we can offer all you'll need in a courier service bringing experience and reliability you deserve in a delivery specialist.
Same day courier Berlin helpful links
Berlin Partner: business and technology support for companies, investors and scientific institutions in Berlin.
Business Location Center: information about Berlin as the place for business.