Genoa, a port city and capital of the Liguria region, northern Italy
Same day courier Genoa services are provided by Same Day Couriers Direct in this city, a crossroads for economy, culture and technology to meet and present opportunities.
Map data: Google
Genoa like many historic port cities offers many sightseeing spots; these are enjoyed by visitors from every part of the world. As a port city it offers history and tradition, international cuisine is to be enjoyed amongst buildings and places considered sacred and old from the Middle Ages to Baroque and with the new, all offering scenic backdrops. It is a city rich with art, culture and history.
Genoa economic sectors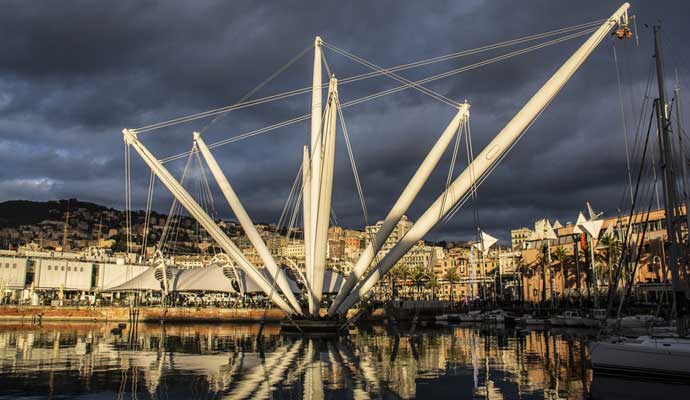 Key growth sectors:
mobility and transport systems
high-tech
"Genoa represents the southern terminal of the Rhine Alps corridor, a perfect point of transit for the good directed towards the main industrial and consumption area of Central Europe."
"Genoa's high-tech industry counts several multinationals in the field of energy, automation, transports and infrastructures with research and development laboratories and a net of companies that employs over 15.000 workers."
Same day courier Genoa services
Genoa is a port city but has a key sector that includes high-tech industry and is home to many leading businesses in this field although they may not be well known names compared with other global brands. Including Italian Institute of Technology (IIT); Leonardo; Esaote (with headquarters in Genoa) and Hitachi Rail (Hitachi Rail is the rolling stock manufacturing division of Hitachi).
Genoa is served by Genoa Airport which is sometimes referred to as Christopher Columbus Airport. The airport provides flights to mainly internal and southern European destinations, it extends to northern Europe with flights to Paris, Frankfurt, Amsterdam and London airports.
The Port of Genoa is probably the best known of the major Italian seaports. The port is in direct competition with the ports of Marseilles and Barcelona as the Mediterranean Sea port. It offers services including a container terminal handling 2.6 million containers annually combined with the port, Savona Vado. For handling passengers, there are cruise and ferry services. Located as part of the Italian Riviera, the port cruise services handle over 2 million passengers annually, making the port ranked second in Italy and fourth in the Mediterranean. The passengers for ferry services exceeds 2.5 million passengers a year. Sailings include destinations from Genoa to Sicily, Sardinia, Corsica, Spain, Malta Morocco, Tunisia and Algeria.
A same day courier service company in Genoa and due to the region's structure needs to be a reliable service provider. At Same Day Couriers Direct, we offer connections between businesses and customers, our experience of working with various industries, places us in a position where we can offer what you need with a fast and reliable courier service that can meet every expectation as and when you require a delivery specialist.
Same day courier Genoa helpful links
COMUNE DI GENOVA: assisting and encouraging the development of trade and investment for Genoa.
GENOVA: the official visitor site for Genoa.