Valencia, a Mediterranean port city
Same day courier Valencia services are provided by Same Day Couriers Direct in this city, the fifth busiest seaport in Europe and the busiest port in the Mediterranean.
Map data: Google
Valencia offers much in the way of sightseeing spots for tourists from around the world. As a historical port city, it offers a mix of new and old. It's city renowned for arts and sciences, with futuristic structures including a planetarium, an oceanarium and an interactive museum. Valencia also has a number of beaches. Albufera Park nearby, is a wetlands reserve with a lake and walking trails.
Valencia economic sectors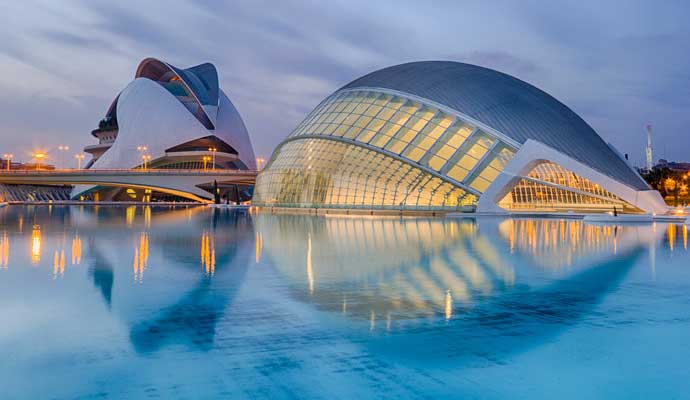 Key growth sectors:
Information and communications technology (ICT)
"The Valencian Community is positioning itself as an attractive technology hub in the Mediterranean for start-ups and ICT companies. In 2018, exports of ICT industry-related products reached €313 million in value. Valencia is the fourth ranking exporter of these products, with 8% of the national total."
Same day courier Valencia services
Valencia is the third largest city in Spain after Madrid and Barcelona.
Valencia is home to a number of well known names. Including two global companies in Ford (the Valencia body and assembly plant is located in the southern part of the city at Almussafes) and Bayer Cropscience (innovative products for agriculture).
Valencia is served by Valencia Airport also referred to as Manises Airport. In the A-Z list the airport offers Amsterdam to Zurich for flight destinations. The airport offers many internal flights and most destinations across Europe.
The Port of Valencia handles traffic of almost all types of goods from every sector of the economy. Diverse traffic used by the likes of the furniture and timber industries through to the motor vehicles sector such as Ford, Fiat, Land Rover and Jaguar. The port announced "Port of Valencia exceeds 5.4 million containers and 80 million tonnes handled in 2020". The port has regular passenger traffic to and from the Balearic Islands and Italy. Valencia has experienced a continued and solid growth in Mediterranean cruise traffic in recent years.
Any same-day courier service provider at a busy seaport such as Valencia needs to offer a tailored and exceptional service. At Same Day Couriers Direct, we can offer processes to connect your consignment, experience of working in a variety of industries, delivering urgently, safely and on time, we can offer what you need in a courier service when you require a delivery specialist.
Same day courier Valencia helpful links
INVEST IN SPAIN: promoting, attracting and consolidating foreign direct investment in Spain, specific support by regions including the Valencia area.
VISIT VALÈNCIA: all you need to know when visiting the city.