Madrid, Spain's centrally located capital
Same day courier Madrid services are provided by Same Day Couriers Direct in this city.
Map data: Google
Madrid offers much in the way of sightseeing spots; enjoyed by tourists from all over the world. It is a city of boulevards that can only be described as elegant and expansive yet exceptionally manicured parks. Sights and attractions include one of Europe's largest royal palaces to the magnificent Prado Museum.
Madrid economic sectors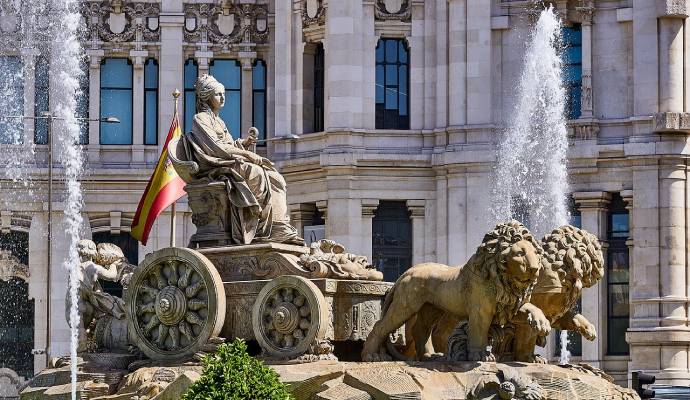 Key growth sectors:
financial, investment funds and insurance
telecommunications
software development and technological consulting
cultural and editorial industries
freight and logistics
"Madrid is a modern economy focused on services, which accounts for 88% of the city's GDP (City Council). This mirrors greater Madrid's main service sectors of: sales, transport, healthcare, social services, business services, hospitality."
The Madrid region is home to over half a million companies.
Same day courier Madrid services
Madrid as the capital and the largest city in Spain, is the economic hub of country. The city offers a modern service economy and boasts one of the greatest labour markets in Europe. Madrid leads the country in growth rates and direct foreign investment.
Madrid is home to many leading brands. Including Accenture; Aegon; PwC, IBM, Deloitte; Mercedes Benz; KPMG; Hewlett-Packard; Ericsson, and Vodafone. Not unlike Rome, there are quite a few global accounting firms.
Madrid, like many large metropolitan cities is served by more than one airport. However, the main serving airport is Madrid-Barajas International Airport, the largest of the serving airports and is the main hub for Iberian Airlines, the flagship air service of Spain. Madrid-Barajas covers over 3,000 hectares, making it the second largest airport in Europe compared by physical size; second only to Charles de Gaulle Airport which serves Paris.
Madrid is centrally located in Spain but still has the Port of Madrid. The port is well placed and connected to the other Spanish 'sea' ports including Barcelona, Bilbao, Valencia and Algeciras. As a dry port, it handles port traffic on the outskirts and combines rail, sea and road transport.
Madrid is popular as a city for conferences and exhibitions. There are various events that require large hotel and exhibition spaces and Madrid offers some of the largest and most accessible whatever the transport or part of the world the audience is from.
Any courier service in Madrid and particularly due to the location in the centre of the country, the service requires a quality provider when it comes to logistics. At Same Day Couriers Direct, we have the necessary knowledge for various business sectors, our experience with a variety of industries, means, we can give you all that is needed in a specialist courier service to meet business need as and when they arise.
Same day courier Madrid helpful links
Madrid Investment Attraction: providing a free service for foreign companies that want to establish themselves in the city or those that are already established.
Madrid Destino Cultura: providing essential advice for travelling to Madrid.