The news headlines have been persistent now for a week or two about the shortage of HGV drivers. It's not just a UK issue; it's worldwide with the unsocial hours, low pay and poor work life balance being quoted as why people are reluctant to choose this as a career option. Driverless trucks, are they the solution?
Driverless trucks progress from 2018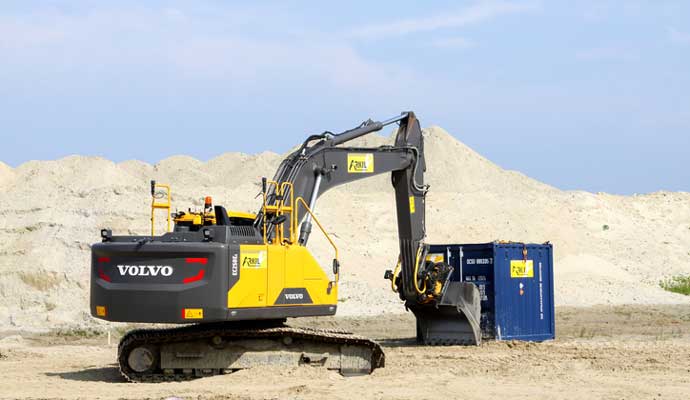 At Same Day Couriers Direct, we've looked in the past at 'Autonomous Transport' (AT) and the progress being made on bringing driverless deliveries to a reality. We looked in 2018 at the race between lorries and cars to be first to the market place. Key takeaways in 2018 were:
Tesla was expected to commence production of self-drive lorries during 2019
Katoen Natie in Belgium were testing on an 8km sector of motorway
Volvo were concentrating on refuse lorries, tractors and farming equipment; these are simpler applications which they predict will become commercially available in the not too distant future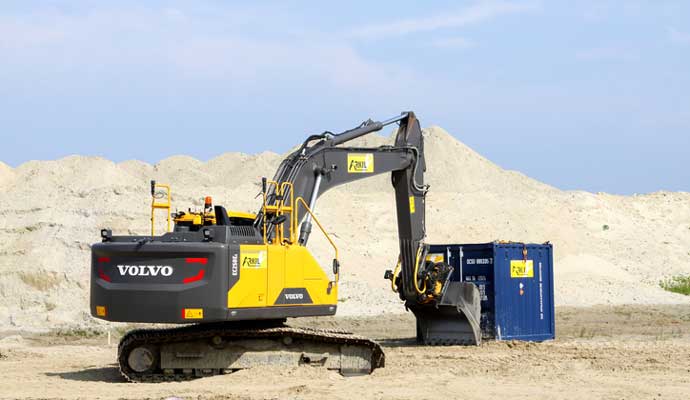 'BUT', here in the UK before any launch there would have to be a whole raft of regulatory change around the Highway Code and insurance rules not to mention 5G infrastructure.
Driverless trucks progress from 2019
In 2019 we dived in again to check on progress and were able to report some bold predictions in Europe as well as you would expect Silicon Valley in the US:
the then UK Chancellor, Philip Hammond publicly stated that he wanted to have 'fully driverless cars' without a safety attendant on board by 2021
Einride from Sweden planned to launch their fully autonomous all electric T-Pod truck across Gothernburg and Helsingborg in 2020
Cleveron from Estonia planned to launch the Lotte which could complete deliveries with no human intervention in 2020
supermarket deliveries from USA giant, Kroger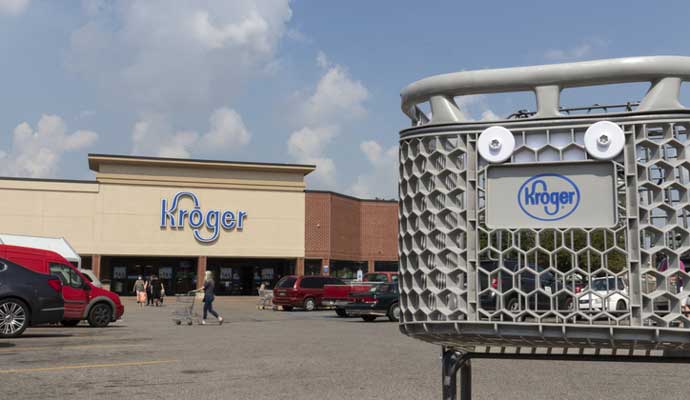 We then looked at drones to transport shipping containers in 2019. A very interesting concept once you get past the mind boggling image of an 80ft container flying overhead to cargo hubs. In fact, not just a concept, but a reality with the Royal Navy trialling equipment deliveries to submarines.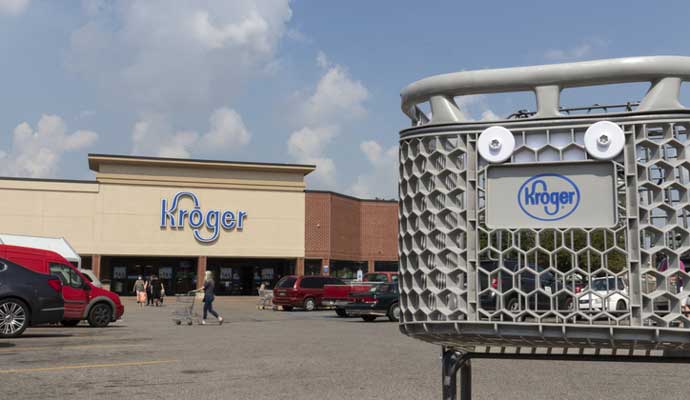 Driverless trucks progress in 2021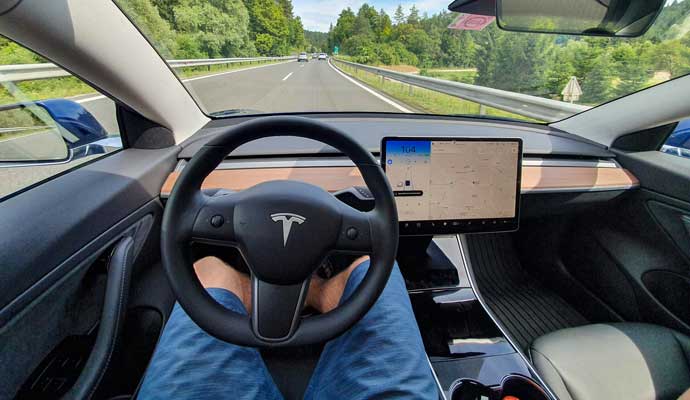 Tesla
Here we are in 2021 closing fast in on 2022, one pandemic later – what's the AT news? Tesla – production of the Tesla Semi has now been delayed to the end of this year with no specific targets due to battery production. But produce they must at some point because pre-orders for 450 trucks are in the bag including 125 units for UPS.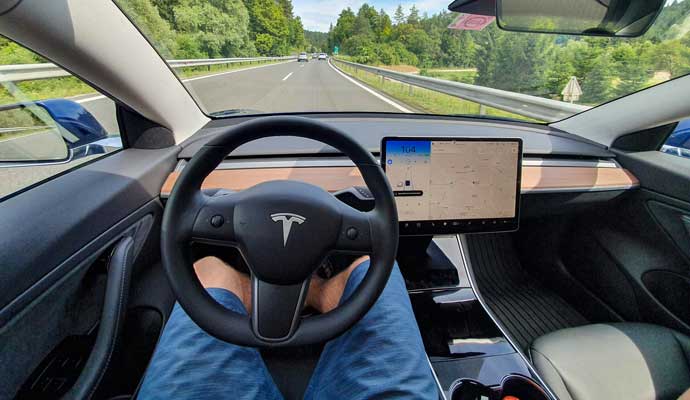 The Semis are to be equipped with 'Enhanced Autopilot' as standard equipment, offering semi-autonomous capability. Using more radar devices and cameras than Tesla cars, the system will enable the truck to stay in its lane and a safe distance from other vehicles on the highway, have emergency braking and warn the driver of any potential hazards near the vehicle.
Tesla also said that new technology with active safety controls would detect and prevent jack-knifing.
Tesla said that the system would eventually allow several units to operate in an autopilot-based convoy, led by a truck with a driver that would be a cheaper alternative to rail transport. At the time, platooning was legal in only eight states and all required a human driver in each truck, so changes in legislation would be needed.
Einride
But if you are looking for a fully autonomous truck or 'Pod' that has hit the road then it is the Einride which has kept its 2020 promise. (Almost!) But what allowed this company to leap ahead is its business model.
Einride is not an ordinary truck manufacturer. It does not produce the Pod's, nor are the Pod's for sale. Similar to a company like Apple, Einride is in charge of the design, technology, and branding of their trucks, as well as the control of the complete chain to which they outsource production, assembly and logistics. But most important is its software platform. Einride is primarily a software company. It is the platform that makes the difference. Their website is a fascinating visit.
Katoen Natie
Katoen Natie have, in fact, been operating driverless trucks at a chemical plant in Singapore since 2017. A closed environment without any worries about the open road. However, one must conclude to operate driverless trucks around chemicals, the safety and reliability of the concept must be extremely high. But no news of its trials in Belgium.
Scania
However, earlier this year, Scania announced it is to run self-driving trucks transporting goods on the E4 motorway between Södertälje and Jönköping in Sweden, the first in Europe.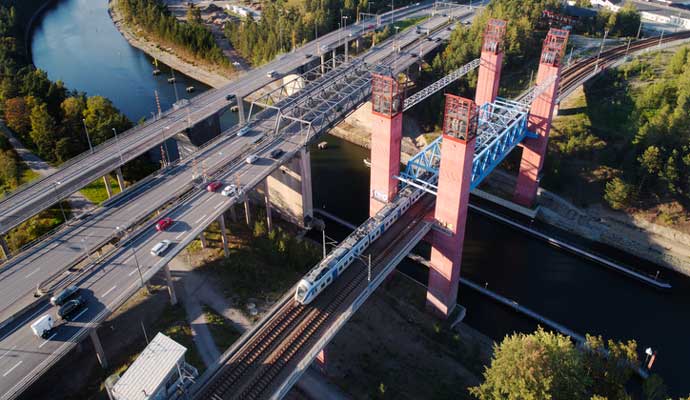 The trucks will enter commercial service with the Scania Transport Laboratory and will be loaded with goods for Scania's production operations. The system will cover technology according to level 4 on the 5-point SAE scale for self-driving vehicles, which means that the trucks are driven autonomously but for safety reasons are supervised by a driver. An engineer will also be on board during to monitor and verify the information which is transmitted to the truck from the sensors that enable autonomous driving.
Later this year, Scania plans to expand the tests to cover the entire route between Södertälje and Helsingborg.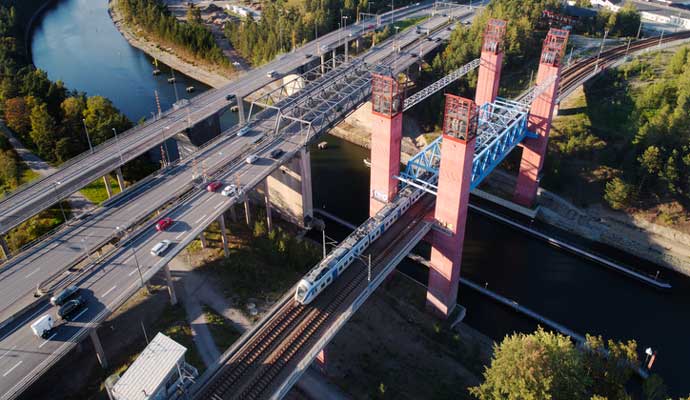 SAE International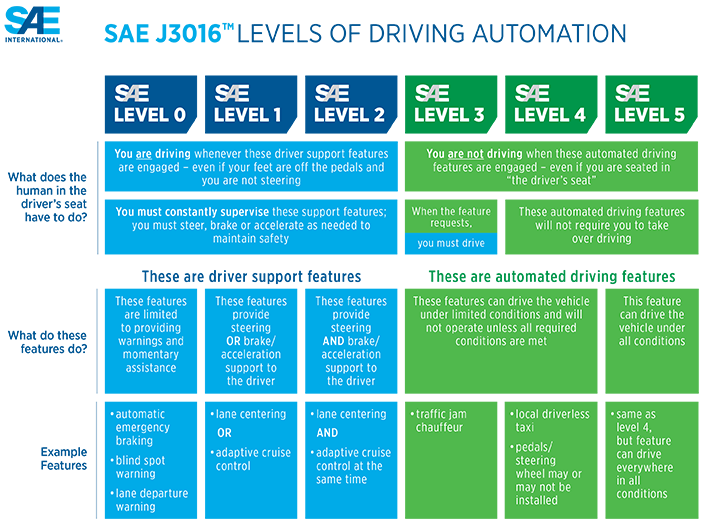 But to really understand AT terminology we need to bear in mind the differences or levels of driving autonomy.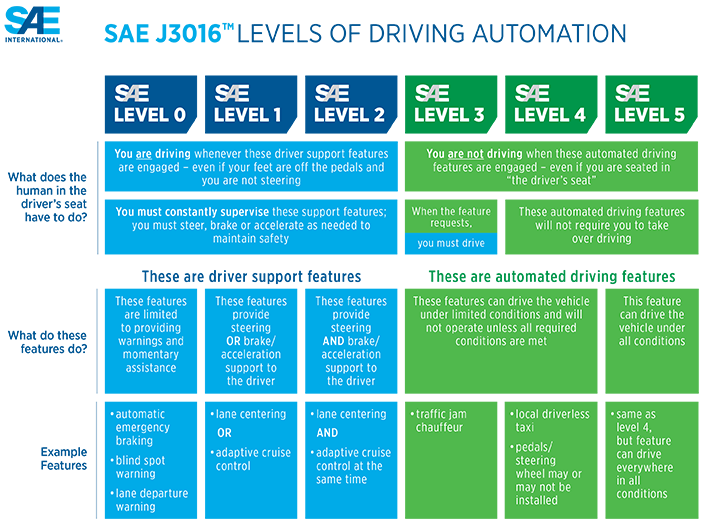 Fully Level 5 Autonomous trucks are not only coming, they are inevitable though may be many years away. Industry watchers moot predictions that Level 5 will probably be ready closer to the end of the decade, than the next few years, Level 4 is what most of the vehicle and tech manufacturers are striving towards at present and that race may well see some winners truly emerging in the coming months rather than years.
From 2018: SAE International Releases Updated Visual Chart for Its "Levels of Driving Automation" Standard for Self-Driving Vehicles.
Source: © SAE International from SAE J3016™ Taxonomy and Definitions for Terms Related to Driving Automation Systems for On-Road Motor Vehicles (2018-06-05), https://www.sae.org/standards/content/j3016_201806/
The race for driverless trucks
In the meantime here are the ones to watch (in our opinion): Embark; Daimler; Einride; TuSimple; Waymo; Volvo; Nuro and Tesla.
The team at Same Day Couriers Direct will keep an eye on them and update as we find out more.