Huddersfield, a town located in Yorkshire and the Humber
Same day courier Huddersfield services are provided by Same Day Couriers Direct in this town. The town falls in the Metropolitan Borough of Kirklees, West Yorkshire.
Map data: Google
Huddersfield offers the visitor a mix of both traditional and modern. Around the area the traveller can come across villages steeped in history and are centuries old. There are many buildings and locations which have been made famous by writers, film and television. The area uses the history and charm of the countryside to entice tourists with romantic short breaks and fun filled family adventure days. Also On offer are many outdoor pursuits and peaceful walking holidays.
Huddersfield economic sectors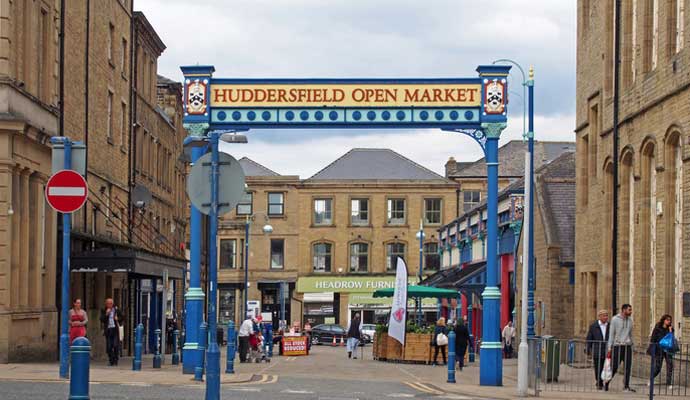 Key growth sectors:
manufacturing
education
wholesale
"Our vision is for Kirklees to be recognised as the best place to do business in the north of England and one where people prosper and flourish in all of our communities"
"The Huddersfield Blueprint is a ten-year vision to create a thriving, modern-day town centre."
Same day courier Huddersfield services
Huddersfield has excellent connectivity to both UK and international export markets with its location between Leeds, Manchester and Sheffield which are all within one hour. This is helped by road and rail links to major cities and access to ports and airports.
Huddersfield may not have global brands based within it but has many important businesses located in the area. Including Thornton & Ross Ltd, founded in 1922, is one of the largest over-the-counter pharmaceutical manufacturers in the UK and exports to over 80 countries worldwide; Buy It Direct Group, with brands such as appliancesdirect and laptopsdirect and Dr. Reddy's Laboratories (UK) Ltd, global pharmaceutical company.
Huddersfield is served by Manchester Airport with Leeds Bradford Airport as an alternative option. Manchester Airport to Huddersfield has hourly train connections. With the airport being the busiest outside of London, there are many global destinations on offer to traveller.
Huddersfield and its need for a same-day courier service is one that's both fast and efficient particularly due to the business sectors growing in the area. With Same Day Couriers Direct, we offer experience of working in various industries and will support your business. We have the same-day courier service that matches your needs even for the specialist industry you work in.
Same day courier Huddersfield helpful links
Invest in Kirklees: offering support to businesses making a move to the Kirklees area which includes Huddersfield.
Welcome to Yorkshire: offering all the information not just for Huddersfield visitors but also for the surrounding areas of interest.