Essen, city in the North Rhine-Westphalia region
Same day courier Essen services are provided by Same Day Couriers Direct in this city. North Rhine–Westphalia is Germany's most populous state and Essen shares economic importance with other cities including Bonn, Cologne, Dortmund and Dusseldorf.
Map data: Google
Essen offers much in the way of sightseeing enjoyed by visitors from all over the world. As the third greenest city in the Ruhr region, the city offers excursions, family holidays and a well established trade fair. Essen can give you the opportunity to enjoy shopping, hiking or cycling in the countryside, art and culture in museums and theatres. The city can boast a UNESCO World Heritage site at the Zollverein colliery.
Essen economic sectors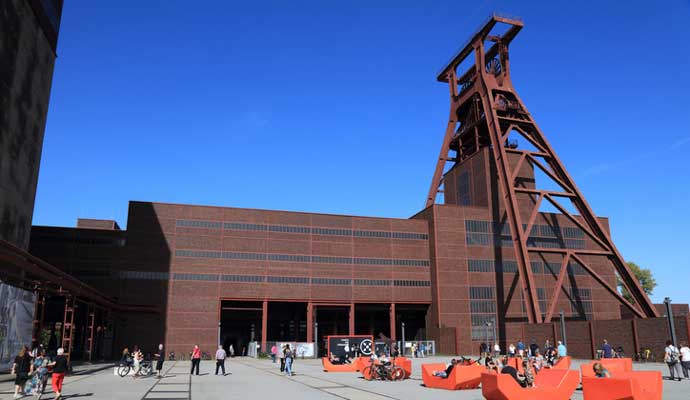 Key growth sectors:
digital
biotechnology
energy
electric mobility
"Every year, more and more multinational enterprises decide to invest in North Rhine-Westphalia. According to the ORBIS Europe company database, around 20,000 foreign companies have already established business operations in NRW."
Same day courier Essen services
Essen's coal mining was once the leading industry but all mines are now closed. The Zollverein coal-mine complex was once the largest in the world.
Essen as part of the North Rhine-Westphalia region is home to many multi-national companies. Including Tumi, leading brand for premium travel; ACCESS, a global provider of software solutions and Atlas Copco, Swedish technology group with headquarters in Essen.
Essen is served by Dusseldorf International Airport, the fourth largest of Germany's airports. Handling over 25 millions passengers annually, offering almost 250 destinations to more than 70 countries. Using Dusseldorf, Essen is well connected with all the major business cities of Europe.
A same-day courier service provider in Essen has to be experienced in providing for the North Rhine-Westphalia region sectors. At Same Day Couriers Direct, we have specialism in the key sectors which are the same as that of the city when it comes to logistics. We have experience with urgent courier service provision bringing with this experience, the reliability you deserve in a delivery specialist.
Same day courier Essen helpful links
NRW.Global Business: state-owned foreign trade promotion agency to support investors in tax and legal matters and provide detailed information on the economic structure and industry clusters.
ESSEN: tourism information for anybody visiting Essen on business or leisure.