Dortmund, city in the North Rhine-Westphalia region
Same day courier Dortmund services are provided by Same Day Couriers Direct in this city. A city entirely rebuilt after WWII, it's now famous for the football team, beer culture and industrial heritage.
Map data: Google
Dortmund offers much in the way of sightseeing spots; enjoyed by visitors from all over the world. Dortmund uses hashtags #beer #culture #football as they seem to cover the key interests for travellers and residents in the city. For culture the city offers Gothic architecture to industrial art highlighting industrial heritage and art. For football, the city is home to the German Football Museum with its history of world champions and trophies. For beer, there's the Brewery Museum charting the history of beer, not just in Dortmund but around the world.
Dortmund economic sectors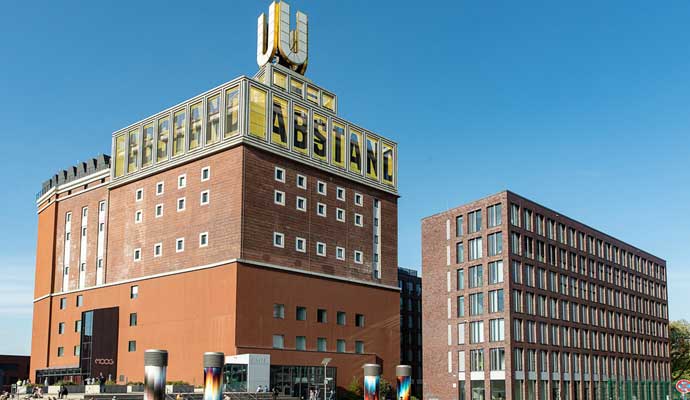 Key growth sectors:
digital
biotechnology
energy
electric mobility
"A dynamic business location with convincing location factors – North Rhine-Westphalia (NRW) offers all this and more. It is the most populous and most densely populated of the 16 German federal states."
Same day courier Dortmund services
Dortmund as part of the North Rhine-Westphalia region is home to many multi-national companies. Including Enapter, the hydrogen technology specialist from Thailand; Marelli, Japanese automotive supplier; OrCam Technologies, Israeli pioneer in the field of artificial vision and Xiaomi, Chinese technology giant.
Dortmund is served by Dortmund Airport. A small airport that focuses on flights to countries east of Germany and many of the popular holiday destinations such as Spain and Portugal. Popular airlines include Wizz Air, easyJet and Ryanair.
Dortmund Port is an inland port and is the largest canal harbour in Europe. It acts as a European hub for cargo logistics and also as a regional freight distribution centre.
Any same-day courier service in Dortmund has to be experienced in providing for the region's sectors located in and around the Dortmund area. At Same Day Couriers Direct, we have specialism in the key sectors of the city when it comes to logistics. We are experienced with urgent courier service provision bringing experience and reliability you deserve in a delivery specialist.
Same day courier Dortmund helpful links
NRW.Global Business: state-owned foreign trade promotion agency to support investors in tax and legal matters and provide detailed information on the economic structure and industry clusters.
visit DORTMUND: information for visitors to the city with everything in one place.