Cologne, fourth largest city in Germany
Same day courier Cologne services are provided by Same Day Couriers Direct in this city. In German, Köln, a city more than 2,000 years old.
Map data: Google
Cologne as a historic city offers much in the way of sightseeing opportunities; receiving visitors on travels from all over the world. Cologne's tourism board attempts to help by offering tours, including guided, boat and public tours as too many others such as brewery and food and drink tours, all to make sure the main sights such as the cathedral with its twin spires and Gothic architecture and the Rhine river are incorporated.
Cologne economic sectors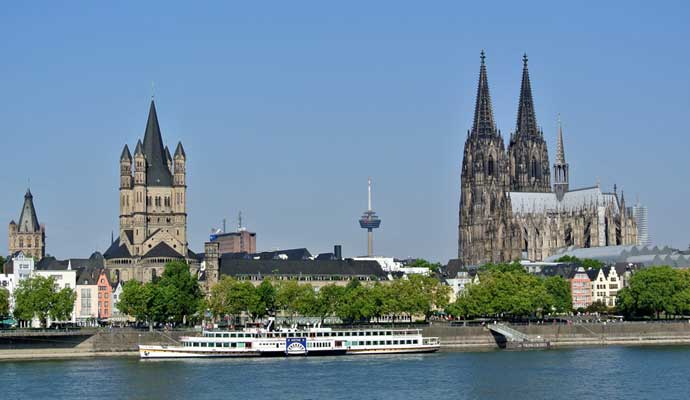 Key growth sectors:
financial and professional services
health and life sciences
industrial production
ICT
"Traditionally, Cologne is one of Germany's strongholds for industrial production. The automobile pioneer Nicolaus Otto invented the four-stroke engine in Cologne in the 1860s and in 1901, one of the world's first mass-produced cars rolled off the production line at Audi founder August Horch's factory in Cologne-Ehrenfeld."
Same day courier Cologne services
Cologne's location on the Rhine River gives the city an excellent connection to the two biggest European seaports at Rotterdam and Antwerp.
Cologne and the region is home to many leading brands. Including, in automotive, Ford-Werke, the US carmaker; Toyota Deutschland, second largest car manufacturer in the world; Deutz AG and Marelli. In software, Microsoft Germany; Expleo Germany and GS1 Germany have a major presence.
Cologne is served by Cologne Bonn Airport. The two terminals at the airport are set up to handle 14 million passengers. There are around 150 destinations, both domestic and international, covering countries such as Albania to Ukraine. There are over 50 destinations specifically involving cargo, for cargo transporting, the airport was sixth in the rankings compared with other European cargo airports. In Germany, it is only behind Frankfurt and Leipzig for cargo transport services.
Cologne does have a port, the Port of Cologne, but not as an industrial port such as cargo shipment and focuses mainly for tourism purposes such as cruises. It is still an important part of an industrial waterway and acts more like a service stop for vessels.
A same day courier service provider in Cologne has to be experienced in providing a service for all the main sectors located in and around Cologne. At Same Day Couriers Direct, we have the specialism with these sectors when it comes to logistics. Our experience with working with the variety of industries means we offer what you'll need in a courier service bringing experience and reliability you deserve from a delivery specialist.
Same day courier Cologne helpful links
KölnBusiness: one stop agency for international companies wishing to set up a business in Cologne.
Köln: information about Cologne as a place for tourism.