Antwerp
Same day courier Antwerp services are provided by Same Day Couriers Direct in this city, more populous than Brussels, the actual capital of Belgium.
Map data: Google
Antwerp offers many sightseeing spots; enjoyed by tourists from all parts of the planet. It has a mix of old and new for the visitor with cobbled lanes, a riverside fortress and a truly impressive cathedral now mixed with modern architecture, art, fashion and entertainment for all to enjoy.
Antwerp economic sectors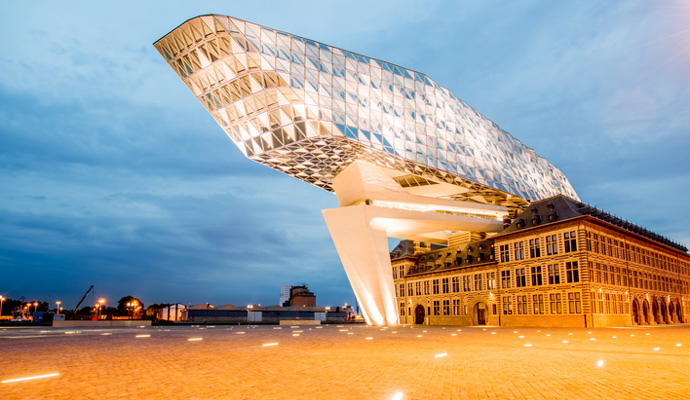 Key growth sectors:
world port
retail and fashion
diamonds
oil & chemicals
digital innovation
clean technology

waste recycling
energy from waste
wind-farming
"Antwerp is most famous for its diamond trade, the world class port & logistics business and its well developed oil & chemical cluster."
Same day courier Antwerp services
Antwerp as a port city is one of the biggest in the world, ranked second in Europe and within the top 20 internationally. The city is famous for its diamond industry and trade.
Antwerp is home to many leading brands. Including Total, which has its largest refinery located in the Port of Antwerp; other top ten companies include Nokia and BASF, the German multinational chemical company and the largest chemical producer in the world.
Antwerp is served by Antwerp International Airport. Compared with other international airports, its small but popular for holiday destinations to Spain.
The Port of Antwerp is by far the largest economic engine of Belgium. More than 140,000 people work directly or indirectly for the port. The size of the port covers an area of 24,000 football pitches and has over 900 companies on site. It is no surprise that Antwerp is able to boast being the gateway to the world.
Any courier service in Antwerp and particularly due to the port's presence with such a mix of businesses located in and around the port and surrounding areas, is, to say the least, requires a high specialism when it comes to logistics. At Same Day Couriers Direct, we have the necessary experience in various sectors, working with a variety of industries, this means, we can offer all you'll need in a courier service to meet every business need as and when you require a delivery specialist.
Same day courier Antwerp helpful links
Investments & concessions: Port of Antwerp's site for investors and for advice and support.
City of Antwerp Investdesk: providing tailored advice to your needs.