Dublin, capital of the Republic of Ireland
Same day courier Dublin services are provided by Same Day Couriers Direct in this city, one of the major engines of Éire (the official Irish name).
Map data: Google
Dublin offers many sightseeing spots; enjoyed by tourists from around the globe. Dublin offers much from the great outdoors and historic walking tours to the best places to get some culture! There's so much to see and do in Dublin, particularly for fans of cultural statues that include Molly Malone and Oscar Wilde.
Dublin economic sectors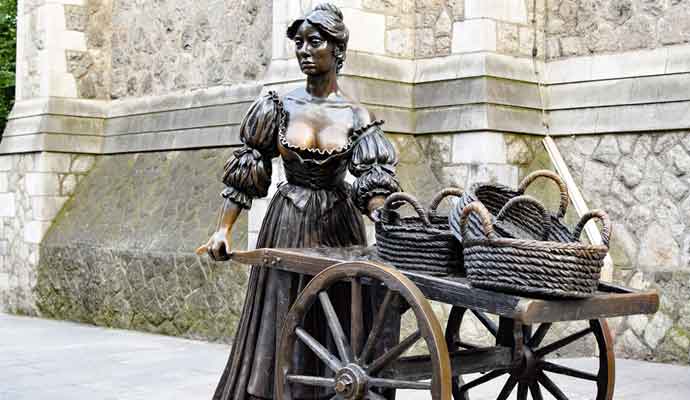 Key growth sectors:
tech
financial services
professional services
logistics
life sciences
arts and recreation
"Dublin has a vibrant and diverse economy, which supports thriving clusters of Irish and international players. Any kind of company coming to Dublin can benefit from support and the business-friendly environment. But there are some key industry sectors which tend to attract FDI (foreign direct investment) to the city."
Same day courier Dublin services
The UK left the European Union (EU) in 2020. During negotiations the EU and UK agreed a Northern Ireland Protocol that there would be no new checks on goods crossing the border between Northern Ireland and the Republic of Ireland. As a result of the protocol, Northern Ireland has in effect remained in the EU's single market for goods (England, Scotland and Wales have left the EU's single market for goods). This allows goods to flow to and from Northern Ireland to the Republic of Ireland and the rest of the EU as they did while the UK was a member of the EU, without customs checks, tariffs or new paperwork.
Dublin is home to many leading brands and probably due to Ireland's favourable tax regime. Including Google, the company has its European headquarters in Dublin's 'Silicon Docks', the tech area of the city; Facebook has European headquarters; Airbnb headquarters; PayPal has European headquarters; Indeed; Microsoft; Twitter; eBay and LinkedIn to add to big names with a huge presence in Dublin.
Dublin is served by Dublin Airport; "Connecting Ireland to the world". Passengers can fly to over 130 destinations direct from the airport with 36 airlines operating.
Dublin is located as a city by the sea and served by Dublin Port. Dublin Port is the largest freight and passenger port in Ireland. For passengers, Dublin to Holyhaed connects Ireland to Wales; Dublin to Liverpool connects England and Ireland.
Dublin sees itself as providing a gateway to Europe and with excellent links across the Atlantic with the US and the UK too. Dublin can boast being one of the most globally connected cities in the world, so an it is an ideal base for businesses.
Any courier service in Dublin and particularly due to the many towns located close by and sectors, is no doubt a highly competitive industry. At Same Day Couriers Direct, we have processes in place, experience of working in such a variety of industries, we can offer all that you'll need in a courier service to meet your business needs when you require a logistics specialist.
Same day courier Dublin helpful links
Dublin.ie: guide to live, work, invest and study in Dublin.
Dublin City Council: providing businesses in Dublin with a single source of information on support service options.