Same Day Couriers Direct provides a same day delivery service across Northern Ireland and beyond.
TIME CRITICAL:
we collect and deliver from one part of Northern Ireland to another on the same day
we collect from any part of Northern Ireland and deliver to a UK country
we collect from any part of Northern Ireland and deliver to a European country
DISCOVER THE SAME DAY COURIERS DIRECT DIFFERENCE FOR YOURSELF
CALL OUR TEAM NOW ON
0333 772 1010
WE COVER ALL OF NORTHERN IRELAND…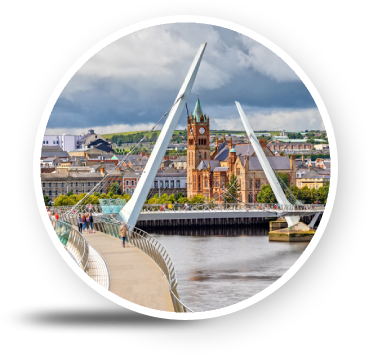 …NORTHERN IRELAND
Although the UK's smallest country, Northern Ireland has some important industries, including agriculture, aerospace (one of the top ten hubs in the world) and medical technology.
Belfast, as an indication of the capital's economic importance hosts a third of the country's population and is served by Belfast International Airport.
Major harbours include Belfast Harbour, Foyle Port and Port of Larne.
Other growing sectors include a creative sector, particularly in film, music and animation.
Exhibition centre in Waterfront Hall Belfast.
Northern Ireland is also strong in a number of other sectors including construction and financial services.
Belfast is still associated with shipbuilding as a key industry; the Harland and Wolff shipyard, which built the RMS Titanic, was the world's largest shipyard. Belfast more recently has a major aerospace and missiles industry to go with advanced engineering and manufacturing, financial and professional services.
Northern Ireland's construction workforce is predicted to grow to over 60,000 in 2022.
Same Day Couriers Direct serve all the major cities including Belfast, Derry (Londonderry), Armagh, Lisburn, Newry and major towns such as Ballymena, Coleraine and Craigavon.