Dundee, a coastal city on the Firth of Tay estuary
Same day courier Dundee services are provided by Same Day Couriers Direct in this city. Dundee is another city famed for a maritime history.
Map data: Google
Dundee, is a vibrant waterfront city and offers many great attractions; enjoyed by tourists from Scotland, the UK and from around the world. Dundee can offer fun-filled days out with great restaurants, music and theatre, and unmissable Dundee events. Dundee City Waterfront is 30 year project and the vision for the waterfront is "To transform the City of Dundee into a world leading waterfront destination for visitors and businesses through the enhancement of its physical, economic and cultural assets." The V&A Dundee – Museum Of Design opened to the public in 2018.
Dundee economic sectors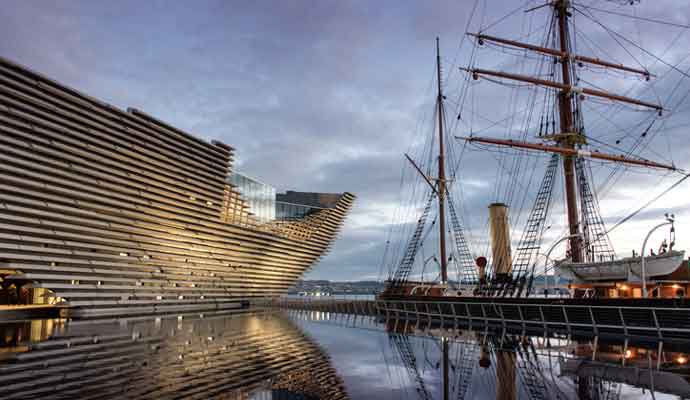 Key growth sectors:
energy
life sciences & healthcare
tourism
retail
contact centres
"Dundee is embracing a huge transformation and has been firmly propelled to a city of global renown."
" – with the Waterfront regeneration as a catalyst, Dundee's future has never looked more positive."
Same day courier Dundee services
Dundee boasts many businesses with many brands playing a prominent part in the economy. Including: BT; HM Revenue & Customs; JobCentre Plus; Department for Work and Pensions and Tesco who all have contact centres in the city.
Dundee is served by Dundee Airport. The airport offers direct flights to London and Belfast. Dundee is within reach of international airports at Aberdeen, Edinburgh and Glasgow. These airports offer direct flights beyond Europe and a number of connecting flights to further afield destinations.
Major harbour is Port of Dundee. The port offers access to the North Sea and all points inland.
A same day courier service provider in Dundee needs to be able to offer fantastic service. With Same Day Couriers Direct, we offer this with our extensive knowledge and experience of working in a variety of industries, we have all that you need in a courier service to meet your expectations with the personalised logistics that you require. Creative, Digital, Tech sectors are a specialism of ours.
Same day courier Dundee helpful links
Invest in DUNDEE: offering information and support, using a dedicated Business Development Team.
Dundee City Council: city council offering information for business in Dundee and the surrounding area.
Dundee: One City Many Discoveries Marketing Campaign offering information for visitors to Dundee and the surrounding area.