Hanover, capital city of Lower Saxony
Same day courier Hanover services are provided by Same Day Couriers Direct in this city. The city is the third largest in Northern Germany after Hamburg and Bremen.
Map data: Google
Hanover offers much in the way of sightseeing for visitors; enjoyed by travellers from all over the world. The city offers art and culture which it believes is of the highest quality. Museums include Sprengel Museum Hannover offering collection of 20th century and contemporary art whilst the Lower Saxony State Museum displays not only art from the Middle Ages through to the early part of the 20th century but also archaeology, ethnology and natural history. After a visit to one of the many museums, there is gastronomy and nightlife on offer.
Hanover economic sectors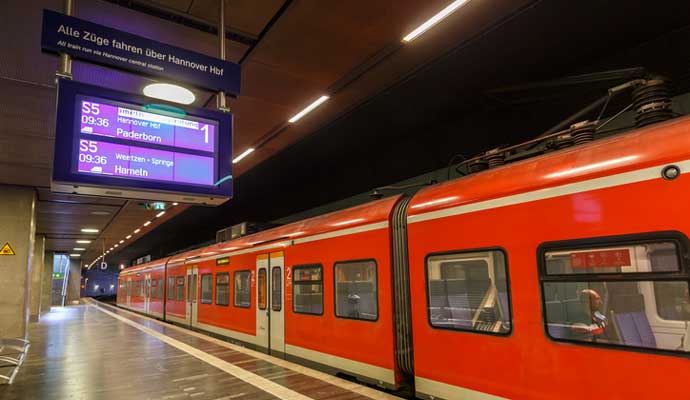 Key growth sectors:
manufacturing
skilled trade
retail industries
mechanical engineering
services

communication
tourism
conferences
"Hannover is the most important economic area in Lower Saxony and features a broad range of business sectors."
Same day courier Hanover services
"A leading trade show location, Hannover enables local businesses to offer the latest technologies, products and system solutions virtually from their own doorstep at exhibitions of world renown."
Hanover is home to many leading brands. Including in the automobile industry, Continental, a multinational automotive parts manufacturing company and Volkswagen Commercial Vehicles. There are a number of brands with their headquarters in Hanover, including Johnson Controls; Bahlsen; BREE; KIND Hörgeräte; Komatsu-Hanomag; MTU Maintenance; Rossmann; Sennheiser electronic; Solvay Deutschland and TUI.
Hanover is served by Hannover Airport. The airport offers direct flights from Adana to Zurich in the A-Z of destinations offered. Covering most of Europe and popular holiday destinations just outside.
Hanover, like many German cities linked by waterways, does have a port but focuses mainly for tourism purposes such as cruise ships.
A courier service in Hanover needs to be experienced in providing for such a variety of sectors located in and around the city and Lower Saxony. At Same Day Couriers Direct, we specialise in specific sectors when it comes to logistics. We work with a variety of industries so we can offer all you'll need in a same day courier service offering our experience and reliability so you work with a delivery specialist that offers you success.
Same day courier Hanover helpful links
Lower Saxony: resource for the federal state of Lower Saxony.
Visit Hannover: all the information about the city for the visitor on business or leisure.