Bremen, the city that is the smallest German state
Same day courier Bremen services are provided by Same Day Couriers Direct in this city. The city is unique as it is also the state or in full, Free Hanseatic City-State of Bremen.
Map data: Google
Bremen offers much in the way of sightseeing spots; enjoyed by visitors from all over the world. The city is both modern and busy and part historic with the Hanseatic port. Bremen has many popular events in the annual calendar including the Bremen Classic Motor-show and the Maritime Festival amongst numerous others. If you're not there during an event, there's still plenty of culture available with arts, museums and theatre.
Bremen economic sectors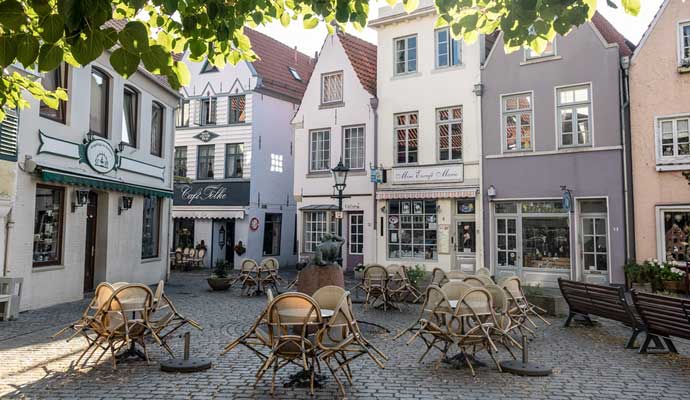 Key growth sectors:
"As an investment location, Bremen has everything you could ask for: open, tolerant people, a track record in innovation, outstanding research and technology institutes, and a high quality of life."
"Bremen is one of the top ten major industrial locations in Germany."
Same day courier Bremen services
Bremen is a region made for logistics. Offering warehouse space and excellent transport links, this has attracted over 1,000 logistics companies employing 20,000 people, meaning one in three local jobs are in the maritime or transport sector.
Bremen is home to many leading brands. Including Beck's Bier, since 1873; Mercedes, eight out of ten Mercedes cars are made in Bremen; Melitta, producing coffee and is one of the best-known roasters and Jacobs Douwe Egberts (JDE Peet´s), also coffee roasting in Bremen.
Bremen is served by Bremen Airport. The airport is just over ten minutes from the city centre. The airport handles 2.5 million passengers annually with flights offered to over 30 destinations worldwide, in Europe, to North Africa and Asia. The airport also specialises as a cargo hub which connects to the Cargo Distribution Centre in Bremen. Bremen's Cargo Distribution Centre is the only terminal for integrated road-rail transport in Germany that operates purely within the private sector.
Bremen as a logistics city with Bremerhaven, has an astonishing eight ports to offer at its inland port. A container terminal; car terminal; fishing harbour; cruise terminal; industrial docks; timber and works quay; Neustädter Hafen and Hemelingen Weserhafen, the furthest inland and supports general transport of steel, other metals, scrap, sand and gravel to inland destinations.
A courier service in Bremen needs to be experienced in logistics for such a variety of sectors located in the region. At Same Day Couriers Direct, we have specialism when it comes to logistics in these sectors. We work with a variety of industries so we can offer all you'll need in a same day courier service bringing experience and reliability you deserve with your delivery specialist.
Same day courier Bremen helpful links
Bremeninvest: supporting businesses interested in investing and making a move to Bremen successfully.
BREMEN: the tourism site for all the information about visiting the city.