Hamburg, a major port city in northern Germany
Same day courier Hamburg services are provided by Same Day Couriers Direct in this city, a city connected to the North Sea by the Elbe River.
Map data: Google
Hamburg offers many sightseeing spots which are enjoyed by tourists from around the world. As a port city, it has an international culture found in what it offers. Renowned for an international cuisine in restaurants, bars and pubs, museums and theatres, the city has a very cosmopolitan outlook.
Hamburg economic sectors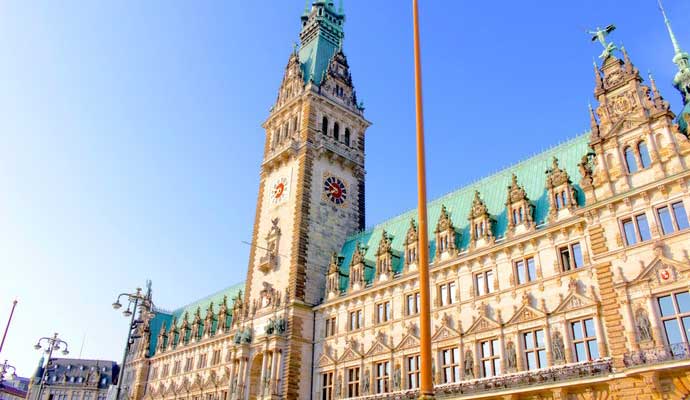 Key growth sectors:
renewable energy
life sciences
services sector
media and creative
"Second largest city of the fourth largest national economy in the world, major port, seat of The International Tribunal for the Law of the Sea, home to Nivea and Montblanc, an Airbus production site, metropolis by the water offering a high quality of life – all this is Hamburg and so much more".
Hamburg Invest
Same day courier Hamburg services
Hamburg can boast many leading brands. Including Montblanc (high-quality pens); Nivea (a global success brand since 1911) and Airbus (you may have flown on a plane that was assembled by Airbus).
Hamburg is Germany's largest port and commercial centre. The city has one of the largest and busiest ports in Europe; it is also the most populous city in the country after Berlin.
Hamburg is served by Hamburg airport. Offering over 80 direct flights to cities within and outside of Europe. Flights provided by airlines from Aegean to Wizzair in the A-Z index.
The Port of Hamburg is the third largest port in Europe and ranked 18 worldwide in 2020 for container handling over 8.7 million tons. The port is also a leading centre for cruise shipping. The port uses a hub interlinking truck and rail, offering an excellent transport infrastructure.
Any courier service in Hamburg needs an experienced courier delivery partner. At Same Day Couriers Direct, we offer the necessary processes to connect, with this, we can offer you a courier service to meet every expectation you require in a delivery specialist.
Same day courier Hamburg helpful links
Hamburg Invest: supporting businesses seeking to relocate to the economic region of Hamburg.
hamburg.com: all the information needed for the visitor to Hamburg and beyond.