Wakefield, a city in West Yorkshire
Same day courier Wakefield services are provided by Same Day Couriers Direct in this city. The city is located south of Leeds.
Map data: Google
Wakefield is the place if you're a lover of all things rhubarb, you'll need to be there for the Rhubarb Festival. For lovers of art rather than vegetable, there's The Hepworth Wakefield, named after the Wakefield-born artist, Barbara Hepworth. There are many more events and attractions when in the city and the surrounding Yorkshire countryside and villages are all accessible on a day trip, short or long stay.
Wakefield economic sectors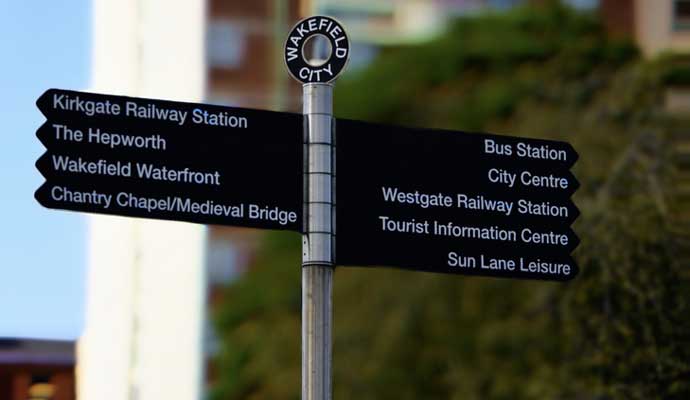 Key growth sectors:
advanced manufacturing
business and professional services
logistics
"The Wakefield District's economy is worth £6.5 billion; making us the 4th largest in the Leeds city region."
"Wakefield offers a wide range of major development and investment opportunities across an array of fast growing sectors. The District has a strong portfolio of prime sites which are immediately available and ready for investment."
Same day courier Wakefield services
Wakefield's central location in the UK makes it well connected with excellent transport links across the country and attractive as a business location. There are three motorways, including the M1 (north to south) and M62 (east to west) for road transport just outside the city.
There are a number of business parks dedicated to sectors with access to motorways, these have attracted companies with high growth based in and around the city. Including Asda- Walmart; United Autosport; Bosch; ITT Industries; Travis Perkins and Taylor Wimpey, the construction company has their Yorkshire offices in the city.
Wakefield is served by Leeds Bradford Airport. This gives the city passenger flight services across Europe and many global destinations. For cargo the city has access to the World Freight Terminal at Manchester Airport, an hour to drive.
Wakefield and the area will have an ongoing need for a same day courier service, one that offers a fast and reliable option. At Same Day Couriers Direct we use our expertise in various industries and provide logistics support for your business. We have a same day courier service that can meet your business expectations.
Same day courier Wakefield helpful links
Wakefield First: Wakefield Business Support Programme, designed to help businesses in the district.
Experience Wakefield: to find out about what's on, attractions, guides and what's happening for visiting Wakefield.