St Helens, a large town in Merseyside, located in the North West
Same day courier St Helens services are provided by Same Day Couriers Direct in this town. The town is located between Liverpool and Manchester.
Map data: Google
St Helens is an ideal location for a day trip from Manchester or Liverpool, or to explore the North West region. Popular attractions include "Dream", a 20 metre high sculpture, the Newton Heritage Trail including a variety of stops at Castle Hill, the Sankey Canal and the Stephenson Viaduct and The World of Glass museum for all things related to glass including unique collection of historical artefacts.
St Helens economic sectors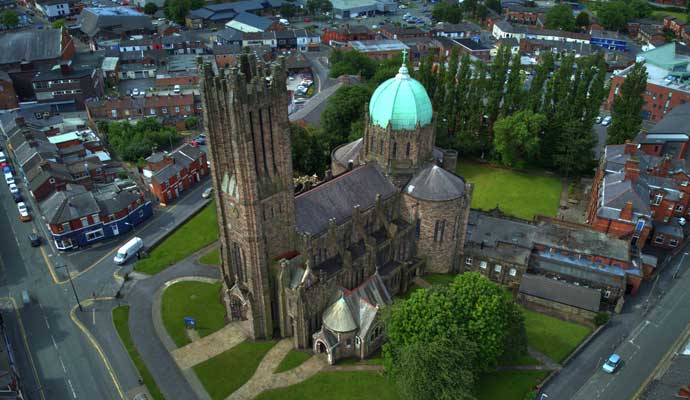 Key growth sectors:
manufacturing
logistics
digital
"St Helens has a successful and innovative industrial and manufacturing history."
"Once known as the gateway to the world, north west UK has long been a well renowned location for logistics."
"St Helens is set to become an exciting digital and creative hub, with a number of successful digital media, digital technology and creative companies emerging in the area."
Same day courier St Helens services
St Helens is located close to an extensive transport network giving the town excellent connectivity. Connected by road with the M62 and M6 motorways. Rail services offer 20 minute connections to both Manchester and Liverpool. Both these cities have airports including cargo. Liverpool also has port services.
Companies with high growth based in St Helens include Co-op, with a distribution centre; NGF Europe Ltd, a subsidiary company of the NSG Group of Japan, leading manufacturer of glass products for building, automotive and information electronics applications and Pilkington UK, famous glass manufacturer, founded in 1826 under the name St. Helens Crown Glass Company.
St Helens is served by Manchester Airport and Liverpool John Lennon Airport, both only 20 minutes away. Manchester Airport is the second busiest airport in the UK outside of London and also offers cargo services. The two airports offer destinations for a global reach, giving the town access across the world.
St Helens is served by the Port of Liverpool which means the town is within 20 minutes of the deep water berth at Liverpool 2. The town also has access to the Manchester Ship Canal.
St Helens will have a growing need for a same day courier service that is both fast and reliable and one with a focus on the key industry sectors. At Same Day Couriers Direct we use our expertise in various industries and can provide support for your business when it needs a logistics provider. We have the same day courier service that will meet all your business expectations.
Same day courier St Helens helpful links
Invest St Helens: for expert advice from the Place Delivery Support Unit for St Helens as a business destination.
Visit Liverpool: to find out what to see and do in St Helens.