Slough, a town located in the South East
Same day courier Slough services are provided by Same Day Couriers Direct in this town. The town is only 20 miles west of central London.
Map data: Google
Slough offers much in the way of sightseeing with a location close to many interesting outings. For the adventurous, there are holiday boats on the the Thames to explore the area. For shoppers, there's Queensmere Observatory Shopping Centre which is located in the centre of Slough and offers over 120 shops to choose from. With an average journey time by train between Slough and London of 27 minutes, you can easily pop over to or from the capital.
Slough economic sectors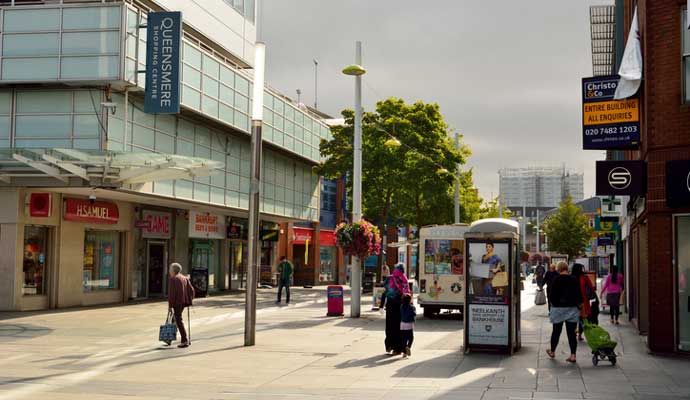 Key growth sectors:
advanced engineering & manufacturing
creative industries
digital technology
environment, energy & infrastructure
life sciences & healthcare
financial and professional services
"Slough is ranked as the most productive city in the UK, with productivity per capita rising to £100,000 per worker in the 2020 Cities Outlook Report."
"Slough named the best place to work in the UK…"
Same day courier Slough services
Slough's location makes it very well connected by having easy access to an excellent transport infrastructure. London Heathrow Airport is just seven miles away. By Rail, with the completion of the Elizabeth Line, Slough will be able to connect through London including Ealing Broadway, Tottenham Court Road and Liverpool Street before travelling towards Canary Wharf. By road, there's the M4 motorway which connects London, the west of England and Wales.
Slough, with SEGRO's Slough Trading Estate (the largest privately owned business park in Europe) located in the town has enticed many global brands to have a presence in Slough. Including Mars; Telefonica O2; Ferrari; DHL; Lanes Group and UCB.
Slough is served by London Heathrow Airport which is just several miles away. London Heathrow Airport is the UK's main airport with the vast majority of all long-haul flights departing from the UK taking off from the airport. The airport handles over 80 million international passengers every year, offering flights to over 200 global destinations in over 80 countries.
Slough's need for a same-day courier service is one that needs to be both fast and reliable, particularly with the Thames Valley region's industrial sectors. At Same Day Couriers Direct, we offer the necessary experience of working in the Thames Valley region's industries and can support your business. We have a same-day courier service that will meet your needs no matter what specialist industry you work in.
Same day courier Slough helpful links
Thames Valley UK: offering information on the potential of the Thames Valley region for businesses with Slough as the main town.
Visit South East England: offering all the information for visitors to South East England including Slough.