Newcastle-under-Lyme, a town in the West Midlands
Same day courier Newcastle-under-Lyme services are provided by Same Day Couriers Direct in this town, located in Staffordshire.
Map data: Google
Newcastle-under-Lyme has a history and heritage linked to the industrial revolution and sits next to the area known as the Potteries. A visitor can enjoy a trip to explore the mining heritage at Apedale Valley and enjoy a ride and scenery on a narrow gauge train running along the side of Apedale Community Country Park. There are many attractions and events in town such as music and comedy at the New Vic Theatre, historical buildings and of course shopping at the markets. As the town is close to Stoke (Stoke-on-Trent), there are many more opportunities to explore on the doorstep too.
Newcastle-under-Lyme economic sectors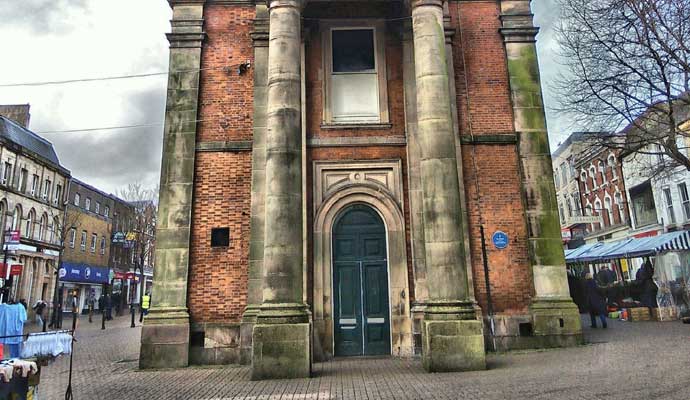 Key growth sectors:
manufacturing
energy
logistics and distribution
business & professional services
life sciences
agritech
"Newcastle-under-Lyme is an attractive, cultured, well connected and cost competitive location for business to operate from, as well as a great place to live."
Same day courier Newcastle-under-Lyme services
Newcastle-under-Lyme attracts businesses due to a location in the heart of the UK with road connections with the rest of the country, the A34 road links the town to the M6 motorway. The town is home to some well known established businesses including RBS (Royal Bank of Scotland), with a European Operations Centre; JCB World Logistics, at the Blue Planet warehouse and KMF Precision Engineering, one of the largest sheet metal engineering and metal fabrication companies in the UK.
Newcastle-under-Lyme is served by Manchester Airport which is just over a 40 miles drive north. Birmingham Airport is also available and around 55 miles south of the town. The airports offer the town connectivity internationally to the rest of the UK with domestic flights, further through Europe and even further afield worldwide destinations. Manchester Airport alone gives access to over 200 destinations worldwide including cargo freight making the town an ideal business location.
Newcastle-under-Lyme as a town sits located close to major towns and cities and so will need a same day courier service provider that can offer both a fast and reliable service. At Same Day Couriers Direct we offer an expert service with a focus on key sectors and provide support to businesses when it comes to urgent logistics. We have the same day courier service that will meet your individual business delivery needs.
Same day courier Newcastle-under-Lyme helpful links
Make It: for advice and information to support businesses in the Stoke-On-Trent and Staffordshire area including Newcastle-under-Lyme.
Enjoy Staffordshire: for all the visitor information not just for Newcastle-under-Lyme but also for the surrounding areas of interest in the county of Staffordshire.