Coventry, a city in the centre of England
Same day courier Coventry services are provided by Same Day Couriers Direct in this city. Coventry is famed for the medieval cathedral, left in ruins after bombing during the war.
Map data: Google
Coventry offers many things for the visitor to see and do; enjoyed by many people from around the world. Coventry can offer fun-filled days out with great restaurants, music, theatre and festivals, museums, cathedrals and medieval history, the city has something for anyone and everyone.
Coventry is rich in history, ancient legends and offers an abundance of unique arts and culture. Coventry has an exciting future as the UK City of Culture 2021 and is also the host city for the Commonwealth Games 2022.
Coventry economic sectors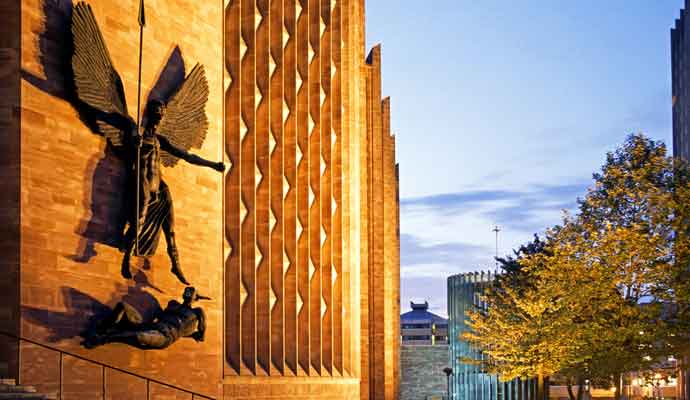 Key growth sectors:
advanced manufacturing
transport technologies
business & professional services
life sciences
"Historically known as the 'workshop of the world', today the West Midlands' diverse range of thriving sectors and entrepreneurial spirit continue to drive global innovation and change."
The UK's second largest urban area and the area for UK start-ups. Home to the cities of Birmingham, Coventry and Wolverhampton.
Same day courier Coventry services
Coventry as part of the West Midlands is in the best connected city-region in the country. A close proximity to London and a four hour drive for 90% of the UK population. With High Speed 2 (HS2), the region's connectivity will be transformed as the HS2 high speed rail network is Europe's largest infrastructure project.
Coventry and Warwickshire is home to some of the biggest names in the automotive, energy and financial services sectors with many leading brands. Including Aston Martin; BMW; Jaguar Land Rover and Rolls Royce.
Coventry is served by Birmingham Airport, which is the UK's fastest-growing airport. Birmingham Airport offers many long-haul destinations and works with a number of international flight operators.
A new site for eVTOL (electric vertical takeoff and landing) aircraft is being developed in Coventry in a bid to bring aerial urban transport to the UK in the near future. Urban Air Port says it chose Coventry for the first site due to its important location in the heart of the UK and because it is a historic hub for the automobile and aerospace industry.
The courier industry in Coventry needs one that can handle urgent same day courier needs. Particularly due to the location and sectors, making it an exceptionally important to have the right logistics partner. With Same Day Couriers Direct, we have substantial experience of working in various industries, we specialise in automotive amongst our dedicated areas of expertise providing a courier service to meet your needs.
Same day courier Coventry helpful links
Invest in Coventry: information and support for new and existing businesses.
West Midlands Growth Company: offering support for inward investment into the region.