Palermo, capital of the island of Sicily
Same day courier Palermo services are provided by Same Day Couriers Direct in this city, which functions as the centre of government for Sicily.
Map data: Google
Palermo offers sightseeing spots as a historic seaport; the city and the rest of the island are enjoyed by visitors from around the globe. As a seaside city which has had many occupants influencing its architecture it offers international cuisine amongst new and old buildings with scenic views. It is a city rich with historical architecture and culture. The VISIT SICILY tourism site suggests "The ranking, written by the American network Virtual Tourist, puts Palermo at 5# place among the best producers of street food in the world.".
Palermo economic sectors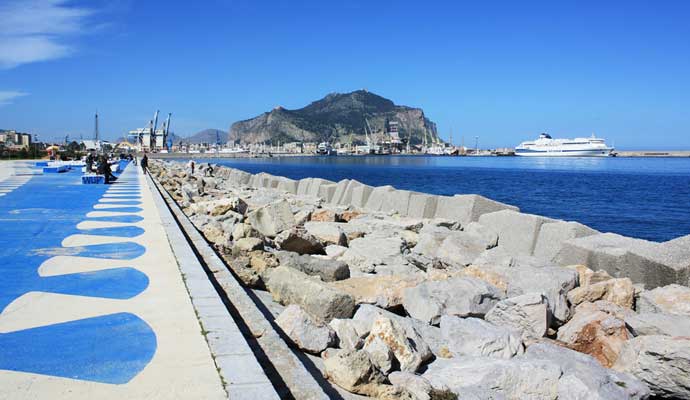 Key growth sectors:
tourism
services
commerce
agriculture
"Palermo, Sicily, Italy (PortSEurope) August 12, 2021 – In the first half of 2021 the port of Palermo handled 3.64 million tons of goods, an increase of +4.8% on the first half of last year.
The improvement is largely due to the +12.8% growth in traffic handled in the second quarter of 2021 compared to the same period of 2020″
Same day courier Palermo services
Palermo is home to few leading brands and although we don't recognise the names, commerce is an important sector with banking and the importance of the port. Companies based in the city, include IRFIS, a development bank; Banca Popolare Sant'Angelo, a cooperative bank; Banco di Sicilia and Pietro Barbaro, a ship transport company founded in 1885, (petroleum transport, shipping and tourism).
Palermo is served by Falcone Borsellino Airport and sometimes known, just simply, Palermo Airport. The airport is 25 kilometres from the city. Flight destinations are offered mainly in and around Europe and the A-Z lists from Amsterdam to Zurich.
Port of Palermo is one of the largest seaports in the Mediterranean. It has 17 commercial quays. The terminals handle various goods including oils and petroleum products through to wines and vegetable fats The terminals also handle containers including roll-on / roll-off cargo. The port also offers passenger services for cruise and ferries.
Any same day courier service company in Palermo and particularly due to it being a port city, makes it a highly competitive business. At Same Day Couriers Direct, we offer experience of working in a variety of industries, we offer what you need in a fast courier service to meet your every expectation as and when you require a delivery specialist.
Same day courier Palermo helpful links
Italian Trade Agency: supports business development for companies in Italy.
VISIT SICILY: the official visitor site for Palermo and for visiting Sicily.