Bern, the capital of Switzerland
Same day courier Bern services are provided by Same Day Couriers Direct in this city, the city finds its foundations back to the late 12th century.
Map data: Google
Bern offers much in the way of picturesque sightseeing for any visitor; the city is enjoyed by tourists from all over the world. The old is connected to the newer parts of the city by a number of bridges. It is a city where the Bernese locals are able to take a dip in the crystal clear Aare River. Bern offers street entertainment, excellent culinary delights and much more in and around the city.
Bern economic sectors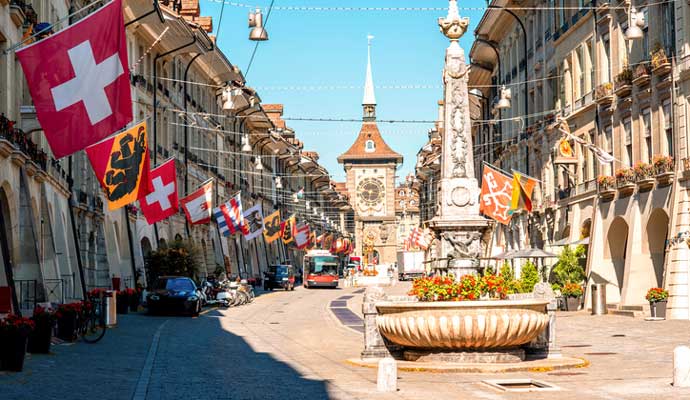 Key growth sectors:
"Pooling resources regionally for optimum results: in various key sectors, businesses in the Canton of Bern have got together to form cluster organizations. These platforms facilitate the transfer of knowledge and technology between members and promote training and continuing education for their staff."
Same day courier Bern services
Switzerland has over 5,000 kilometres of railways, roads cover over 73,000 kilometres giving the country an extensive transport network. This is important for a landlocked country, giving it excellent links to surrounding countries. Swiss products can be exported to the European Union (EU) and European Free Trade Association (EFTA) countries without paying customs duties and with the same applying for imports with reciprocal arrangements.
Bern is home to many leading brands but not necessarily ones we're all familiar with. Well known commercial brands are dominated by the main sectors and include GlaxoSmithKline (pharmaceutical). In the IT sector, Swisscom; T-Systems (German); Huawei Technologies (Chinese) and eBay International (American), all have their Swiss headquarters in Bern.
"Bern is one of the most important watchmaking cantons. The industry is represented right across the value-added chain: R&D, design, production (manufacturers and suppliers) and retail. The Swatch Group has its corporate head office in our region, and its Longines, Omega, Rado and Swatch brands are manufactured here as well. ETA SA, one of the biggest watch movement manufacturers in the world, also has a number of production sites here."
Bern Airport is a very small airport for a capital city. It's just 10 kilometres outside the city and connects Bern with destinations such as Elba, Palma and Menorca. It offers very few, if any, direct flights throughout the year. However, as a very small airport with so few flights, it can offer a visiting tour for those interested in not just the workings of an airport but also the beautiful surrounding panoramic views. For international flights, Basel Airport is just over 70 km away; Zurich, as the largest airport for Switzerland, is just over 100 km away with many direct flight destinations.
Switzerland is a landlocked and mountainous country and although some cities do provide a port service, for Bern, it's a negligible operation for any water bound cargo.
Any same-day courier service in Bern and due to the important status of the city as the capital, coupled with the sectors and a lack of airport and port services, needs a company that's available to businesses of all sizes. At Same Day Couriers Direct, we have the knowledge and experience, offering secure, reliable, swift, efficient and above all, professional same-day services.
Same day courier Bern helpful links
Bern Economic Development Agency: advice and support for business in the Canton of Bern.
Bern Welcome: all the information for any traveller to Bern and the Canton of Bern.