London street name or three. What is the British fascination with weird, wacky and sometimes double entendre laden street and village names? One thing is for sure, this glorious little island is jammed packed with them. At Same Day Couriers Direct we've seen more than our fair share of laugh out loud delivery addresses over the years so we share some of them today.
We've decided to focus on London for the moment as there is a plethora of quirky addresses to be found here. It seems like every corner turned yields yet another giggle. But this should not be a surprise as London has been continuously inhabited since the Romans founded it in 43AD. Over the past two thousand years it just kept on growing and inhabited by Romans, Saxons, Vikings and Normans, everyone bringing their own languages and customs which have over time morphed into the quaint street names we see today. A quick history read at Civitatis Tours' a History of London.
Let's start our journey around London streets, fortunately all in the centre of the city so you too could have your own trip back in time quite easily on foot.
Trump Street
No, not the birthplace of a certain American President but the home of trumpet makers or so the story goes. It sits just off Cheapside, the market centre of Medieval London. The first record of Trump Street is mentioned on a map of London by Rocque dating from 1746. In 1868 HT Riley talks about a Mr William Trompeor (a trumpet-maker) and says "The persons who followed this trade mostly lived, in all probability, in Trump Street … near the Guildhall."
He also says the trumpets were usually made for the nearby watchmen, who guarded the City and who might need to sound the alarm for intruders trying to breach the City of London walls.
An interesting fact or two to trumpet about!
Trump that if you will. Oh! behave!
Another Victim of This Election: The Verb 'To Trump': "Trump also means, especially in British English, to, erm, break wind".
Queen Elizabeth I: "She could be forgiving too. John Aubrey, the diarist, tells a story about the Earl of Oxford. When the Earl made a low obeisance to the Queen, he happened to let go a fart, at which he was so ashamed that he left the country for 7 years. At his return the Queen welcomed him and said, "My lord, I had forgot the fart"!"
Mincing Lane
You might be tempted by a vision of Larry Grayson (for those who can remember the Generation Game on the BBC) 'mincing' down this City street but in fact it is a short one way street linking Fenchurch Street to Great Tower Street housing offices, bars and eateries: just what you'd expect in the City of London.
However, its history is a little more religious in origin. The name is a corruption of Mynchen Lane – so-called from the tenements held there by the Benedictine 'mynchens' or nuns of the nearby St Helen's Bishopsgate church (from Minicen, Anglo-Saxon for a nun; minchery, a nunnery).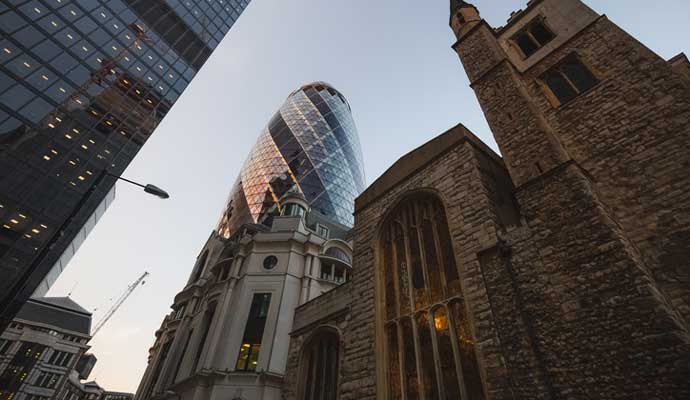 Okay, we'll mince no more words in stating our opinions!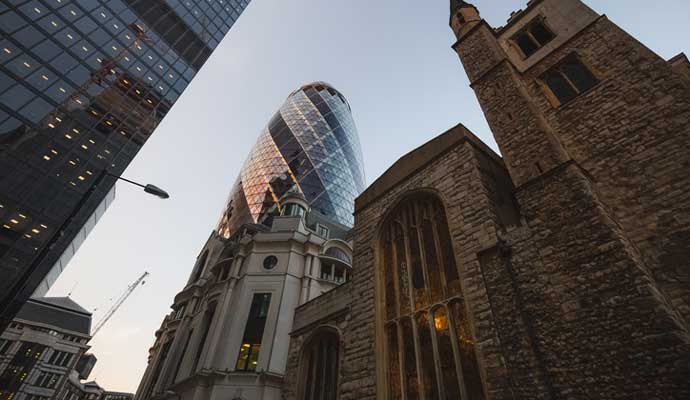 Mince (mincing): British slang 'Walk in an effeminate way'.
Percy Passage
London is packed with little alleys and lanes and not many smaller than Percy Passage. This alley just to the north of Oxford Street in the heart of Fitzrovia is a convenient shortcut through a block of shops and offices and is originally from when the area was first laid out.
William Franks, the original developer who was responsible for the area was married to Mary Pepys, a relative of the diarist Samuel Pepys, and was granted a lease on the land in the 1760s to develop it into housing. In amongst the streets was a grand church, the Percy Chapel, with a small alley to the south side, Percy Passage.
The name Percy comes from Hugh Percy, 1st Duke of Northumberland, as was common at the time to name streets after nobles.
Swallow Passage
If you want to see Swallow Passage which is right next to Oxford Circus you had better be quick. It is due to be demolished very soon for development. It is going to be "swallowed" up in the never ending quest for new buildings (excuse the pun!).
Rather sad really as this passageway came into existence when the area was redeveloped to create Regent Street in 1811-25, and is likely named after the road that was absorbed into Regent Street, Great Swallow Street. That street itself was named after a tenant farmer, Thomas Swallow who worked the area when it was still fields in the 16th century. Some historians think it is also possible that part of the Civil War fortifications may run through the site.
Mudchute, really a London street name?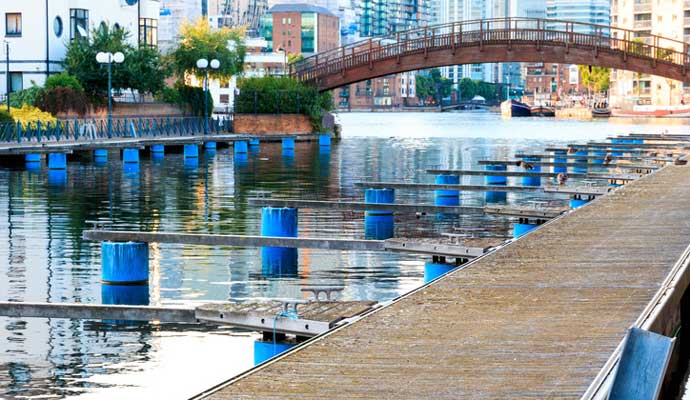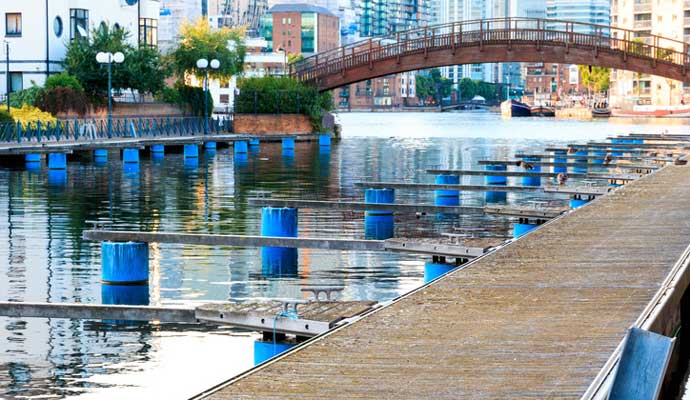 Yes it is a London street name and not too hard to guess where this name came from. The history of this area is quite fascinating and worth a detour from this page for a few moments to this article by Mick Lemmerman in 2020.
But if you don't have time then a short summary is that during the construction of the Millwall Docks around 1868, the area to their east – the future Mudchute – was used as a brick-field – with an oven and chimney set up to make bricks from the clay. The clay was of not good enough quality to create bricks for buildings or load-bearing structures, but the bricks were suitable for building dock walls.
Then a few years later the area was needed for the mud that had to be regularly dredged from surrounding docks. Hey Presto – Mudchute!
London street name curiosity, Frying Pan Alley
We will finish off this whirlwind tour of some of the curious London street names with a somewhat pensive visit to Frying Pan Alley in Spitalfields.
But first, how this London street name came about.
This passageway once housed a shop known for specialising in pots and pans of every shape and size. Suspended from chains high above the shop front was the sign, a huge cast iron frying pan. A window shopper was once whacked on the head by this pan as it dropped down and nearly flattened him. From that time on, people walked by the shop on the opposite side of the path in an attempt to avoid another incident. Locals took to calling the place Frying Pan Alley and the name stuck.
Today it is a quite agreeable location but hark back to 1902 and author Jack London wrote in his book 'The People of the Abyss':
"we cut off to the left into Spitalfields, and dived into Frying Pan Alley. A swarm of children cluttered the slimy pavement, for all the world like tadpoles just turned frogs on the bottom of a dry pond. In a narrow doorway, so narrow that perforce we stepped over her, sat a woman with a young babe, nursing at her breasts grossly naked and libelling all the sacredness of motherhood. In the black and narrow hall behind her, we waded through a mess of young life, and essayed an even narrower and fouler stairway. Up we went, three flights, each landing two feet by three in area, and heaped with filth and refuse."