Stockton-on-Tees, a town in the North East
Same day courier Stockton-on-Tees services are provided by Same Day Couriers Direct in this town, often referred to as simply Stockton.
Map data: Google
Stockton located on the banks of the River Tees offers plenty of activities including the Stockton Market, one of the largest in the UK with a street market that has traded here for over 700 years and Honeypot Wood to discover the local wildlife. A walk through the town will give the visitor an opportunity to shop at many independent retailers whilst keeping an eye for historic features, with many cafes and restaurants to cater during the day and evening.
Stockton-on-Tees economic sectors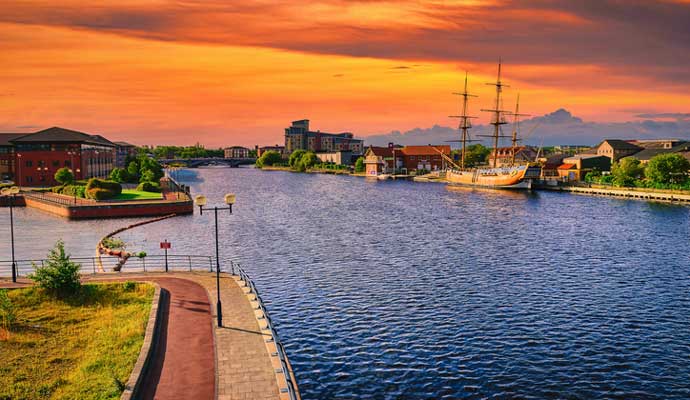 Key growth sectors:
healthcare and life sciences
digital and creative
energy and renewable
professional business services
"Tees Valley has a long and illustrious history in advanced manufacturing and engineering. With several hundred years of manufacturing and engineering excellence, Tees Valley companies have been responsible for some of the most iconic structures across the globe. There are currently 3,100 business employing 19,000 people and the sector makes up 7.4% of employee jobs in Tees Valley."
Same day courier Stockton-on-Tees services
Stockton attracts businesses due to excellent connectivity through a transport infrastructure that supports business. Teesside freeport and Teesside International Airport make for international trading. With sea and air, the town can also offer road and rail for additional transport options to connect to the rest of the UK.
Stockton has a number of very high profile companies with a global stature located in and around the town. Including Fujifilm Diosynth Biotechnologies, pharmaceutical manufacturing, with the Novavax Covid-19 vaccine produced at their factory; Nifco UK, car parts manufacturer producing components used in the engines, interiors and exteriors of cars made by brands such as Nissan, Ford, Honda, Toyota, Vauxhall Opel and Jaguar Landrover, the company is part of Nifco Inc, a global business with headquarters in Japan and the Huntsman Corporation, a global chemicals company.
Stockton is served by Teesside International Airport which offers flights both internally and to popular holiday destinations such as Greece, Turkey and Portugal. Both Newcastle Airport and Leeds/Bradford Airport are available with a journey time of just over an hour. Newcastle and Leeds/Bradford airports both serve a number of additional destinations within the UK and also many European destinations.
Stockton as a town neighbours Middlesbrough, with other important towns close by such as Darlington, the town will need a reliable same day courier service provider that is also fast and secure as a service. At Same Day Couriers Direct we offer an expert service with a focus on key sectors for all the towns and provide support to companies with urgent logistics requirements. We have the same day courier service that will meet your business needs.
Same day courier Stockton-on-Tees helpful links
Invest Stockton-on-Tees: for expert advice and information to support businesses in Stockton-on-Tees.
Enjoy Tees Valley: for all the visitor information needed for a trip to Stockton and the surrounding area.