Guildford, a town in the South East
Same day courier Guildford services are provided by Same Day Couriers Direct in this town, located in Surrey and home to the University of Surrey.
Map data: Google
Guildford, like many towns in the capital's orbit, is easy to reach by train and just 30 minutes from London, making it ideal for days out or a retreat from the hustle and bustle of city life. For visitors interested in the heritage of Guildford, there's plenty of choices including Guildford Cathedral, Guildford Castle, Guildford House and Gallery, The Guildhall and Guildford Museum. There's also plenty of activities in and around the town and plenty of choice for eating and drinking and festivals throughout the year. Lewis Carroll, author of Alice's Adventures in Wonderland, has a dedicated walk for fans to follow to see those places connected with the author.
Guildford economic sectors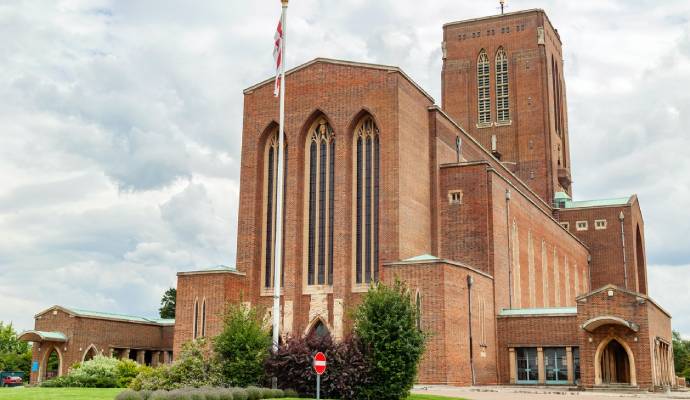 Key growth sectors:
green industries
technology
creative & digital
professional & business services
food & drink
"Guildford:
Guildford is the County town of Surrey, it's home to the prestigious University of Surrey, & Surrey Research Park."
Same day courier Guildford services
Guildford has Guildford Business Park, dedicated to businesses in the sectors of science and technology. High profile businesses located at the park include MC2 Therapeutics, Danish company have set up their research and development laboratory in the park; Colgate-Palmolive (UK), UK head office and Wargaming, gaming development studio.
Guildford also has Surrey Research Park, owned and operated by the University of Surrey and is dedicated to businesses in the sectors of technology, science, health, space and engineering. High profile businesses located at the park include Techdow, distributor of pharmaceutical products; Luye Pharma, pharmaceutical company developing and marketing products in therapeutic areas; Inovo Robotics, development of robotics for batch manufacturing and BAE Systems, cyber security.
Guildford is served by London Heathrow Airport at just over 25 miles and also London Gatwick Airport which is just 35 miles away. The airports offer the town connectivity by air to the rest of the UK, through Europe and further destinations internationally. London Heathrow Airport is one of the busiest airports in the world for passenger and cargo traffic making it ideal for Guildford as an international business location.
Guildford as a town, located just 30 miles from London, with the two specialist business parks, will need a same day courier service provider that offers a fast, secure and reliable service. At Same Day Couriers Direct we offer an expert service with a focus on Guildford's key sectors and provide support to businesses when it comes to urgent logistics. We have the same day courier service that will meet your business expectations.
Same day courier Guildford helpful links
Invest in Surrey: for expert advice and information to support businesses in Surrey including the district of Guildford.
Visit Guildford: for all the visitor information for a visit to Guildford town provided by Guildford Borough Council.