Derby, a city on the banks of the River Derwent
Same day courier Derby services are provided by Same Day Couriers Direct in this city. Derby is famed for its claim to be one of the birthplaces of the Industrial Revolution.
Map data: Google
Derby offers many great sightseeing opportunities; enjoyed by visitors from around the world. Derby, as a settlement, dates back to the Romans. Derby can offer fun-filled days out and some great international restaurants, music and theatre, and unmissable events including the Derby Museum and Art Gallery, home to Joseph Wright paintings, and Gothic Derby Cathedral.
Derby economic sectors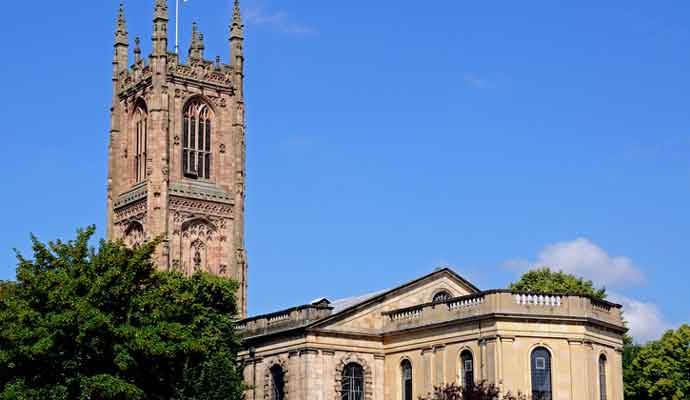 Key growth sectors:
advanced manufacturing
minerals & aggregates
textiles
research & development
tourism
"Derbyshire has over 40 million tourist visitors per year. The tourism industry annually contributes more than £2.15 billion to the local economy, and employs over 28,000 people."
"Derbyshire is within one hour from five key international and freight airports."
Same day courier Derby services
Derbyshire, with a location in the very the heart of the UK, and with its access to an excellent road and rail infrastructure, offers much as a location for businesses along the M1 corridor.
Derbyshire is within one hour from five key international and freight airports tempting many leading brands with the emphasis being on distribution. Including Great Bear; Alloga and The Co-operative.
Derby is served by a choice of airports. Manchester Airport is located only 13 miles from Derbyshire. Birmingham Airport and East Midlands Airport are alternative choices and all offer destinations within the UK and also European destinations. The airports can offer some direct flights beyond Europe and many connecting flights to worldwide destinations. East Midlands Airport is one of the recently chosen freeport locations.
Any courier service serving Derby and the Derbyshire area, in particular due to the location and sectors and with the close proximity of East Midlands Airport, makes it an exceptionally competitive industry. With Same Day Couriers Direct, we have the process in place from our experience of working with key sectors, we have what your business needs from a courier service to meet your expectations with all your logistics requirements.
Same day courier Derby helpful links
Invest in Derbyshire: offering independent, free service to provide help and assistance for any business.
Visit Derby: for all information relating to visiting Derby.