Chesterfield, a large market town in Derbyshire
Same day courier Chesterfield services are provided by Same Day Couriers Direct in this town, which falls within East Midlands.
Map data: Google
Chesterfield is famed for the 'Crooked Spire' and its twist. The town holds a market every Monday, Friday and Saturday, ideal for local shoppers and visitors looking for a bargain. Attractions to choose from include stately homes, gardens and the countryside with wide open spaces. Ideal location for activities that can include cycling, pony trekking, golf and even fishing. There is also the Chesterfield Canal which opened in 1777 to link Chesterfield to the River Trent at West Stockwith, a successful trade route before declining with the arrival of rail.
Chesterfield economic sectors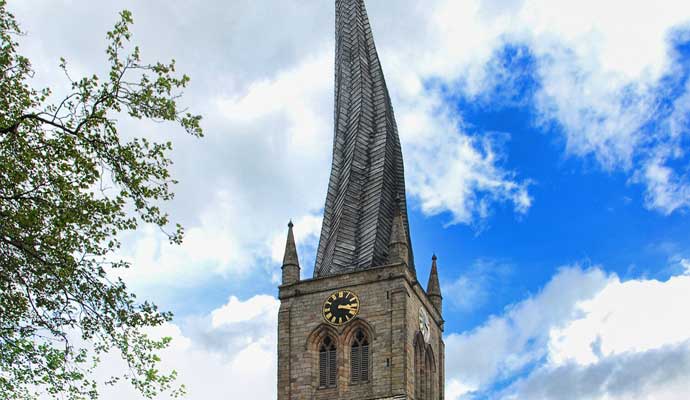 Key growth sectors:
advanced manufacturing
retail and leisure
logistics
"GVA has grown by 21% in 5 years outperforming the East Midlands and England averages."
"There are a number of sites available for industrial, office, housing and leisure development, as well as the flagship Markham Vale Enterprise Zone and the impressive town centre regeneration schemes."
Same day courier Chesterfield services
Chesterfield and the area has excellent connectivity and particularly by road with the M1 motorway on the doorstep. With rail links and access to international and cargo airports, the town attracts businesses having already established itself as a town with a strong industrial and engineering heritage.
Chesterfield's Markham Vale Enterprise Zone is ideal for businesses as it sits adjacent to the M1 motorway giving direct access to both north and south of the country. This has attracted a number of high profile companies to the site. Including Daher, aviation sector; Smurfit Kappa, specialist packaging and printing; Great Bear, logistics and Grangers, waterproofing products, with their head office in Chesterfield.
Chesterfield is served by East Midlands Airport at just over a 30 minutes drive south of the town. The airport offers flights to Alicante through to Zakynthos in their A-Z list of destinations. In the opposite direction at approximately a 45 minutes drive is Doncaster/Sheffied Airport. The airports combined offer the town flights across Europe and further on to global destinations connecting Chesterfield with the rest of the world.
Chesterfield as a town with an important location will have a need for a same day courier service regularly. At Same Day Couriers Direct we offer a focus on key industry sectors and provide support to businesses when it comes to logistics. We have a same day courier service that will meet business expectations regardless of the sector your business specialises in.
Same day courier Chesterfield helpful links
Invest in Chesterfield: Chesterfield Innovation Support Programme providing expert advice and information to support businesses in Chesterfield.
Visit Chesterfield: the website for Chesterfield as a visitor destination, with a complete overview of the town and the Chesterfield area.