Seville, the capital of Andalusia
Same day courier Seville services are provided by Same Day Couriers Direct in this city, located in the southwest of the Iberian Peninsula.
Map data: Google
Spain is very much a country that is popular with visitors from not only Europe but the rest of the world. Seville offers much in the way of sightseeing and the popularity is enhanced by how visitors perceive Spain. It is a city of fantastic courtyards with orange trees and considered typical in Andalusia. Like many Spanish cities, it has stylish architecture, the Gothic Seville Cathedral is the largest in Europe, buildings of varying architecture and heritage are accompanied by well maintained parks and open spaces. Like any city, it is full of galleries, museums and events all year round.
Seville economic sectors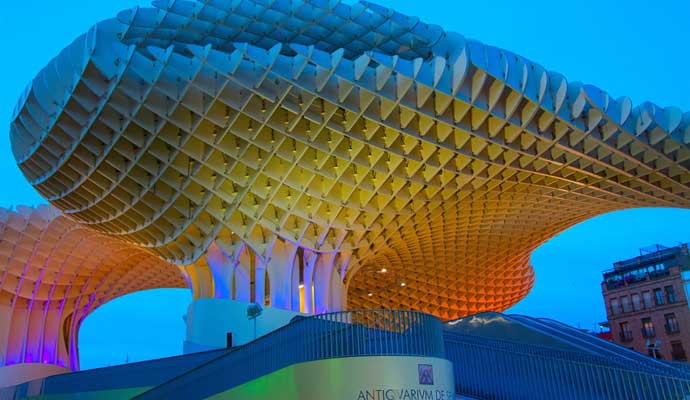 Same day courier Seville services
Seville's location in Andalusia allows it to boast that it is a city that is one of the best connected in Europe. Andalusia has "5 International Airports, 10 Commercial Deep Water Ports, 1,676 Kilometres of High Capacity Freeways and 2,350 Kilometres of Railway".
Seville benefits by the presence of Airbus in Andalusia. As such, the city and region have a number of leading brands based in the area, dominated by the aerospace industry with factories providing components for planes. Amongst the many, they include Embrader; Boeing; Bombardier and Ryanair Engineering.
Seville, is served by Seville Airport. The airport offers flights to over 40 destinations, mainly in and around Europe and includes Northern Africa amongst its destinations. The busy airport handled over 7.5 million passengers in 2019.
Seville is located inland but still has the busy Port of Seville, the only inland maritime port in Spain. The port specialises in a range of goods, including agro-food products, steel and container traffic. It is also the logistic portal for the Canary Islands. Passengers on cruise ships can also take advantage with ships able to dock, quite literally in the city, just metres away from the centre and close to all tourist sites.
Any same day courier service in Seville and particularly due to the location and status as the capital city in Andalusia, the service provider needs to specialise in the various industries when it comes to logistics. At Same Day Couriers Direct, we do specialise and work with the various business sectors of Seville, our experience with the industries, means, we give you all that is needed in a specialist courier service to meet your business need as and when it arises.
Same day courier Seville helpful links
Invest in Andalucia: providing a service for foreign businesses that want to establish themselves in the city or the region.
España: Spain's official tourism website with all you need to know and essential advice for travelling to Seville.