Leipzig, in the German state of Saxony
Same day courier Leipzig services are provided by Same Day Couriers Direct in this city. Leipzig is the eighth most populous city in Germany.
Map data: Google
Leipzig as a water city offers much in the way of unique sightseeing spots; enjoyed by guests from all over the world. Leipzig encourages "do nothing" for the visitor so you can take a leisurely stroll to a café and relax viewing Leipzig's charm which includes culture, arts, museums and architecture. From there, you can move on to search for more pursuits that suit your visit and likes.
Leipzig economic sectors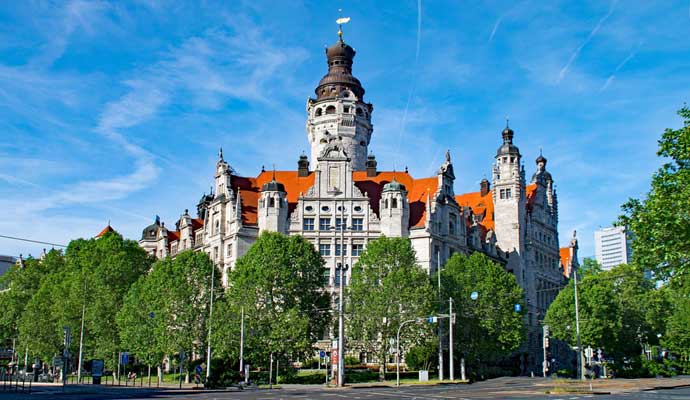 Key growth sectors:
energy
life science & biotechnology
manufacturing
media and creative
"The Region of Leipzig offers all of the facets of an attractive location. Its economic momentum is spot-on, companies can find specialists and a dedicated administration, the infrastructure is state-of-the-art and education as well as quality of life are at the highest level in the entire country."
Same day courier Leipzig services
Leipzig has an excellent transport infrastructure with motorways along the central trans-European traffic and transport corridors. The city also has the Trans-Eurasian rail link which runs weekly freight trains to Russia and China.
Leipzig is home to many leading brands. Including Porsch and BMW for vehicle production; logistics companies, due to its central position in Europe, has companies such as DHL; Lufthansa Cargo; DB Schenker and Kühne + Nagel.
Leipzig is served by Leipzig/Halle Airport. It focuses on holiday destinations in Europe for passengers. The airport is in the top four cargo hubs in Europe and handles freight volumes totalling more than 1 million tons, making it the second largest freight airport in Germany. The airport is a 24 hours, every day of the week, operational service for cargo flights.
A courier service providing a same-day delivery service in Leipzig needs to be experienced in providing for all of the key business sectors located in and around the Leipzig region. At Same Day Couriers Direct, we have specialisms when it comes to logistics in the various sectors. Our experience of working with a variety of industries allows us to offer what you'll need in a courier service bringing experience and reliability you deserve in a delivery specialist.
Same day courier Leipzig helpful links
Invest Region Leipzig: business support for companies with customised establishment and investment services to locate and expand in Leipzig and the region.
Leipzig Travel: information about Leipzig as the place for travel.