Geneva
Same day courier Geneva services are provided by Same Day Couriers Direct in this city, which lies at the southern tip of the expansive Lac Léman (Lake Geneva).
Map data: Google
Geneva offers much in the way of sightseeing for any visitor; the city is enjoyed by tourists from all over the world. Geneva as a city is a gateway to the Alps. The city is rich in history and has all the requirements of a large city, surrounded by nature dominated by parks, the lake and the mountains. Even if you've never been to Geneva, you'll probably recognise the Jet d'Eau in the lake. If you're a sports enthusiast, you can put on snowshoes for an expedition, thrill-seekers can fly over Geneva and then head for Mont-Blanc by helicopter.
Geneva economic sectors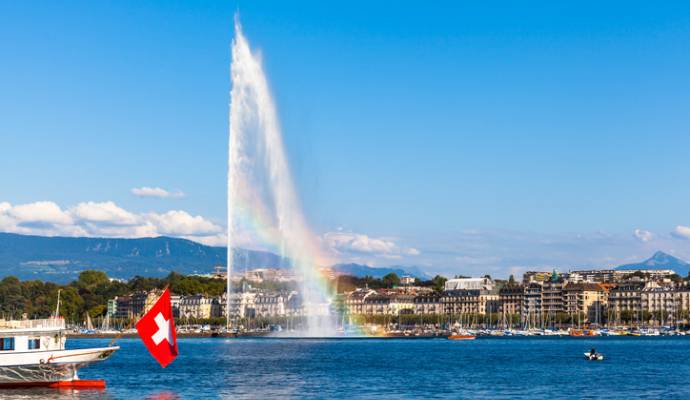 Key growth sectors:
"With a unique network of international organizations, NGOs and diplomatic representations, the canton is the most active diplomatic center worldwide.
177 States represented by a Permanent Mission
39 International Organizations (IO)
431 Non-governmental Organizations (NGOs)"
Same day courier Geneva services
"Switzerland has always been known for its tolerance and neutrality. This has also attracted hundreds of international organisations, ranging from the United Nations to world sports federations."
Geneva is home to many leading brands but not necessarily commercial ones. Including the United Nations, who have their European headquarters in the city; the Red Cross, the movement was born in the city and still has its headquarters in Geneva; the World Trade Organization (WTO) and the World Health Organization (WHO). Well known commercial brands are dominated by the finance sector and include American Express Bank; ING Bank and Barclays Bank.
Geneva Airport is a large international airport. Direct flights cover Europe and the airport also has direct flights to North America, the Middle East and northern Africa. 2019 figures show almost 18 million passengers used the airport. Geneva and the region connects to almost 150 destinations with operations provided by almost 60 airlines.
Geneva's port located at the confluence of the River Rhone into Lake Geneva, is considered the largest port in land-locked Switzerland. The warehouse facility at Geneva Free Port, has the main claim to fame as the Geneva Free Port: The greatest art collection no-one can see.
Any same-day courier service in Geneva and due to important status of the international organisations and the commercial finance sector, needs a service available to private individuals and international commercial enterprises. At Same Day Couriers Direct, we have the experience, offering secure, reliable, swift and professional same-day services.
Same day courier Geneva helpful links
Invest in Switzerland: advice and support for business in the Canton of Geneva.
GENEVA: all the information for any traveller to Geneva.