Across the length and breadth of the UK, all our roads are adorned with signage. High up signs announcing which lane to take on the motorway, signs to indicate a turning ahead, signs on the road itself keeping us informed and all valuable aids to a speedy accurate delivery for the same day courier across the nation.
A while back we gathered some of the weird and outlandish road signs for your amusement – take a moment and have a giggle again at Odd, Amusing, Dangerous Or Downright Confusing. Road Signs To Make You Think. Something all signs have in common is that they must be made with input from a human being and this is where occasionally it can go wrong, oh so wrong. We've grabbed a few examples to make you laugh but all grammarians and orthographists look away now!
1. Royal Grammer School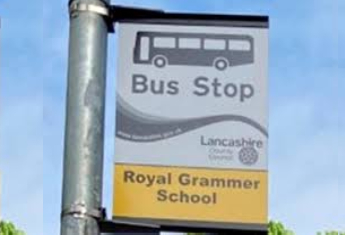 Looks like someone needs to go back to Grammar School here for some basic tuition.
All the more laughable as the culprit here is the local council, Lancashire, and of course, an education authority to boot.
This isn't boding well for our Lancastrian school kids!
2. Sohool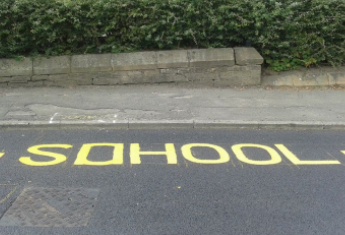 Still at school or, in this case a new institution, the Sohool, was this a Monday morning mix up or a Friday can't wait to get finished foible? This sign outside High Spen Primary in Tyneside caused much hilarity. But do you really believe this from Gateshead Council when they said "…it WAS a deliberate mistake after a member of staff tried to cover up a splash of paint in the wrong place.
Bosses said he was left with an ugly splotch of paint and decided to disguise it by deliberately turning the c of school into an o."
No, neither do we!
3. Reserved, for the Bos!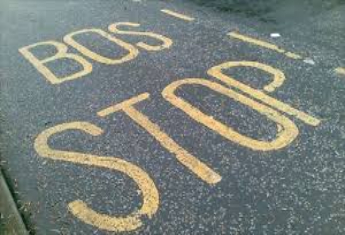 Now when we see a sign on the roadway for a Bus Stop, all good drivers, especially same day courier drivers who may be struggling to find a suitable spot to park, know NOT to stop inside the markings.
But what about a Bos Stop?
Is this a new fangled instruction for bosses to stop right there or another blunder by the road marking team! At least the good folks in Dalry, Ayrshire were able to have a giggle.
4. Our 'Enry'!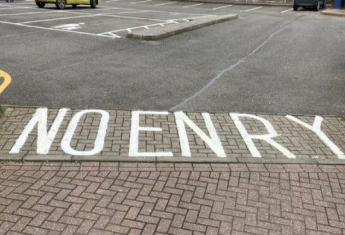 At least with this blooper, Essex Council owned up and used the image to bring some light relief to their social media accounts.
The good folks of Maldon were left wondering what on earth had happened to poor 'Enry' (try a Cockney accent) to have him barred from this car park.
5. Thirsk for the truth!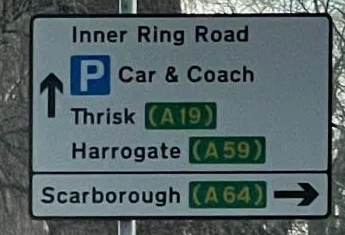 Can you spot the mistake on this sign?
We have to confess it took a couple of moments. Apparently there were two road signs in York just outside the Bar Walls, both with the town of Thirsk spelt incorrectly – one in Jewbury close to Monk Bar and the other in Foss Islands Road.
A spokesperson from City of York Council said "The signs were ordered with the correct spelling. This was an error made by the supplier who manufactured the signs. At no cost to the council, the supplier will be instructed to replace the signs."
Think they would also be 'lookin' for a new provider of signs.
6. A sign that's morphed?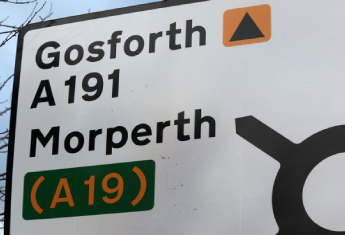 And here is another less than obvious blunder. Indeed unless you were a local you may never know that this was in fact wrong.
Indeed it took a local resident to be one of the first to spot the blunder and alert North Tyneside Council who said that it was going to be fixed in a couple of weeks.
7. S, please!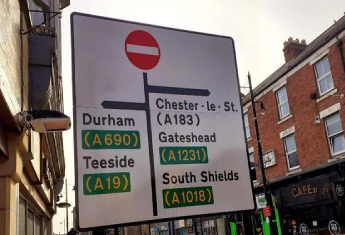 This sign error has in fact been in place for over a year! In April 2021 it was reported that the Vine Place sign in Sunderland shows drivers the way to "Teeside", rather than the correctly spelled "Teesside".
A local resident was unhappy with the sign saying: "Where is this River Tee please? Other temporary signs had also been misspelled, but have since been removed.
Sunderland City Council said at the time: "We will arrange changes to the signs in due course." We are starting to think Tyneside sign writers are in need of a crash course in spelling.
8. Definitely a non-member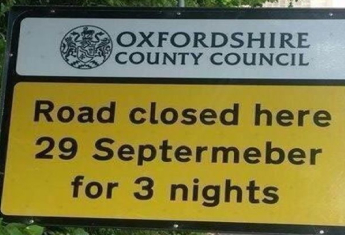 Did you learn this at school to help you remember the number of days in each month?
"30 days hath September, April, June and November…"
The rhyme definitely wouldn't have worked so well if this sign in Oxford had anything to do with it.
In fact it becomes a bit of a tongue twister. Go on, say it out loud. This error, in fact, led to cries of outrage from residents and even reached the lofty ears of the English Spelling Society.
Their chair, commented "The word September is spelt as it is pronounced – i.e. phonetically. Unlike many English words, it doesn't contain any element of irregularity to trap the unwary. In short – no excuse!" Oxfordshire County Council apologised to those offended by the error.
9. Water mistaka-to-maka!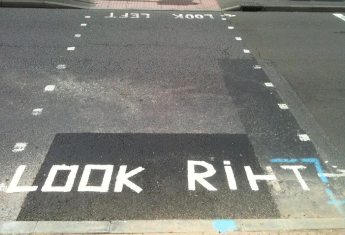 This road sign from Chessington, Surrey, looks like it might have been the apprentice's first job. Not only did they get the spelling wrong. The whole thing looks just awful in our opinion. And there was a a touch of 'slopey shoulders' about the culprit.
Transport for London is responsible for the A243 Hook Road, which leads to the Ace of Spades roundabout.
However, a spokesman said: "These works were carried out by Thames Water and we will be pushing them to rectify this mistake as soon as possible."
10. Out of office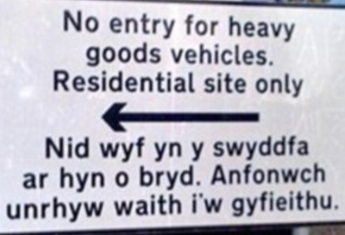 Let us finish with our favourite. It is common place to see road signs now with English and Welsh or Gaelic translations depending on where you are in the country of course.
The out-of-office email reply that ended up on a Swansea Council road sign has rightly passed into legend.
For non-Welsh speakers the bottom half of this sign helpfully states: 'I am not in the office at the moment. Send any work to be translated…'
Have you come across any howlers on your travels? The team here at Same Day Couriers Direct will keep looking and hopefully we will be able to share some more in the future
Give us a call on 0333 772 1010 and let Same Day Couriers Direct help deliver on all your transportation rekuirements, requiremunts needs.