As all drivers know, it's important to take note of road signs, directions and warnings they may encounter during their journeys. However, surely they can sometimes be excused for not quite getting it right, or at least having to think twice.
Like the confusing diversion signs below, we've found a selection of UK road signs, guaranteed to make any driver scratch their head in disbelief.
Odd, amusing, dangerous or downright confusing, we think these will make you smile.
1. Information overload!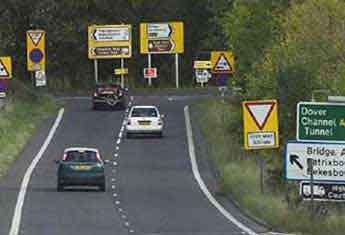 These Kent drivers got more than they bargained for when approaching this rather confusing junction.
When you really can't decide whether to stop, give way, turn left or right, driving on the wrong side of the road is always an option.
2. Pointless information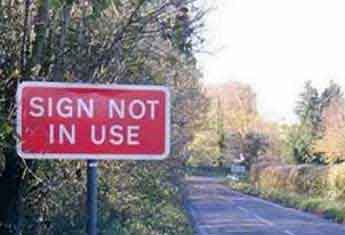 When it comes to stating the obvious, this road sign must surely win the award for clarity.
However, the jury is still undecided on its purpose.
3. Again, stating the obvious, but a little too late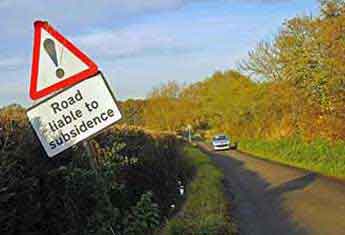 Oh, the irony! Good to know that the road ahead is liable to subsidence, but is there a need to demonstrate it quite so graphically?
4. All roads now lead to Llantwit Major / LlanilltudFawr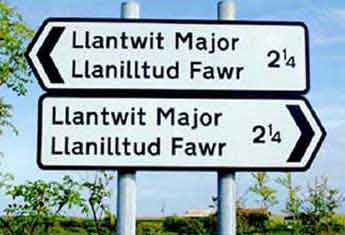 Thought all roads lead to Rome?
Not to be outdone, this Welsh coastal town seeks the same fame! This spot is somewhat more remarkable though, turn left or right and not only will you arrive at the same destination, but the distance
5. A brazen message or just inappropriately placed?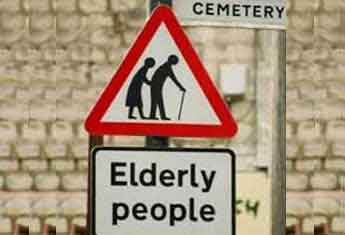 Regular day trips to the cemetery, anyone? The positioning of this 'Elderly Crossing' warning could depict rather a sinister overall picture.
We guess the idea here is not to take things too literally.
6. A direction sign or an impending health warning?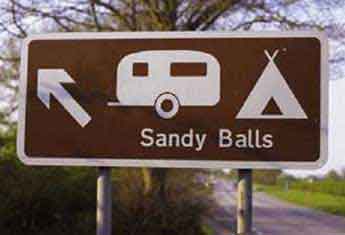 We have to admit, we weren't sure at first either!
However, our investigations reveal this is actually a holiday village camp site in Hampshire, but you have to admit its unfortunate title does kickstart the imagination!
7. Yes, it really is there for a reason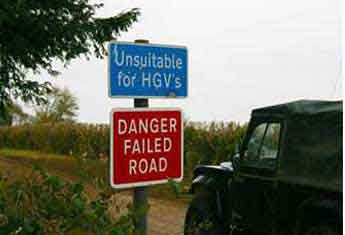 At first glance, we do question the logic of signposting a damaged road rather than just getting on and repairing it, but we guess the moral here is to pay attention. This driver didn't!
8. Just divert from the diversion, 'Simples!'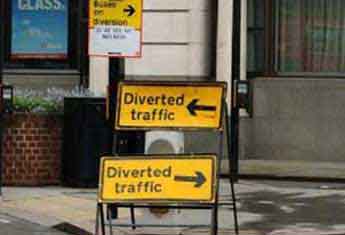 For those who love going round in circles, this one is a sure fire winner!
We don't know where we're going, but hey, makes for a bit of town centre driving fun, doesn't it? In truth, we're not sure whether this was the result of a mischievous prank or whether whoever put the signs out was totally confused. Either way, result is the same – it diverts from the diversion!
9. Why are the kittens crossing the road?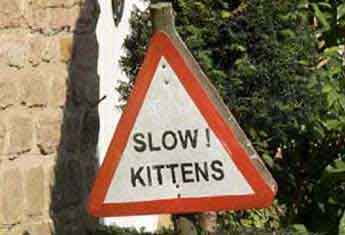 You've probably heard it before -to get to the other side! For that matter, dogs, ducks, geese or any passing animal tend to be on the slow side when crossing a road!
Jokes aside, when we see signs like these, we do wonder why they're not kept in a safer place to begin with. In this scenario, remember it's always better to kill your speed than a passing feline friend.
10. And talking of cats…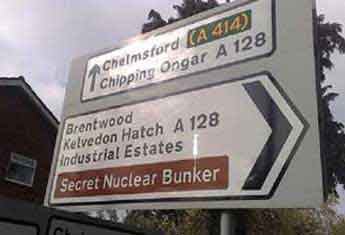 Someone certainly seems to have let one out of the bag here… Shall we go to the secret nuclear bunker that doesn't seem to be a secret anymore? We're intrigued as to how the original sign maker knew which way to position the arrow.
11. Expecting to be shot at?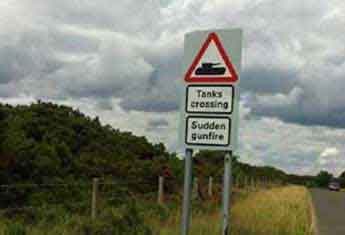 No, not a sign of the times in your average inner-city high street, but more a warning of the likelihood of tanks and gunfire when passing this Dorset military range. However, when gunfire isn't sudden, we think it's time to take a hasty retreat.
12. Danger of extermination?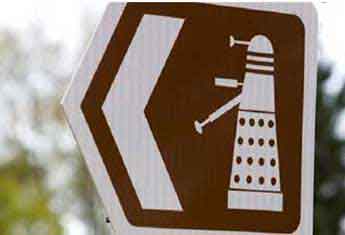 Be very afraid. Their mission is to destroy life and you've just encroached their territory.
Well, you'd be forgiven for thinking so as this signpost does lack vital information. However, die hard science fiction fans (and those who recognise that brown background road signs display tourist attractions) can breathe a sigh of relief. This signpost is directing travellers to a Dr Who exhibition!
13. Unlucky for some!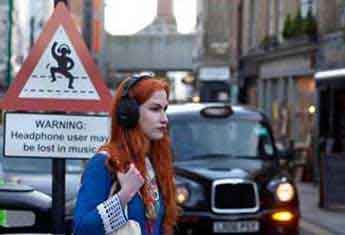 Pedestrians tuning into the latest beats while aimlessly crossing busy roads is a modern danger, and one which drivers may not necessarily think about.
While this road sign was a temporary installation designed to highlight this danger and raise awareness, clearly its impact was lost on this girl as she wanders straight into the path of an incoming taxi. Perhaps she thought it only applied to those dancing a Scottish jig.
During the day to day transit of a wide variety of loads and equipment destined for our extensive network of industry sectors, all our professional drivers regularly encounter multiple road signs, hazards and warnings. Whilst we haven't had to contend with many quite so absurd as the ones featured here, our role means ensuring that all goods arrive at their destination safely, securely and on time. And of course, that means taking extra special care and paying attention to all information signs we do meet en route.
Put Same Day Couriers Direct to the test and discover how we respond to stringent safety standards.
Give us a call on 0333 772 1010 and let Same Day Couriers Direct deliver all your transportation requirements.