We ended our last post Couriers History Through The Ages with the Romans leaving these shores around 500AD, historians called the period up until the Battle of Hastings (1066) the Dark Ages and not without good reason. For the medieval couriers, all the Roman improvements and innovations fell into ruin, roads especially. It was a time of tribal warfare, Viking raids and settlements and fractured kingdoms. There was little peacetime to allow for invention and innovation.
Of course goods were still transported but it was still by horse or oxen drawn cart and as the road network fell into decay, the favoured mode of transport became water borne either in sail or oar powered boats.
After the Normans, medieval couriers
So let us fast forward a few hundred years to medieval times and see what developments have taken place.
New roads started to be built, especially from the 1200's onwards. Monasteries and other settlements with hospices or hospitals where pilgrims and others travellers could spend the night gradually increased, as did private inns and hostelries, at least until the advent of plague in the mid-fourteenth century.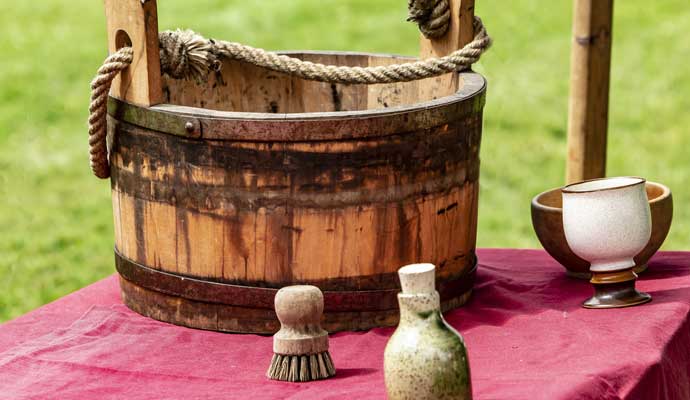 Speed depended on many factors, including the quality of roads, weather and the nature of the travelling party. One estimate suggests that a small group with good horses could move as much as 30 miles in a single day. On the other hand, a larger group that included pack animals, a cart, or travellers on foot might make only half that distance. This would not, however, include rest days, bad weather or roads, natural obstacles such as rivers and forests. Not to mention the dangers from thieves and vagabonds. Solo travel carrying goods from country to town was not advisable. Carts of goods remained local, travelling only from farmer or maker to village or town for market day.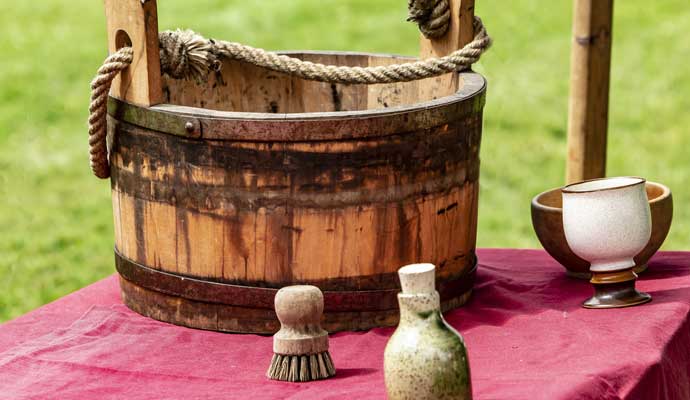 However, if you were royalty or from the nobility you would travel with a huge retinue, horses, carts, litters, carriages and foot. Progress would be slow but trade wasn't what these behemoths were interested in. It was a show of power and wealth.
As trade grew so did the need for better transport. Long lines of packhorses were used across Britain to transport goods like wool for trade. These trains contained as many as 50 horses in a single file line that was led by a horse wearing a bell. Horses in the Middle Ages, however, were different in size and breed from today's horses. They were also generally smaller than the modern horse. Mules were also often used.
The 12th and 13th centuries were a period of huge economic growth in England. The population of England rose from around 1.5 million in 1086 to around 4 or 5 million in 1300, stimulating increased agricultural outputs and the export of raw materials to Europe. By 1297, 120 new towns had been established, and in 1350 – by when expansion had effectively ceased – there were around 500 towns in England. Many of these new towns were centrally planned. The new towns were usually located with access to trade routes in mind, rather than defence and the streets were laid out to make access to the town's market convenient. A growing percentage of England's population lived in urban areas; estimates suggest that this rose from around 5.5% in 1086 to up to 10% in 1377.
Guilds
This period is when we see the rise of the 'Guild'. These guilds were fraternities of craftsmen that set out to manage their local affairs including "prices, workmanship, the welfare of its workers, and the suppression of interlopers and sharp practices"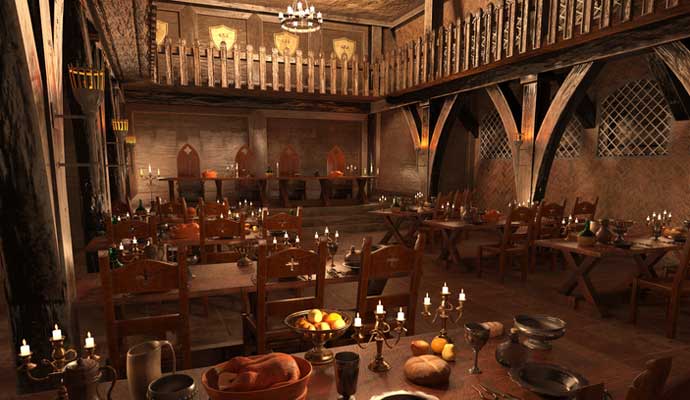 And this is when we see the earliest Carmen's Guilds. As medieval England grew, trade prospered on the wheels of the Carmen. In London, for example, as the city grew and prospered so did the need for carts to move goods. Traditionally, the Carmen fellowship dates from the 13th century when, in 1272, the city passed a by-law controlling carriers. The Crown could force Carmen to handle Royal chattels and the pay was pitiful, so rackets developed, officials took bribes, Carmen were 'excused', and the City stepped in. Carters had to carry Royal and civic goods. The Carmen coped. They subcontracted to the suburbs, whence other carters came to take the City's sewage.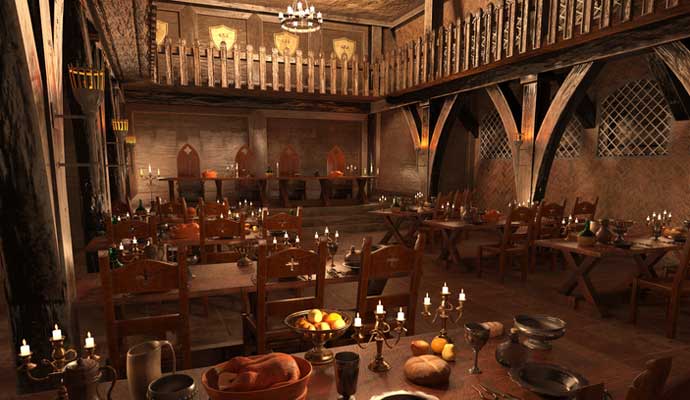 Do read more on The Carmen's Story. Fascinating! Today, in the 21st century, the Worshipful Company of Carmen is still thriving and are a progressive and forward-thinking group, building on heritage to promote transport knowledge, generate debate and encourage innovation within and beyond the transport and logistics industry.
The Great Famine and Black Death (1290 – 1350) put a huge stop to growth and trade. The English agricultural economy had remained depressed throughout the 15th century; growth at this time came from the greatly increased English cloth trade and manufacturing. The economic consequences of this varied considerably from region to region, but generally London, the South and the West prospered at the expense of the Eastern and the older cities. (The pattern was set then to what it still is today!) The role of merchants and trade became increasingly seen as important to the country but cross country transport was still slow, relied on horses, oxen or foot and would remain that way till the start of the Industrial Revolution in 1750.
Still the same service from medieval couriers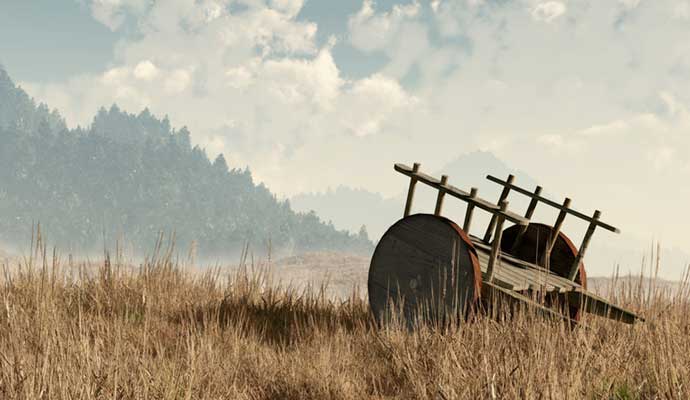 So what of our medieval couriers between the Romans leaving and the intervening years till the invention of steam power? He still wasn't able to offer any faster service than over a century before. He probably wasn't even able to offer a securer service. A reputable courier would likely have been a member of a local Guild thereby enabling him to offer more reliable credentials. But it was all still rutted roads, mudbaths in winter, broken axles and four legged power. So perhaps he would have been:
"Local Couriers – delivering Skilfully, Swiftly and Surely"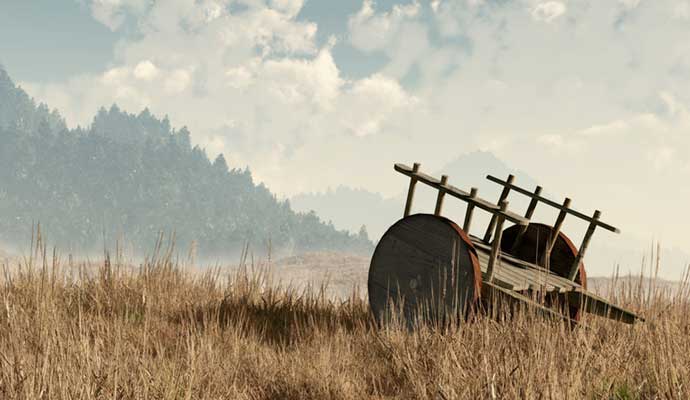 We pinched that tag line from the motto of the Royal Worshipful Company of Carmen but it does sound good.
For all your same day delivery needs in the UK or Europe; give Same Day Couriers Direct a call on 0333 772 1010 to find out more about the routes we use to cover all the important locations.