At Same Day Couriers Direct we don't let anything get in the way of a successful delivery. Our vehicles are all kept in tip top condition and our drivers are masters of the open road. Neither vehicles nor drivers would pass an audition for that perennial cartoon favourite the Wacky Races – whew!
But what fun it might be if they did. You most likely, at some point in life, have seen an episode or two of Wacky Races. Despite only 34 episodes being made between 1968 and 1970 there are steady repeats around the world, numerous spin offs and 'cameo' character appearances on a whole range of films and video games. YouTube is filled with clips and episodes.
Silly Sixties!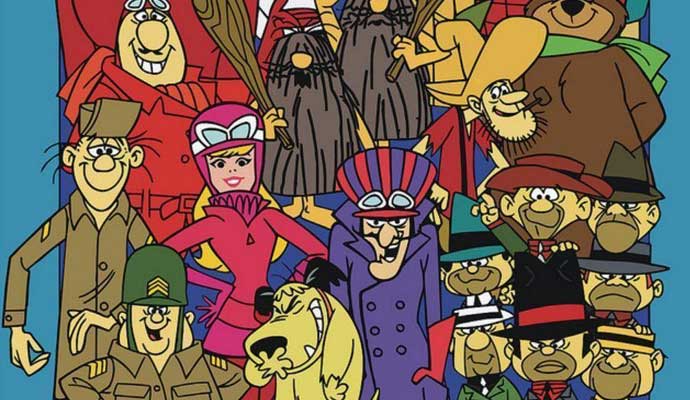 Before we have a look at those wacky vehicles and drivers in a little more depth, it might be worth a few moments to compare these two clips: The Great Race trailer and the trailer for Wacky Races. Spot any similarities? Yes we thought so too: heroes in white with glinting eyes, beautiful leading ladies who love lipstick and dastardly villains with a sniggering side kick.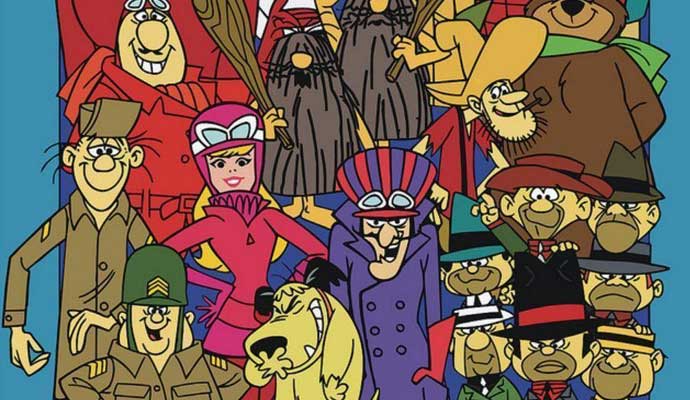 The Great Race, a film made in 1965, is perfect fun for a dreary afternoon to entertain the kids and adults alike. It was a popular hit when first released in 1965, packed with silliness, some great stunts and jaw dropping vehicles. The premise is an around the world race from New York to Paris by two rivals and their crazy adventures along the way at the start of the 20th century.
Another very popular film released in the same year, Those Magnificent Men in Their Flying Machines was also race based but with aeroplanes this time. Another period piece packed with stunts, weird and wonderful inventions, heroes and villains. It's not too hard to see the leap to Wacky Races. The audience appetite for silly races in the 1960's was clearly high.
Welcome to the Wacky Races
Wacky Races is an American animated television series produced by Hanna-Barbera Productions for Saturday mornings. The series features 11 different cars racing against each other in various road rallies throughout the USA with all of the drivers hoping to win the title of the "World's Wackiest Racer". The cartoon had many regular characters, with 23 people and animals spread among the 11 race cars. The cartoon revolves around several racers with various themes who are each allowed to use strange gimmicks to compete against other racers.
Meet our Wacky racers
Note: we don't think all these characters would be totally PC now but tremendous fun in their day.
Peter Perfect, a gentlemanly racer in the Turbo Terrific, Peter is extremely strong but also very vain, and he often boasts about the virtues of his high-tech race car – which regularly falls to pieces seconds after he praises it. He is fond of Penelope and often helps her out.
Rufus Ruffcut, a lumberjack, and his beaver companion Sawtooth, in the Buzz Wagon. Their car, entirely made of wood, features four circular saw blades as wheels and Sawtooth is able to cut through obstacles (such as trees and other objects) at super-high speed.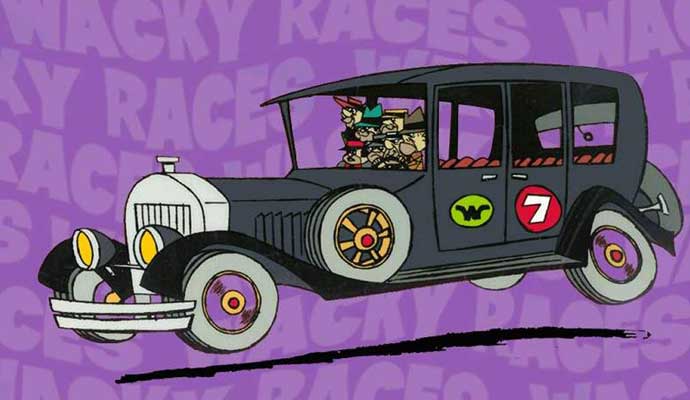 Sergeant Blast and Private Meekly in an armoured car/tank hybrid called the Army Surplus Special. The Sergeant uses "fire power" (i.e. shooting cannonballs from his turret) to temporarily boost power in the car.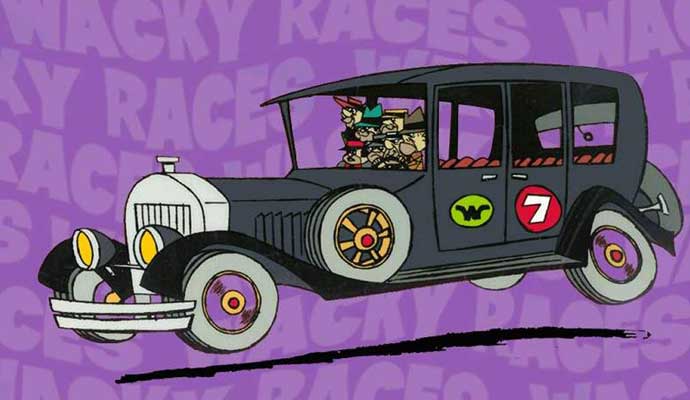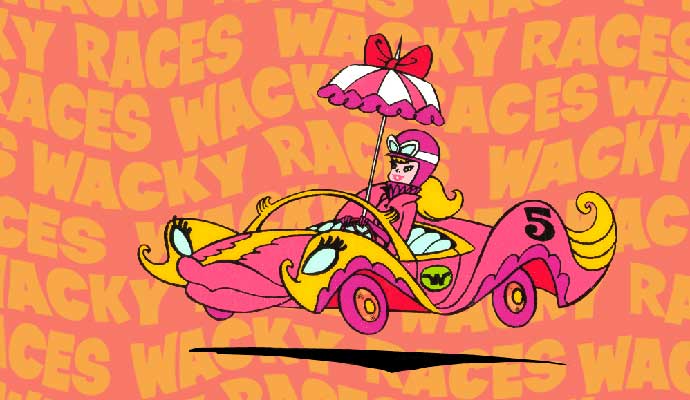 The Ant Hill Mob, a group of mini gangsters led by Clyde and is composed of him, Ring-A-Ding, Rug Bug Benny, Mac, Danny, Kirby and Willy, in the Bulletproof Bomb. They are sometimes preoccupied with getting caught by the police and are able to use "getaway power", which involves all the gangsters (except for Clyde) extending their legs through the bottom of the car and running. Fred Flintstone comes to mind.
Professor Pat Pending, an inventor, in the Convert-a-Car he can transform his car into pretty much anything that moves.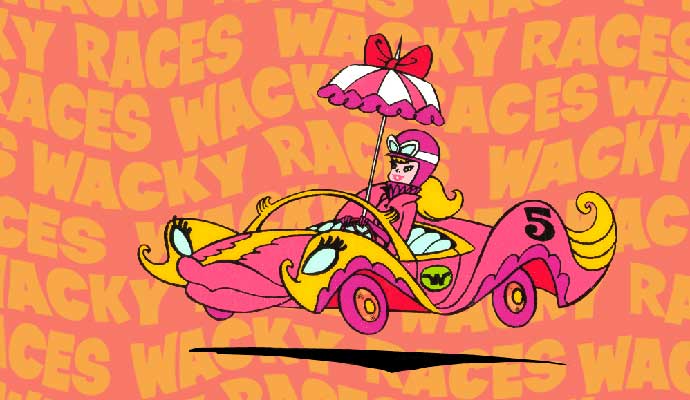 Penelope Pitstop, the lone female driver, in a 1930s racing costume in the Compact Pussycat is a Southern belle. Penelope seems more concerned with her looks than with racing and often gets herself into trouble. Nevertheless, she is a skilled racer.
The Slag Brothers, Rock and Gravel, in a caveman-themed race car called the Boulder Mobile. Their car is made out of rock and the brothers (who talk in caveman-like gibberish but with occasional intelligible words) power it up by hitting it on both sides with their clubs and are also able to re-build it from bare rock, always using their clubs.
The Gruesome Twosome, Tiny "Big Gruesome" and Bela "Little Gruesome", who are monsters, in the Creepy Coupe. Their horror-themed car includes a small bell tower inhabited by a fire-breathing dragon, bats and other creatures. The Creepy Coupe's special booster is dragon powered.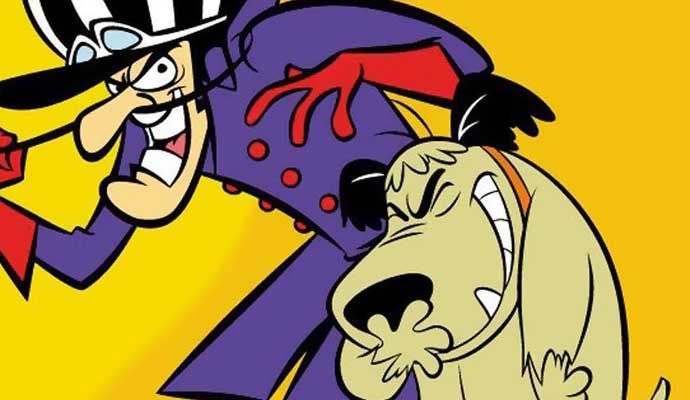 The Red Max, a Manfred von Richthofen-styled aviator (The Red Baron of WWI fame) who speaks with a German accent, in a car/airplane hybrid called the Crimson Haybaler. His vehicle is able to fly, although only for short distances.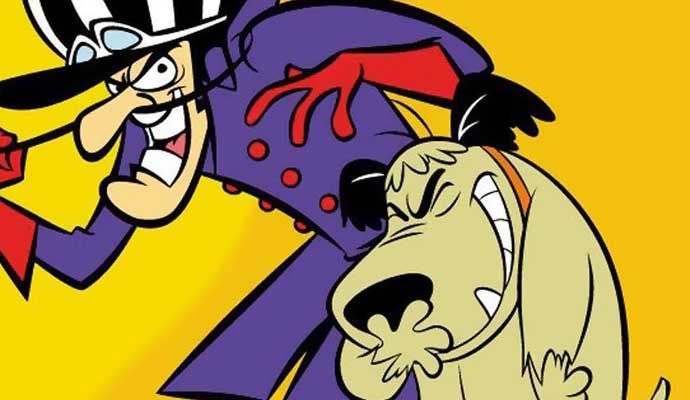 Lazy Luke, a hillbilly, and Blubber Bear, a timid, cry-baby bear, in the Arkansas Chuggabug. Luke manoeuvres the steering wheel with his bare feet and his car is steam-powered from an old rickety boiler. Luke has been known to blow up a balloon and use it as an air jet for briefly increased speed. Think Beverley Hillbillies for inspiration.
Dick Dastardly, an archetypal moustache-twirling villain and his wheezily snickering dog, Muttley, in the Mean Machine. Their sinister vehicle is a purple, rocket-powered car with an abundance of concealed weapons and the ability to fly. Dastardly's usual race strategy revolves around using the Mean Machine's great speed to get ahead of the other racers and then setting a trap to stop them and maintain the lead, but most of his plans backfire, causing him to fall back into last place. As a result, Dastardly is the only racer who not only never wins, but never even finishes in the top three in any race. But who doesn't love Muttley –that snigger lives on.
In fact everyone except Dastardly wins 3 or 4 races keeping it fair and we suppose keeping the audience rooting for their favourite characters. Would you be surprised to know that the Slag Brothers and Rufus Ruffcut made the most appearances on the winners' podium?
The legends live on
Wacky Races proved to be the inspiration for spin-off series, video games, films and car adverts over the next 60 years. We found two worth a look. The creative genius behind this Peugeot Wacky Races advert deserves the advert equivalent of an Oscar for the clever adaptation. Oddly enough it was originally made to be shown only in Brazil. Vauxhall were in on the act with a pastiche using only Corsa cars with their Opel/Vauxhaull Corsa commercial.
As much fun as these films, adverts and programmes are we doubt an application form with previous job answered "I was a Wacky Racer" is going to cut the mustard at Same Day Couriers Direct. However, if we experience more driver shortages as we talked about in several articles just before Christmas 2021, who's to say that Rufus Ruffcut won't soon be on the payroll!