Thinking of hiring a delivery driver? Of course, reliability, punctuality and attention to detail should be top of mind when considering the personal attributes your new employee should possess. Yet, increasingly, a delivery driver also needs a keen sense of humour and an ability to think outside the box.
Just to liven up your day, we bring you 21 real life examples of times when a delivery driver definitely needed these extra qualities. We hope they saw the funny side too!
---
The postman only screams twice…
The postman only screams twice (due to having been arrested by the police who'd been called by the neighbours). The presence of two doorbells suggests that someone else also lives there – one wonders if they were aware of the cunning plan or whether they got a nasty shock?!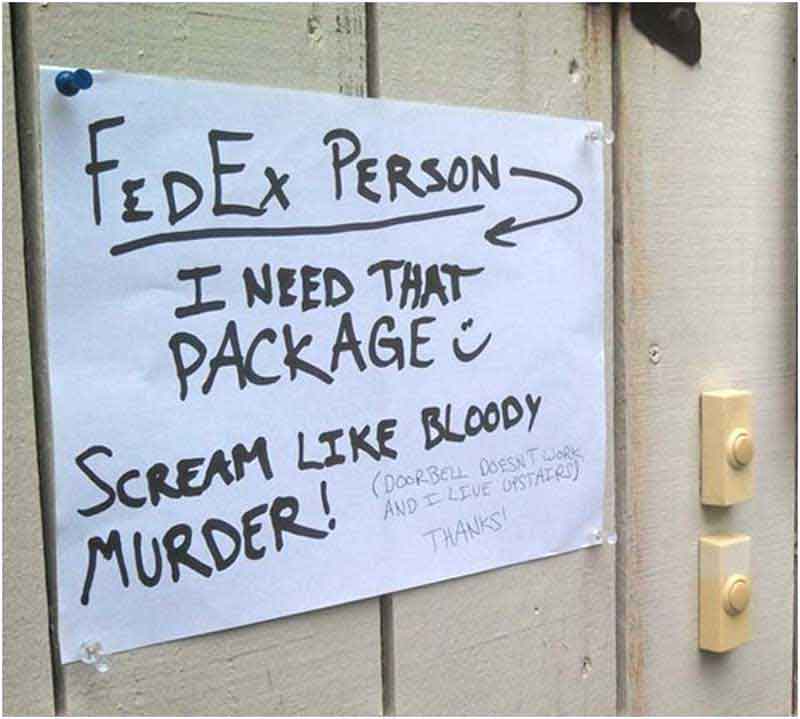 ---
Next on Britain's Got Talent – Postman Pat sings the Westminster Chimes!
This resident presumably has an allergy to the sound of door knocks! No doubt the postal worker checked no-one was nearby before following the instruction….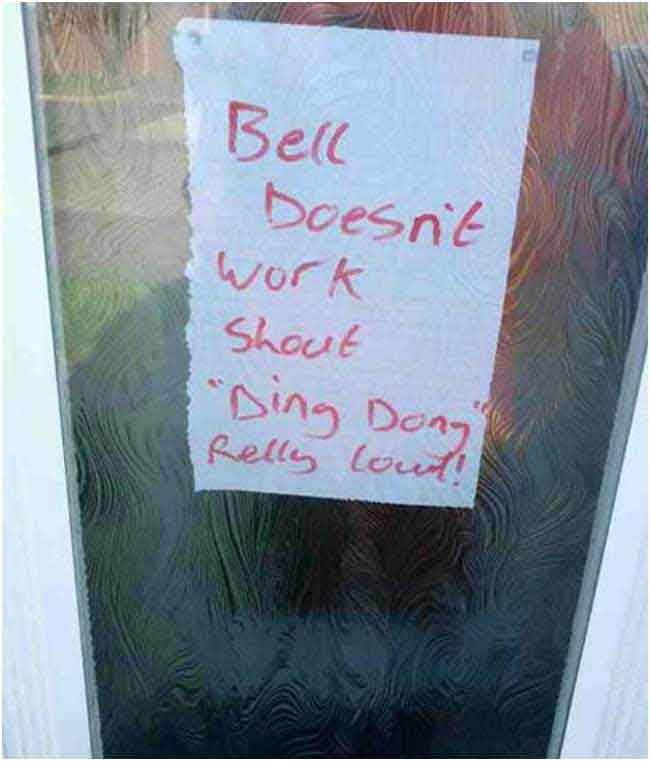 ---
Last one to get to the back porch is innocent!
It's doing our heads in trying to work out all the possible permutations here! Suffice to say that everyone who saw this notice, with whatever motivation for doing so, would be dying to know what was in the package!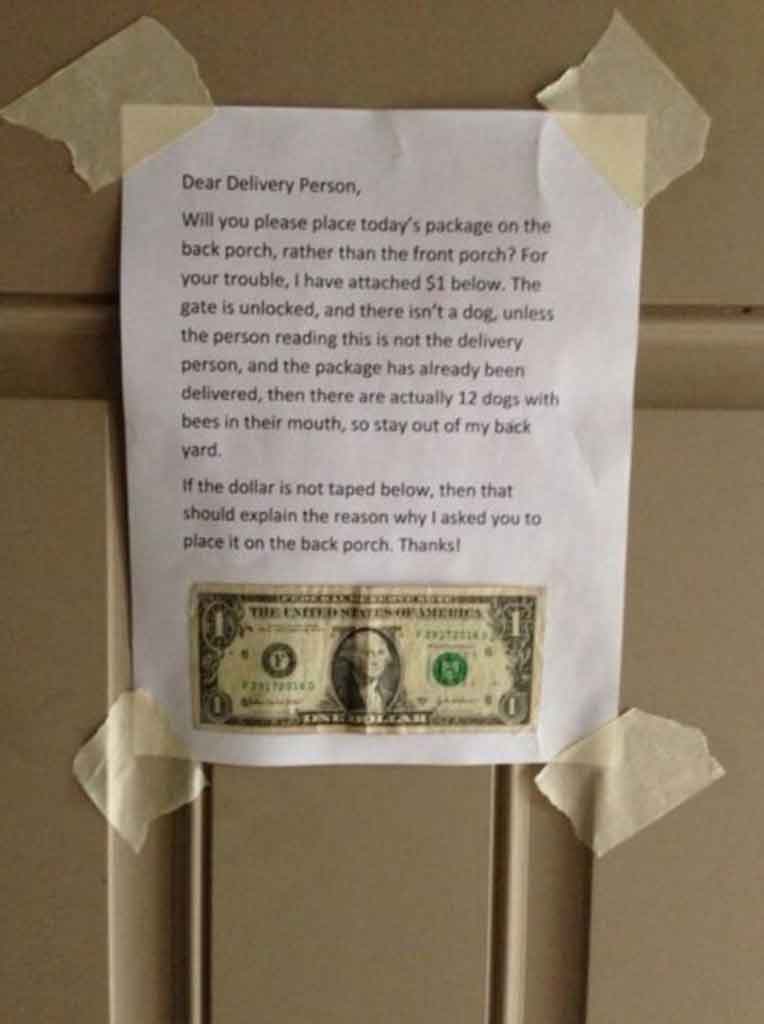 ---
Sorry, the dog ate my Council Tax bill!
Sad footnote: this was the last photo this particular postal worker ever took….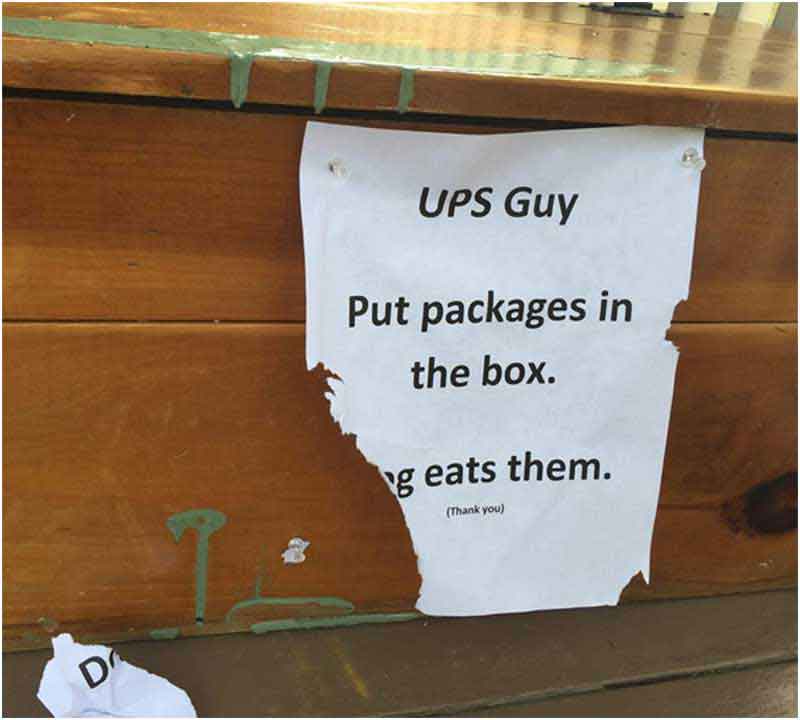 ---
A door-Matt before the day is out?!
We can only hope that Matt returned from his beer run (pub crawl?) before his wife got home. It's a shame that the postal worker wasn't a woman – a woman's hand would have made the photo altogether more chilling!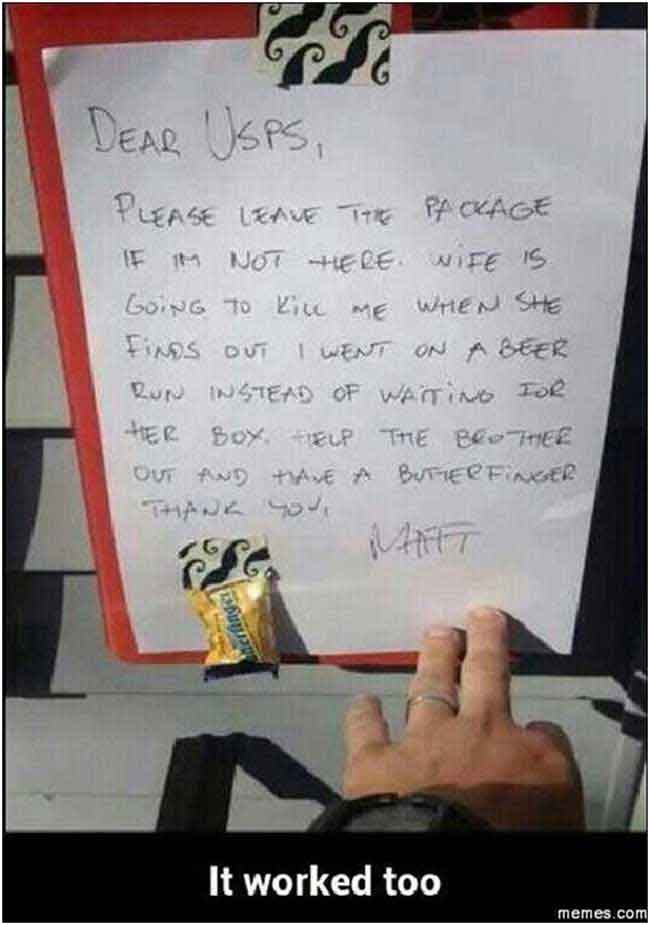 ---
Tools, gadgets or lingerie only please!
There seems to be a trend for having to bribe postal workers in the US in order for them to do what you want – let's hope it doesn't catch on in the UK! Side note: Victoria's Secret only sells merchandise for women, most notably lingerie!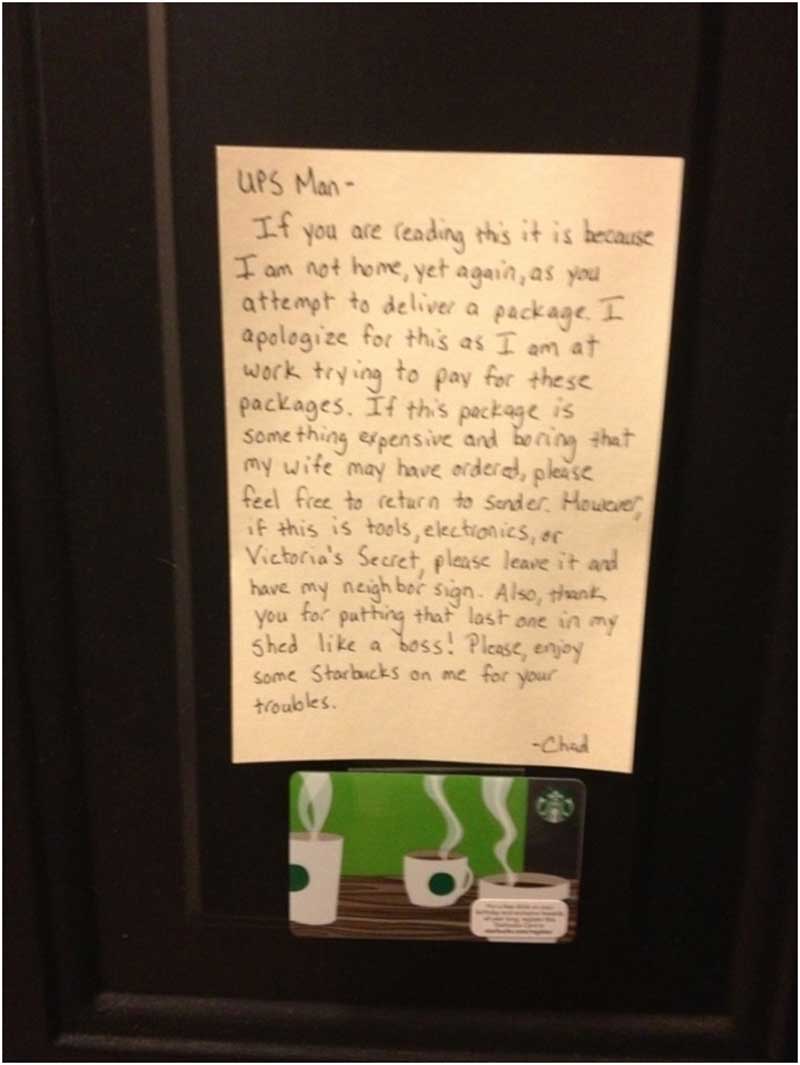 ---
A knock-out hangover cure!
We can only infer from this that Zach's house must have been searched quite a few times! Hopefully he wasn't too hungover when that happened, otherwise they might have broken the door down if he didn't answer!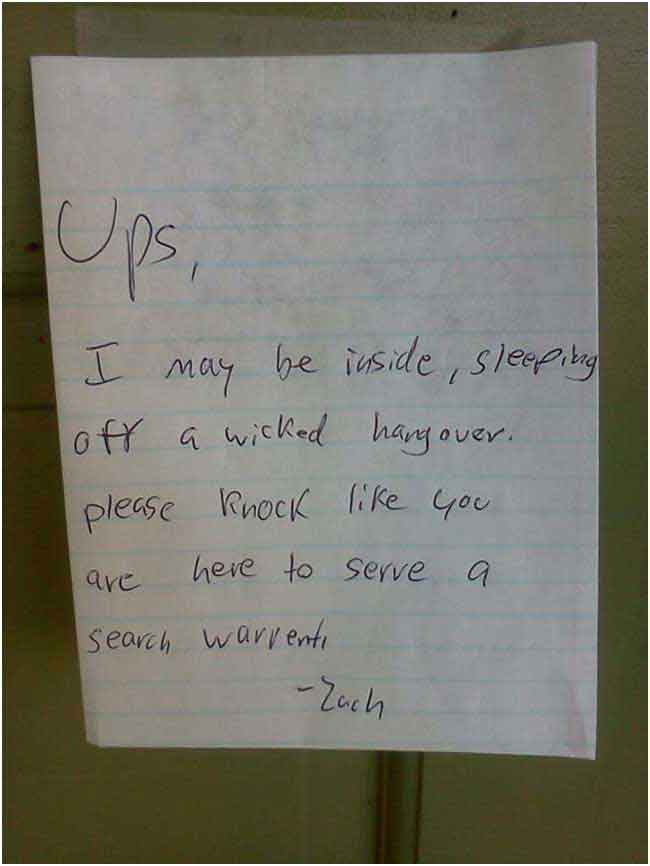 ---
Post office counter(feit)
We're not sure where to begin with this – for starters, what's an "adult child"?! Would you ever consider pinning a £20 note to your front door, let alone inviting an unknown postal worker to act fraudulently?!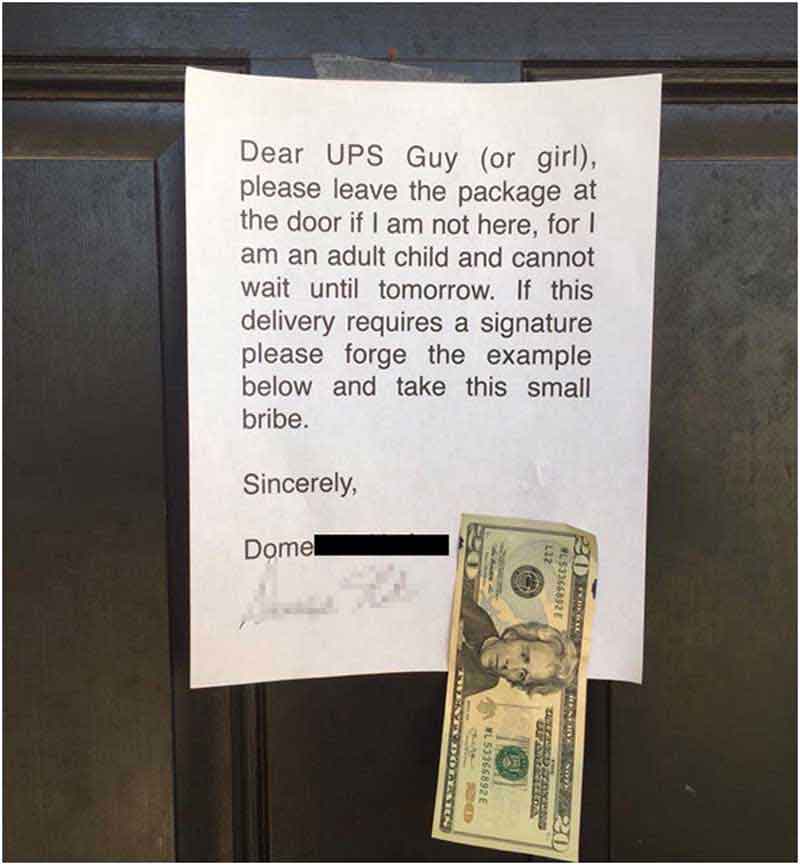 ---
No doorbell, no cry
Big dilemma for the postal worker here, particularly as there's unusually no money or treats on offer to influence the decision! On the other hand, you probably wouldn't want to encounter this lady in these circumstances…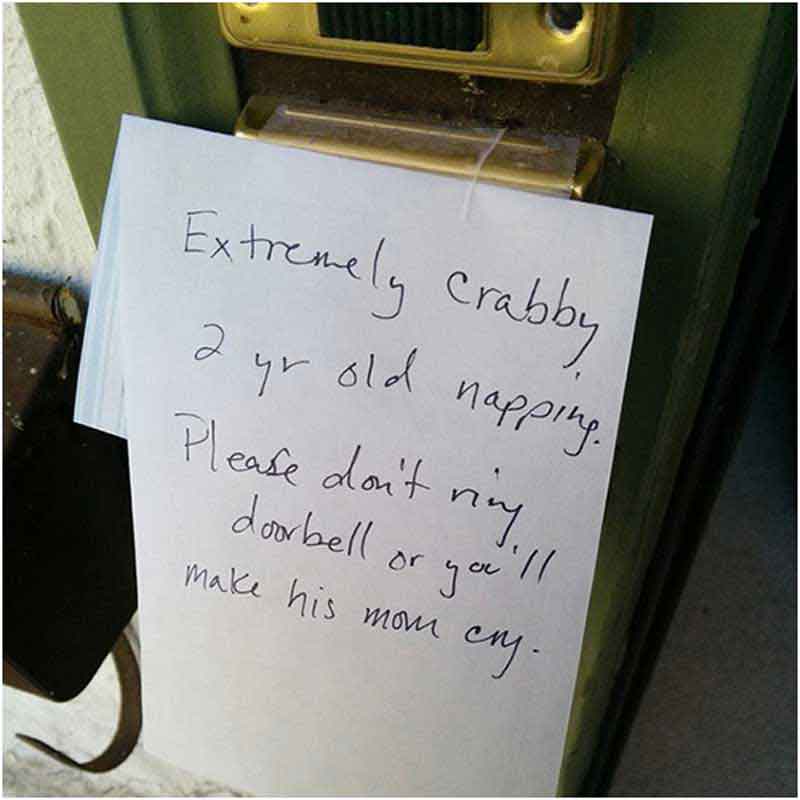 ---
A communication from on high
Hmmm, either there was a remarkable (if undesirable) piece of skill involved here or all is not quite what it seems – we draw your attention to the small, open window! It is quite a safe place though, at least until the wind blows….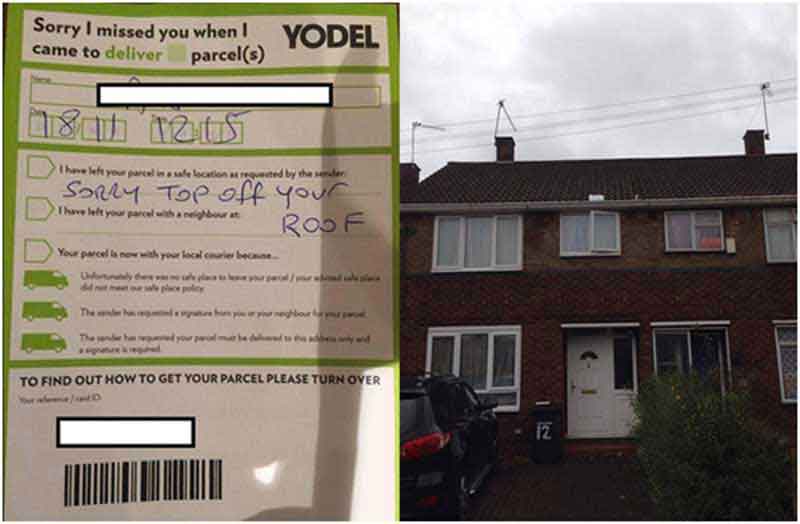 ---
A pizza the inaction
We hope this resident has a microwave, otherwise they're going to have a cold pie for lunch once they've sobered up! We do hope it's lunchtime and not teatime…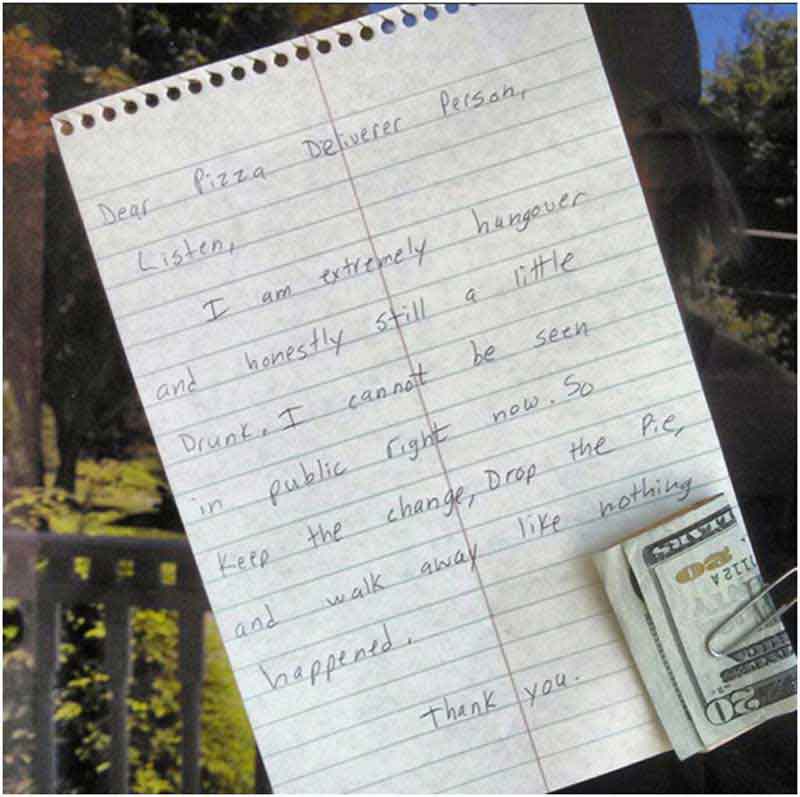 ---
Getting knocked up?
We can only assume that Mr & Mrs Currier must have dozed off (or been doing something else which prevented them from coming to the door) when the postal worker called!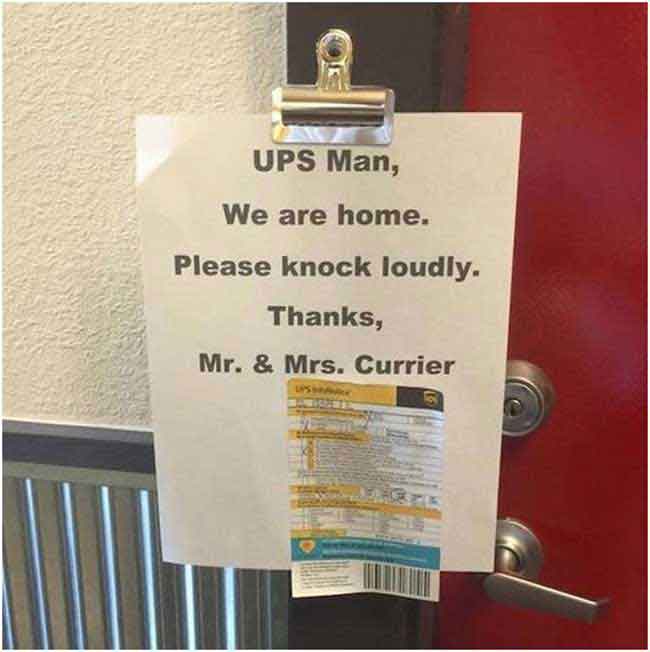 ---
Leg it while you can!
Oh and one other thing – have a nice day!!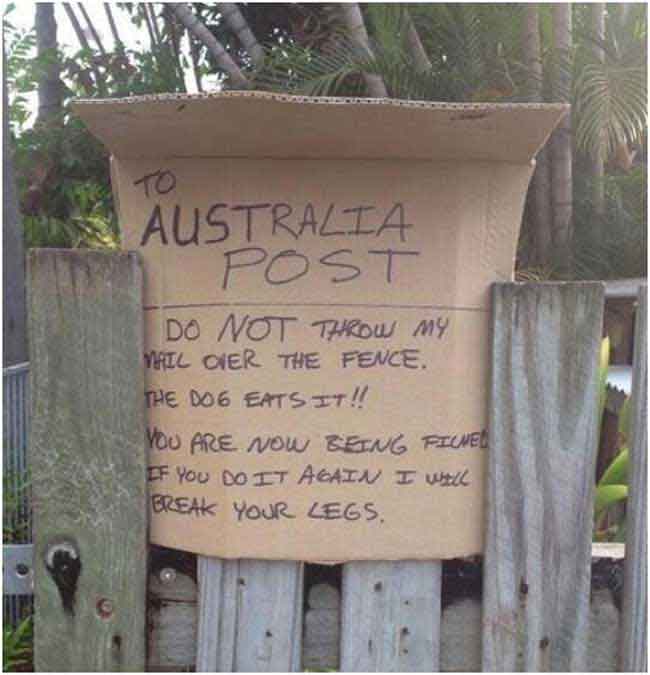 ---
Shake, rattle and erm parcel!
If we're being perfectly honest, they look a bit insubstantial for rocks, but you could still get quite a rhythm going if you were suitably inclined! Seriously, what's wrong with just knocking on the door?!!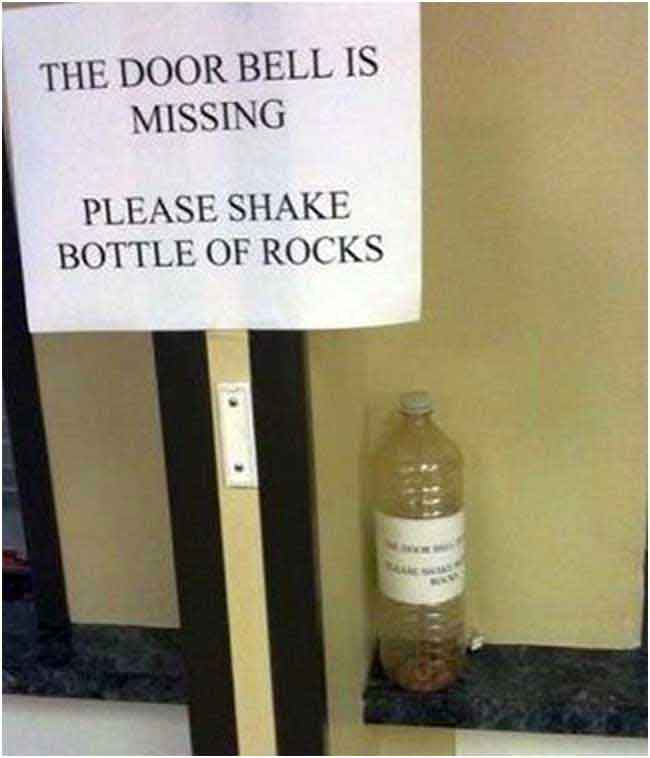 ---
Superheroes always deliver the goods
The mind boggles here, not least because these notes were presumably written by an adult! Clearly only superheroes need apply for UPS job vacancies!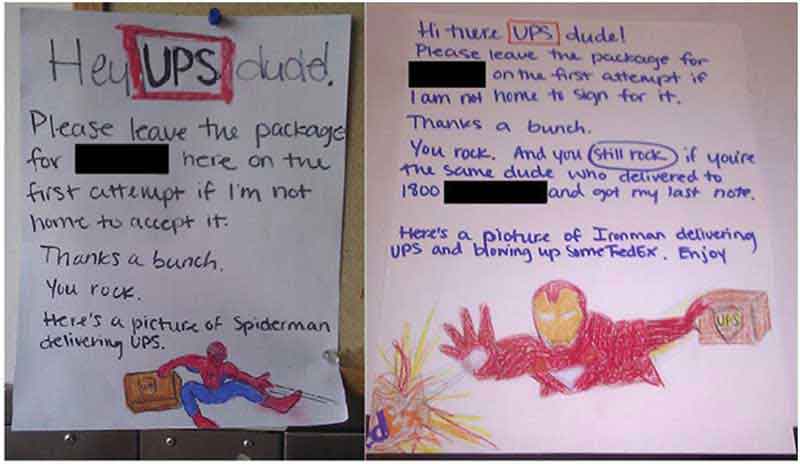 ---
Thunder heralded the delivery
All of the notices in our little offering imply that the UPS might not be as rigorous as it could be when attempting to deliver packages. In this instance, you can see some dents, which are presumably from a previous fire and brimstone attempt to deliver a package to this house!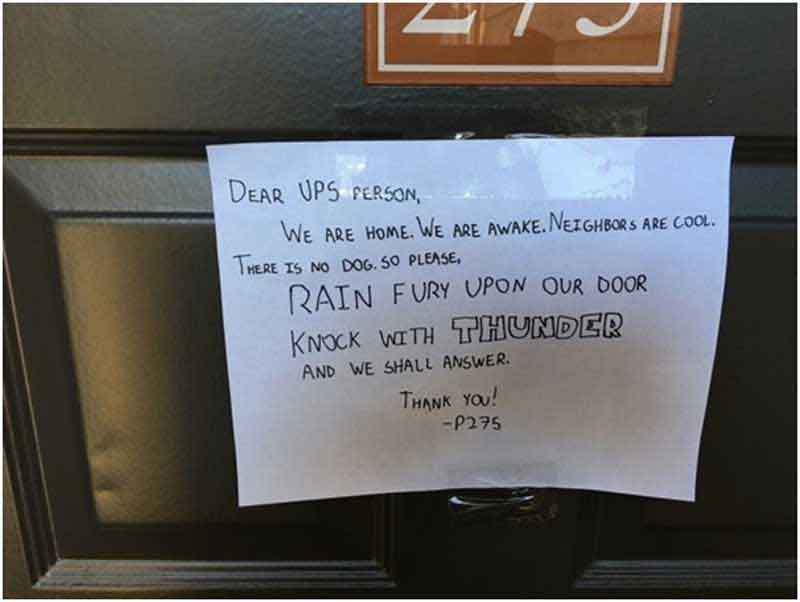 ---
Winning the booby prize
This takes the bribery theme to a new level – we're sure the two batteries would have been more than sufficient!! We're also wondering to what extent a delivering "dudette" would have welcomed the free admission pass to topless dancing…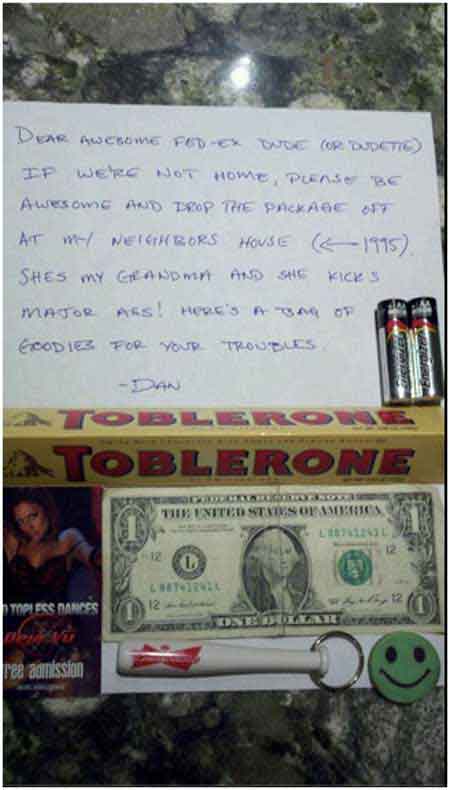 ---
The slumber of the Beast
There's clearly a would-be author behind this ultimately plaintive missive. We have everything crossed that the house number was 666 (the number of the Beast), as that would have capped it off perfectly!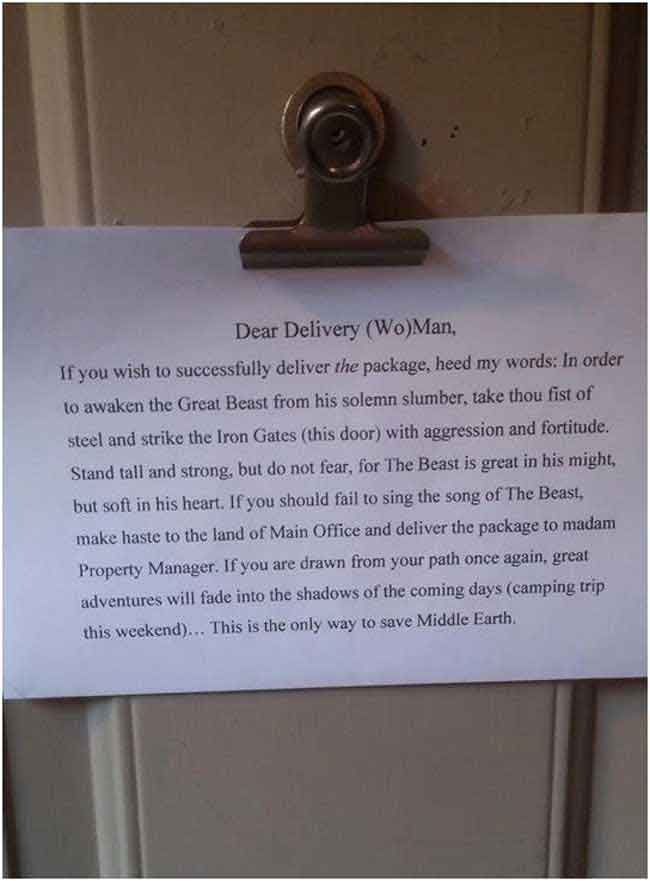 ---
A crap excuse
Either this is too much information or the delivery comprises desperately needed toilet rolls! Hopefully the note hadn't been on the door for a long time…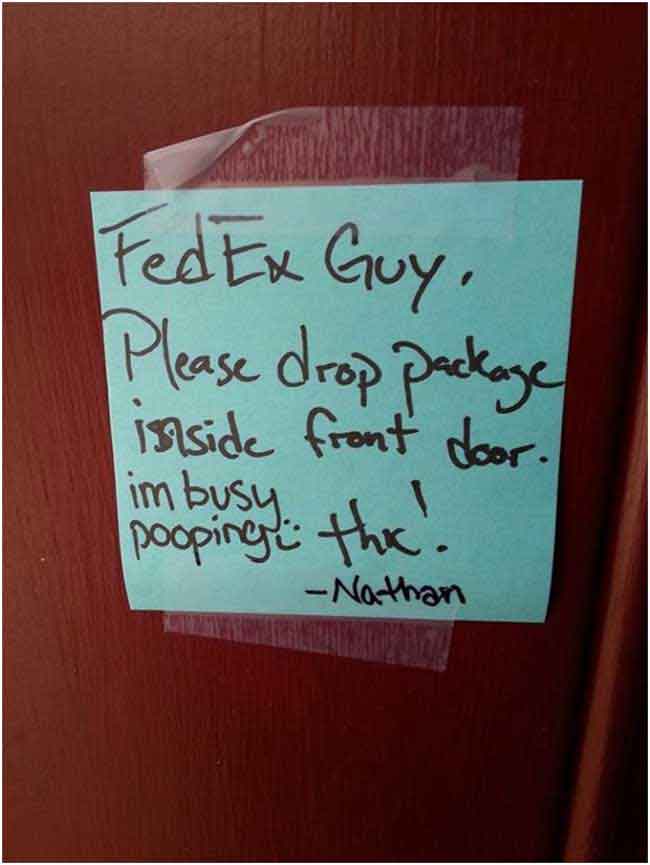 ---
Love don't live here anymore
The burning question here is whether "Woohoo" refers to a US mail order company or is simply expressing delight at the break-up of the marriage in question!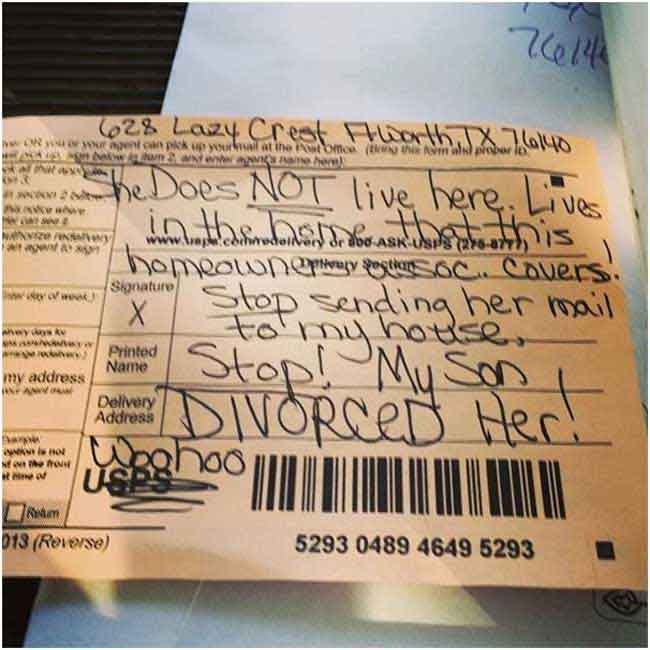 ---
Pre-parcel depression
And, if you are the USPS, you'll probably seriously consider leaving the package on the doorstep and running away, without ringing the doorbell!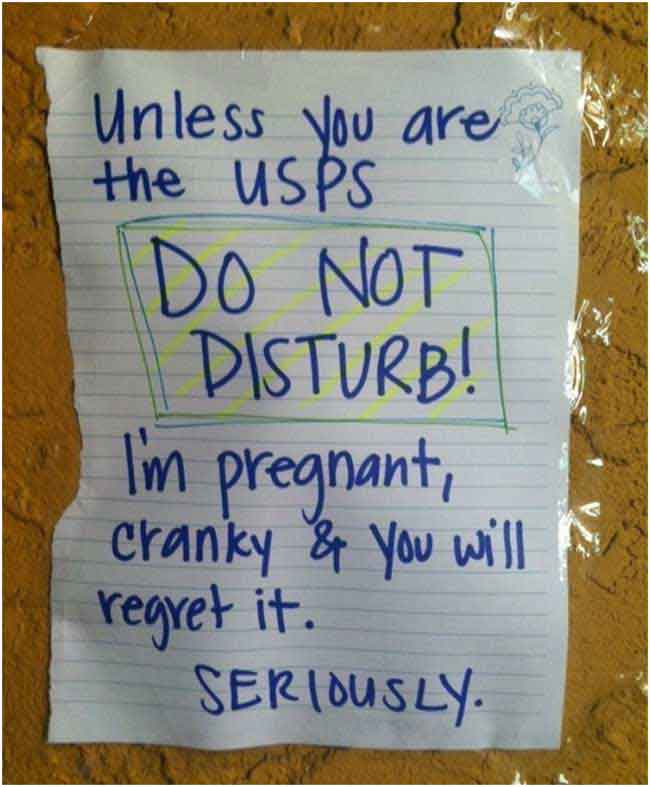 ---

As you can see, the day to day life of a delivery driver brings many challenges! Thankfully, Same Day Couriers Direct drivers don't come across too many instructions like these when carrying out their orders. However, they're always ready and available to tackle the unexpected and fulfil even the most awkward of consignments.
Put us to the test and discover how we deliver safely, securely, on time.
Give us a call on 0333 772 1010 and let Same Day Couriers Direct deliver all your transportation requirements.